The COVID-19 outbreak has led to a worldwide pandemic, global slowdown, arguably a recession and hopefully not a depression. Business activities globally have been halted due to the outbreak and demand has been shrinking significantly as well, apart from some of the Asian countries including China, we have yet seen an inflection point of the cases curve in western countries.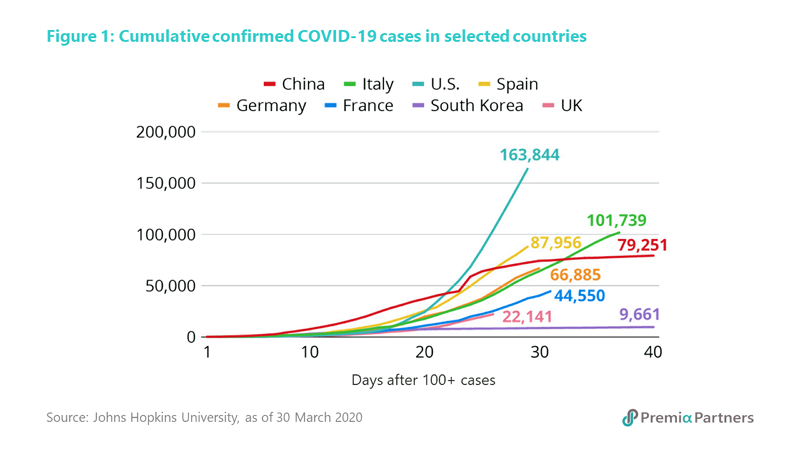 As our co-CIO David Lai outlined in China's Work and Production Resumption two weeks ago, we have seen China shifting its role from the initial epicentre and help-receiver to an experienced fighter and help-provider to countries around the world. While some industries are recovering slowly from both the production halt and demand drop, one in particular has been geared up at full speed to help flatten the curve – that is the Healthcare industry.
In this piece, we'd like to share some notable leading Chinese players in the space that have been working hard fighting the virus for the domestic and global community –
Medical Devices: Mindray Bio-Medical, Yuyue Medical
As the number of severe COVID-19 cases grows, ventilators are in global shortage which means life-n-death issues on the line. According to estimates, global demand for ventilators is at least 10 times what is currently available in hospitals. For instance, the current 200,000 ventilators in the US can only support 20% of the Covid-19 patients who need those machines in order to breathe. The demand for patient monitors and other core hospitalization equipment are likewise. Mindray, a Shenzhen-based leading medical device manufacturer now has resumed all its production workforce and is working days and nights to makes approximately 3,000 ventilators and 30,000 monitors a month. As China's situation has improved, the company is now prioritizing supply to overseas orders, especially those countries in critical situations.
Another Chinese company that manufactures ventilators, nebulizers and forehead thermometers is Yuyue medical. In the past two months, Yuyue's production of anti-epidemic products has exceeded that of its ten-year totals. The company has also been shipping its products to commit overseas orders and has recently gained the Emergency Use Authorization from FDA on Apr 1st to access the US market .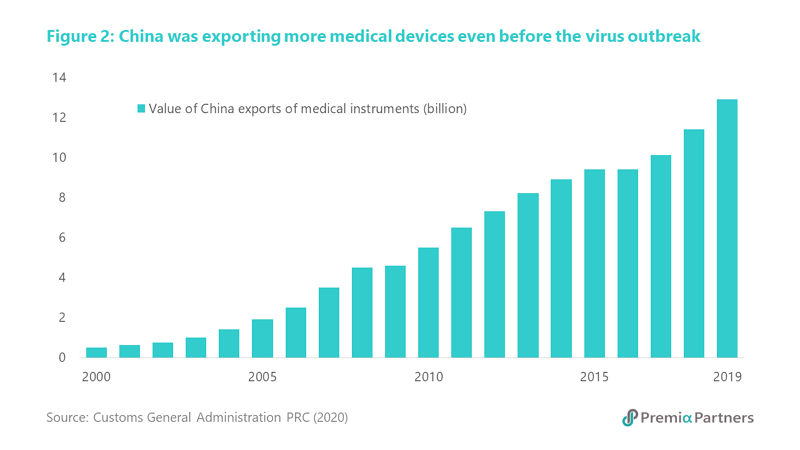 Biotech / Testing Kits: Wondfo, Yuyue, Lepu, Fosun

Prior to hospitalization, diagnosis is another field in significant shortage as the COVID-19 virally spreads around the world. With its large confirmed and cured patient samples, China was able to be a first respondent in testing kit development. Chinese POCT (point-of-care testing) leader Wondfo Biotech was among the first to obtain approval from the Chinese National Medical Products Administration (NMPA) and has now received the Europe Union's CE marking for three of the anti-body tests the company developed. Compared to a full test that requires at least a day or two with lab facilities, Wondfo's rapid testing kit is able to indicate a result based on a drip of blood at a reasonable accuracy rate in only 15 minutes, which is believed to be immensely useful for mass screening especially at border controls. Wondfo's rapid testing kit is already used in the UK, Belgium, Spain and Germany, and has also recently reached an agreement with Australian life science company Cellmid to make it available in Australia by early April.
Apart from Wondfo, a few other leading biotech companies in China has also spent significant research and development effort on testing kits. For instance, Fosun Pharma has also obtained both NMPA approval and EU's CE marking. Lepu Medical has recently obtained US FDA approval and is exporting testing kits to the US.
Vaccine: Probably the most important, and many is working on it
So far, there has yet been any fully-tested and commercialized vaccine available to prevent people from getting the virus and calm down the panic about it. Scientists around the world are working on it, with support from governments in a global scale. China has been working hard on the development of vaccine and there has claimed to be some progress from the military research departments. Chinese pharmaceutical conglomerate Fosun has recently announced a strategic alliance with Germany's BioNTech to advance a mRNA vaccine in China. In collaboration, the two companies will conduct clinical trials in China, leveraging BioNTech's proprietary mRNA vaccine technology and Fosun Pharma's clinical development and other strong domestic capabilities in China.

As shared above, the Chinese healthcare sector has been working at full speed amid the pandemic. The global equities market experienced a significant drawdown over the past month along with soaring volatility. In the late article Is China the new Noah's Ark in a pandemic – Growth opportunities from New vs Traditional infrastructure build out, we discussed how China has been and could continue to outperform international markets. In particular, we've seen Healthcare (3.12% YTD) and Telecom (0.63% YTD) industries being the only industries with positive YTD returns, while China Healthcare industry is probably arguably one of the best defensive plays at the moment.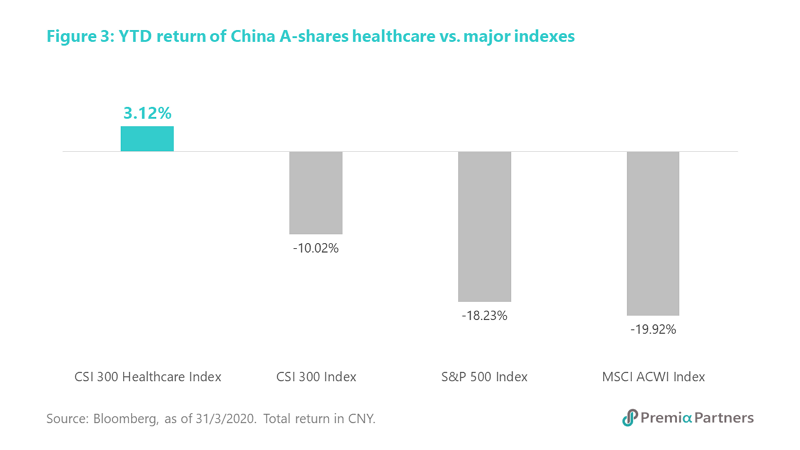 Compared to other broad market China strategies, our China New Economy strategy current holds about 30% in Healthcare (the largest GICS exposure of the strategy as of date), including all of the leading medical device and biotech companies mentioned above. We believe the two-speed economy phenomenon will continue, and our New Economy strategy is well positioned to capture those in the fast lane.