The animal nature of the Year of the Monkey seems to have come out early on: with the recent market havocs and serial stock market circuit breaks around the globe, Treasury yields reaching 150-year historical low, nearly 30% on a single trading day for crude oil prices, and of course the coronavirus situation globally.
In comparison, China A-share has been quietly outperforming without showing excessive fluctuation, charging on with a stabilizing calm like the Noah's Ark in a turbulent time. The decreasing number of new infections found in the nation certainly helps calm down the level of uncertainty. Meanwhile with the record low PMI of 35.7 reported in February, market now expects a new round of infrastructure investment to commence work immediately in order to help support the slowing economy.
Investors may remember that China was the first country to come out from the global financial crisis in late 2008 when the State Council announced the massive RMB 4 trillion stimulus package for infrastructure investment, which lifted the country for a year-on-year growth rate of 53.4% during the peak in June 2009. China's GDP picked up steadily from the bottom of 6.2% in 1Q09 to 8.2% in 2Q09 and 10.6% in 3Q09 while the US GDP was still struggling in the negative territory back then. Although some economists and academics criticized the heavy-handed plan resulted in an enormous increase in local government debts, skewed resources flowing into inefficient state-owned enterprises, and rapid growth in shadow banking, the quick and extraordinary initiatives from the central government did help pull China out from a potential downward spiral in economic slowdown.
With the proven track record, one might expect the same trick be played to offset the economic impacts of the novel coronavirus outbreak. With a twist though as we fast forward two decades, 'infrastructure' no longer carries the same meaning in China.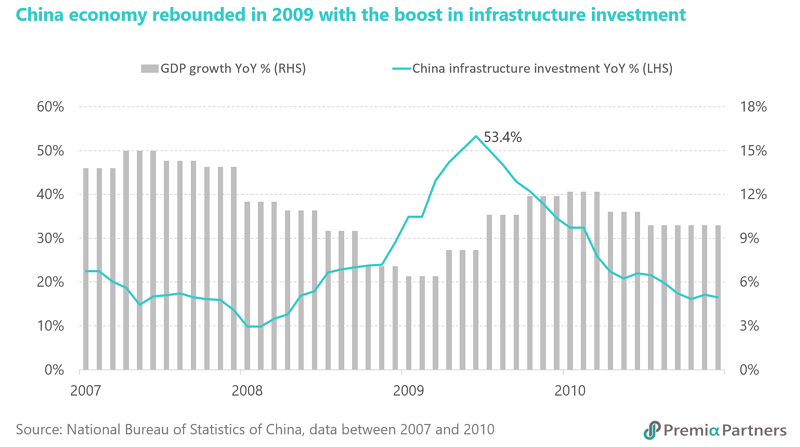 We consider this in a two-track infrastructure built out:
Physical infrastructure build out for ports, toll roads, railways, and airports as urbanization and national connectivity continue; and

Digital infrastructure build out as represented by 5G networks, data centers, industrial internet of things (IoT) and related activities in the new economy space.
One silver lining from the US-China trade dispute would be the unprecedented emphasis on investment projects to facilitate innovation and underpin quality growth of the economy and society. A total of 25 provincial-level regions have put new infrastructure projects in their government work reports, with 21 intending to advance 5G network construction. Some may worry that the epidemic may create a substantial delay in 5G commencement, but the recent tender announcements from China Mobile in transport networks, base stations and core networks revealed the undisturbed rollout progress. China Unicom also stated that it will work with China Telecom to finish the construction of 250,000 5G base stations across the country by the end of the third quarter.
Ministry of Industry and Information Technology has been pushing for faster 5G rollout in 2020 actively, and 80% of the network construction has proceeded as planned in the first two months of this year. The new network construction capital expenditure will reach RMB 1.2 trillion by 2025, bringing a further investment amount of RMB 3.5 trillion in the supply chain, according to China Academy of Information and Communications Technology.
The economic outputs driven by 5G businesses will become RMB 24.8 trillion in the next five years. 5G mobile services debuted in late 2019 in China with 5G smartphone shipments at 14 million in 2019 and 7 million year-to-date. Acting in tandem, we note the number of new 5G phone models launched in China was 11 in February versus 4 in 4G launches, showing that manufacturers began shifting focus to support the deployment of the new services.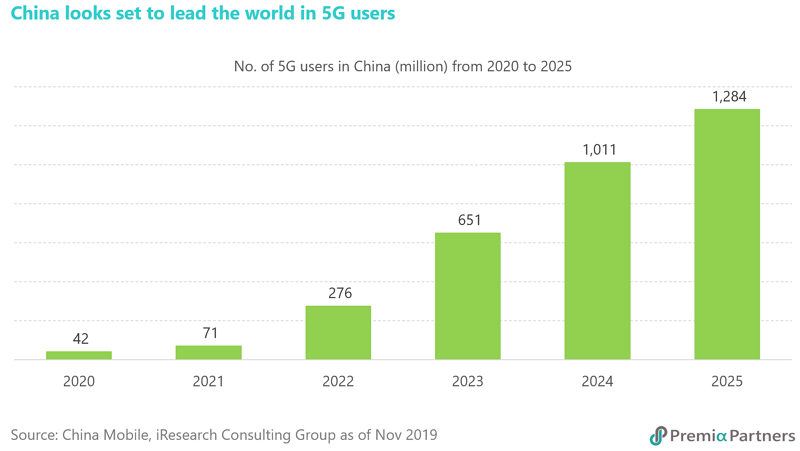 Digitization in China's consumer space is already well ahead of many. With 5G in place, cloud computing capacity is critical for China's continue digital transformation especially in the enterprise space, and the rollup development for big data, autonomous driving, artificial intelligence, virtual office, and internet of things. In fact the current pandemic already fast tracked the massive behavioral change, and redefined how our daily life is supported by clouds, such as remote working, streaming entertainment, and online learning, when the entire population in China go online to work/ study/ learn/ order from home.
The Development Research Center predicts that the cloud computing industry will expand to RMB 300 billion by 2023, a threefold increase from RMB 96.3 billion in 2018. By then, over 60% of the country's businesses and government agencies will rely on cloud computing as an integral part of their daily operations.
Since the imposition of homestay quarantine from late January, more than 18 million enterprises in China have adopted online telecommuting mode to resume work in early February – this is akin to BCP readiness with more than 300 million users at any given time. While rare for business-categorized app topped the table, in China's iOS App Store, Alibaba-backed DingTalk, Tencent Conference, and WeChat Work are among the most downloaded free apps these days. Originally developed for China's white-collar workers, these office apps adapted to the virus outbreak by adding new functions to help children learn when schools were closed. Close to 50 million students from elementary to high school across 300 cities in China recently signed up for DingTalk's online teaching programs, conducted in partnership with local education authorities. Both Alibaba and Tencent had to add new servers to cope with the unprecedented surge in traffic by much different order of magnitude overnight.
While China might still have plenty of capacity to catch up with other major economies such as the US, UK, Germany, and Japan in the developed markets and Korea, and India in the emerging markets in terms of overall IT spending including hardware, software, and services as seen in data below in 2018, it would be particularly interesting to see the latest figures in 1Q 2020. According to the Nikkei Asian Review, stocks of Apple's iPad are running very low in China as families snap up the tablets to help with e-learning at home in response to coronavirus-related school closures.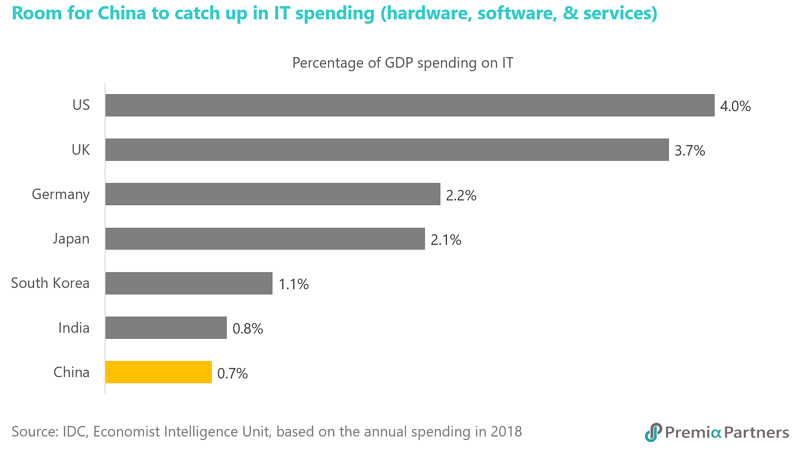 Consumer IoT has been quite successful in China already. Take the smart home market as an example, China has the highest rates of ownership for smart TVs, smart speakers, smart home security cameras, and other types of smart devices ranging from safety to lighting and energy controllers. The US trails China in every category, sometimes by a factor of 2 to 1, while adoption in key European countries is even lower. With higher levels in IoT, individuals will become well informed about the status of households, vehicles and family members, as well as their own health and fitness with the popularity of wearable tech.
Healthcare, enterprise and industrial IoT however, is still a relative green field with enormous opportunities closely eyed by forward-looking private equity and venture capitals.
By linking intelligent machines, advanced analytics and people at work, whose data are gathered by connected devices, the processed information would help companies pursue higher levels of efficiency, productivity and performance, which is the critical solution for China to advance its industries while overcoming the challenges of diminishing demographic dividends and low-cost advantages. Ultimately this also holds the key to solve the challenges of slowbalisation and global productivity slowdown.
As the global technology race continues, there is an urgency for China to accelerate hi-tech development especially in AI, robotics & automation, aerospace, new materials and new energy vehicles, replacing the costly imports with competitive local products that will help the nation flourish in the medium-term. Industry specialists said that China is indeed a fertile ground for building out the industrial internet. It has legions of factories with billions of machines and makes most of the world's electronics, including the sensors and other devices that will be used to get factory equipment and industrial goods connected. In a recent speech this Jan, former YCombintator CEO/ Baidu COO/ Microsoft EVP Qi LU opined China as the world's second-largest economy, has so many more entrepreneurial opportunities because of its many more facilitating macro factors at play than anywhere else. Rising consumption, urbanization, a graying and growing population are all creating massive opportunities across wide ranging new economy sectors that become increasingly technology-enabled.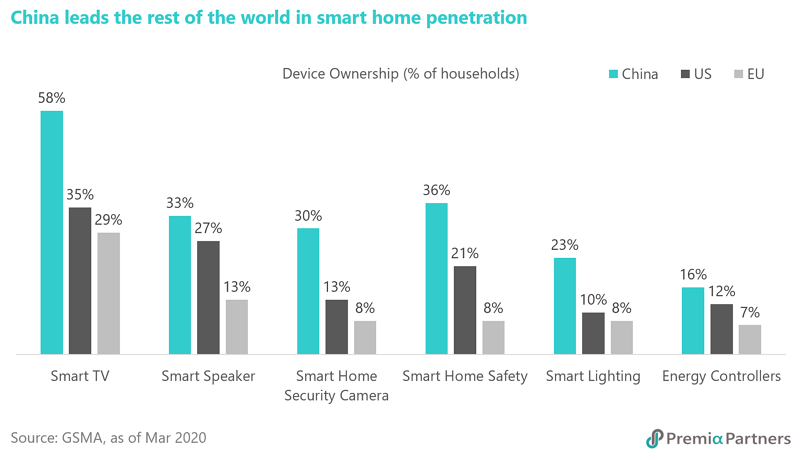 Meanwhile the physical infrastructure build out - traditional spending on railways, roads, airports and urban utilities remains a significantly large portion of local government spending plans and pillars for the economy. While less talked about, the build out of physical infrastructure and last mile logistic facilities are critical in servicing the growth for the new economy sectors especially those that rely on highly efficient and reliable logistics support.
On this, seven provinces have already applied with a long list of investment projects to-date, for a combined value of RMB 25 trillion. While the coronavirus outbreak inevitably impacted the pace, as China resumes work and production, RMB 3.5 trillion of the aforesaid is expected to be deployed by the end of this year and thus fueling the stream of investments and opportunities in related industrial and infrastructure sectors. To address the funding needs for such, in addition to the traditional bank led financing, the administration adopts a more proactive fiscal policy to accelerate the construction by issuing special-purpose bonds and providing credit support. There was a total of RMB 950 billion of special-purpose bonds issued in the first two months of this year, with close to 70% for infrastructure. Market sees the quota of these special-purpose bonds will almost double to RMB 4 trillion in 2020 from RMB 2.15 trillion in 2019.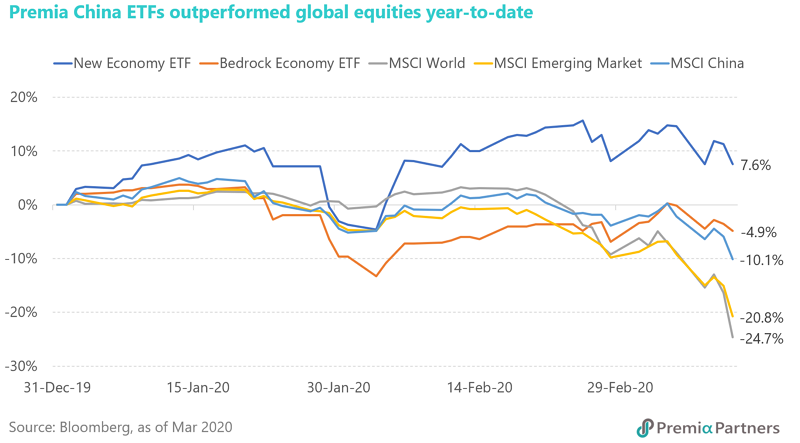 For investors seeking opportunities for a recovery trade in China, we believe the Premia China A strategies are especially well position to capture both physical and digital infrastructure opportunities.
Premia CSI Caixin China New Economy ETF (3173.HK) is a perfect instrument to express a positive view on the digital infrastructure. The fund focuses in domestic innovation with top holdings operating in 5G, cloud computing, and IoT such as CATL, Gigadevice Semiconductor, Sangfor Technologies, Shenzhen Goodix Technology, Unisplendour, SG Micro, Wuxi Lead Intelligent, and Yealink Network Technology. Besides, its core investment includes leading biopharama companies working around the clock to develop new drugs, equipment, or test kits to fight the virus, namely Jiangsu Hengrui, Wuxi Apptec, Shenzhen Mindray Bio-Medical, CCHN, Pien Tze Huang, Zhejiang NHU and Guangzhou Wondfo Biotech.
For investors interested to take advantage of the stimulus package in the traditional infrastructure, Premia Bedrock Economy ETF (2803.HK) would be especially relevant given its defensive nature emphasizing good value, high quality and low volatility. These factors may prove to be particularly useful in the current erratic market. The core holdings like CSCEC, Hangzhou Iron & Steel, China Railway Construction, Anhui Conch Cement, China Shenhua, Xuji Electric, Yangtze Power, CRRC, CSG, and China Communications Constructions are likely beneficiaries from a new wave of capital pumping into fixed asset investment. On the other hand, with the recent battered valuation, some of the largest Chinese banks in the ETF may benefit from re-rating driven by faster loan growth and a stabilizing economic outlook. ICBC, China Construction Bank, Bank of China, ABC, Bank of Communications, China Merchants Banks, Industrial Bank, Shanghai Pudong Development Bank, China Minsheng Bank, and Ping An Bank, have become attractive value plays while trading at the bottom fifth percentile of historical valuation with an average price to book of ~0.7x.
In a bear market, it is time for us to remind ourselves one of the best-known quotes from Warren Buffett – "Be greedy when others are fearful". And be specific as you go on shopping spree.