As Nasdaq keeps reaching new high led by FAANG mania in recent years, investors begin to look for the equivalent in China-A and believe that ChiNext is the one. BUT what if there is an even better option in the market, which offers a more appropriate exposure with better performance, higher quality, lower volatility and discounted valuation?! It may sound too good to be true, but it is exactly what Premia CSI Caixin China New Economy ETF (3173.HK) has achieved. The strategy targets exposure in technology advancement, urbanization, rising middle class, consumer upgrade, education, aging population and healthcare sectors. As of 14 May 2019, this ETF is the best performing China-A ETF among all HK-listed China-A ETFs. It is the result of thorough collaboration between Premia Partners, China Securities Index (CSI), and Rayliant Advisors led by Dr. Jason Hsu, one of our senior advisors. Below is a comparison of CSI Caixin Rayliant New Economic Engine Index ("New Economy"), the underlying index of 3173.HK, and ChiNext.
PERFORMANCE
New Economy performed better than ChiNext year-to-date (25.6% vs 19.6%) and since inception (72% vs 51.4%). In addition to outperformance, it also showed lower volatility and a smaller drawdown, resulting in a higher sharpe ratio. In the below charts, CSIR2928 Index (green) is New Economy and SH399606 Index (orange) is ChiNext.
New Economy outperformed ChiNext by 6% YTD


New Economy outperformed ChiNext by 21% since inception (Jul '13)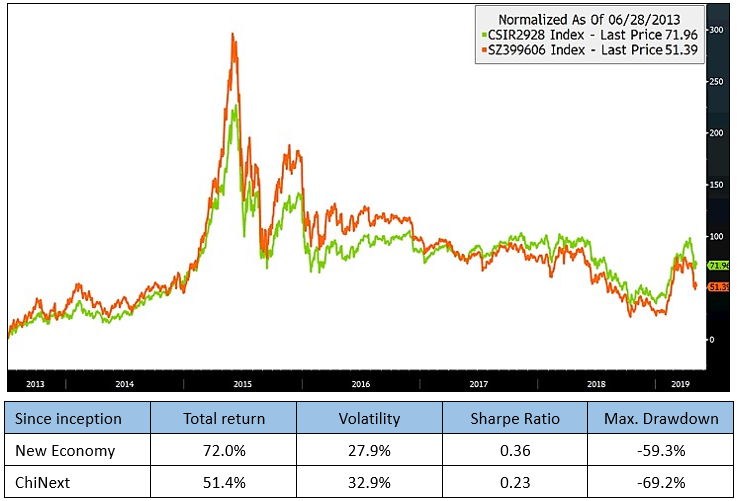 COMPOSITION OF INDEX CONSITUENTS
Out of 300 stocks in New Economy, only 37 overlap with ChiNext, for a total weight of 11.8%. In addition, the Premia approach is an all-cap strategy that includes large-caps, mid-caps and small-caps, while ChiNext is more concentrated in mid-to-small caps. Last but not least, New Economy selects stocks listed in either Shanghai or Shenzhen whilst ChiNext is only limited to Shenzhen listed companies. This difference means that ChiNext misses out on all potential opportunities in large-caps and Shanghai-listed shares, in particular the "white horses", i.e. good quality large-caps with decent growth.
A more balanced mix of large-, mid-, and small-caps in New Economy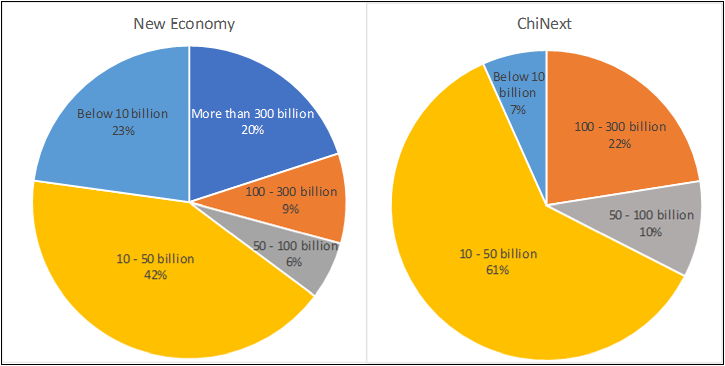 SECTOR EXPOSURE
Riding on key megatrends prevailing in China – such as consumption upgrades, aging population, environmental protection & clean energy, industrial automation & robotics, artificial intelligence & technological advancement, and new materials –New Economy focuses on consumer discretionary, information technology, health care, industrials, and communication services. It has minimal or zero exposure in the traditional economic model industries such as materials, financials, utilities, real estate, consumer staples and energy. Investors may view this positioning as a strategic exposure in China-A, in line with structural changes emphasized by Chinese government officials. ChiNext is also tilted heavily towards health care, information technology, industrials, and consumer staples, but its insignificant weighting in consumer discretionary may not enjoy the benefits of the growing demand for high-quality, higher-priced consumer goods and services in the domestic market, such as smart appliance and outbound travel.
New Economy has minimal or zero exposure in traditional industries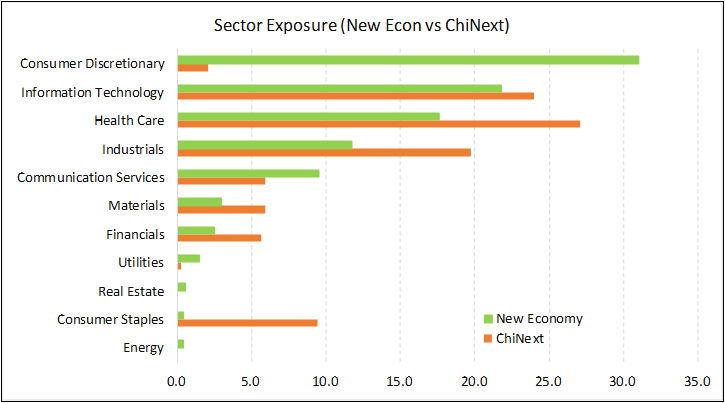 TOP HOLDINGS
The top holdings of New Economy include a few well-known industry leaders such as Gree Electric and Midea in home appliance, Jiangsu Hengrui in pharmaceuticals, Focus Media in advertising, and China International Travel Services in tourism. On the other hand, the top holding of ChiNext is a foodstuffs company in poultry and hog business (yes, you read that correctly), while none of its top 10 positions belong to information technology. If one buying ChiNext expects to be investing in innovation and technology, then it's time to rethink about it.
Top 10 positions and their respective sectors


VALUATION METRICS
New Economy adopts a multi-factor approach, selecting and weighting stocks based on fundamental financial data. The result is a superior quality and lower valuation portfolio, reflected by high ROE, low leverage, low PE, PB, PCF, and a high dividend yield.
New Economy is better than ChiNext in all valuation metrics


METHODOLOGY
Instead of using market-cap in stock selection and weighting like ChiNext, New Economy uses a 3-step process to build an exposure that captures the China of tomorrow.
Step 1: Identify the universe
To remove subjective bias, we define our universe by referencing the Mastercard Caixin BBD China New Economy Index (NEI)

It seeks to identify sub-sectors that are asset light, high tech, require a skilled labor force, have sustainable growth potential and policy support

The ultimate result includes 111 CSRC sub-sectors (i.e. very granular) across 9 industries: Energy conservation & environment protection, clean energy, new energy vehicles, IT & related services, high-tech services & R&D, biotech, high-end equipment manufacture, new materials, financial & legal services
Step 2: Apply relevant factors
Narrow the ~900 stocks down to 300, based on Asset Light and Financial Health factors

Our 3 Asset Light metrics ensure focus on emergent, rather bloated, firms

Inventory, Accounts Receivable & Net PPE: firms with low fixed assets are not capital-intensive and have the potential to grow faster

Our 5 Financial Health metrics ensure that only quality companies make the cut

Debt Coverage: companies with large debt servicing costs are not as efficient

Accruals and Net Operating Assets: companies whose accounting results are much better than cashflow results underperform in the long-run

Cash Ratios and Net Profit Margin: companies with low cash levels and profits cannot invest for the future
Step 3: Rebalance to follow fundamentals, focusing on growth and liquidity
We prioritize Growth and Liquidity, weighting each stock on a combination of:

Gross and operating profitability: profitable firms reinvest and grow faster

Asset and Book Growth: low-investment firms grow faster

R&D: firms that invest in research see more innovation

Market cap & turnover: liquidity is key when dealing with small caps

Rebalance annually using audited financial statements
Did I mention that Premia CSI Caixin China New Economy ETF (3173.HK) is the best performing China-A ETF year-to-date earlier? For details of the fund, please click here. Not sure how to trade the ETF with less turnover in the secondary market, please click here.
* Sources: all charts are sourced from Bloomberg, as of 14-May-2019