Market has been focusing on the export side of Vietnam and how it will benefit from the trade war in the past few months. Of course, that is happening and more foreign companies from garments, furniture, packaging to electronics are setting up their factories in Ho Chi Minh, Honai, Bac Ninh, Thai Nguyen, etc. We, however, think it is worthwhile to consider another side of the growth story here: domestic consumption. Vietnam is still in an early stage in terms of economic growth, so the consumption pattern of its population is significantly different from other developing or developed countries like China and the US. Currently 53% of household spending goes to basic food & beverages in Vietnam, compared to 36% in China and 8% in the US. It makes sense that people spend more in daily necessities in a frontier market. The consuming items will gradually change to clothing, footwear and education as the nation reaches the middle-income stage like China's. Eventually, people will spend more on housing, health and financial services like the breakdown in the US now.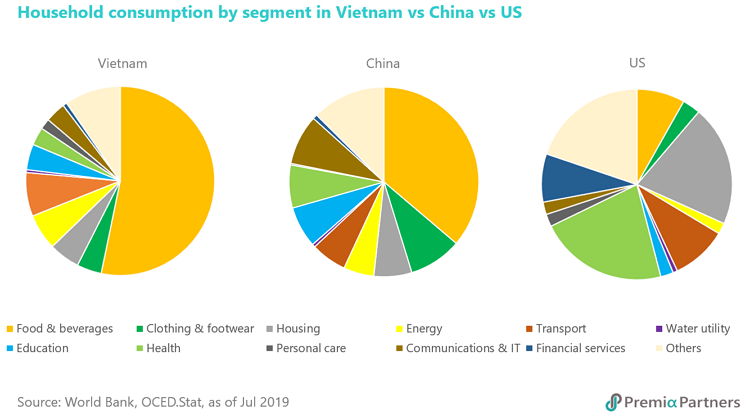 Since consumer staples accounted for the major consumption in Vietnam at the moment, we would like to highlight a few key industry leaders and the landscape of their respective segments. First, we cannot talk about the consumer story without mentioning Vietnam Dairy, i.e. Vinamilk. The company is the largest dairy company in Vietnam, offering a wide range of products not only covering the board market such as regular milk, yogurt and infant formula but also the niche ones like A2 milk for lactose-intolerant customers and nutrient-fortified beverages for youngsters. The leadership of Vinamilk in the domestic market is indisputable with a market share of ~50%, leading the closest rival by 33.2% points. Its gap of domination is the largest comparing to other markets, such as Royal FrieselandCampina's 12.9% in Indonesia, Nestle's 11.8% in the Philippines, Seoul Dairy Cooperative's 6.3% in Korea, or Meji's 3.2% in Japan.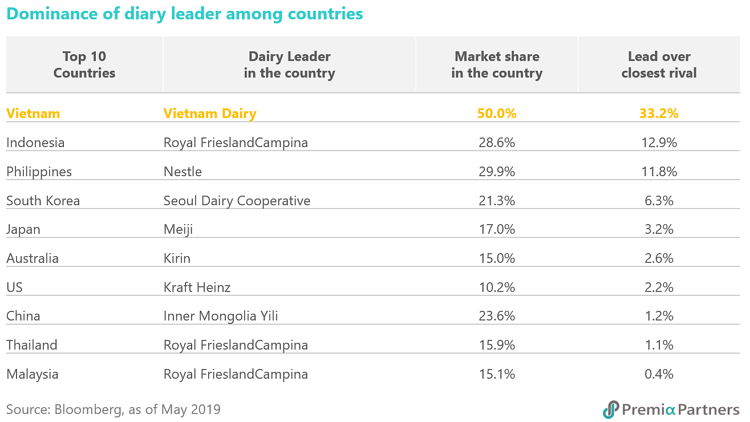 According to Euromonitor, consumption of milk-based products per capita in Vietnam was 19 kg in 2018, lower than Malaysia's 26.7kg, Thailand's 31.7kg and South Korea's 40.1kg, of which fresh milk consumption was similar to other countries, whereas consumption of ready-to-drink yogurt was much lower. The projected CAGR of the dairy market in Vietnam is 11% from 2018 to 2023, making it one of the world's fastest growing markets as the government initiates milk program at schools nationwide and bone health education campaigns. Industry players are also expected to continue their effort in raising awareness about drinking milk products amongst consumers, with an emphasis on product quality and health benefits. It should help grow the market in terms of depth – the current volume of drinking milk products consumed in Vietnam is estimated to be only slightly more than half of the total unmet potential of the category. Besides, the modern retailing channel is beginning to show up in Vietnam with an overall penetration rate combining all convenient stores, supermarkets, hypermarkets at 16.7%, way below Australia's 89.3%, China's 63.3% or Indonesia's 49.2%. With the rapid growth of new sales channel, Vinamilk will reach out to more consumers, who are willing to do bulk purchase and comfortable to get chilled fresh dairy products in the modernized outlets.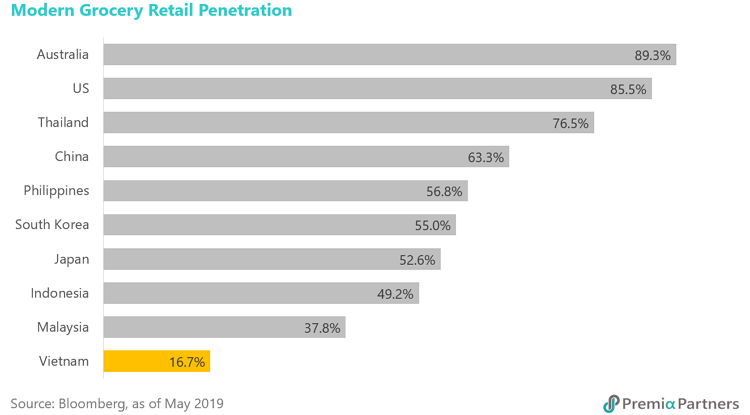 Competition from the foreign players may intensify under the newly implemented Comprehensive and Progressive Agreement for Trans-Pacific Partnership (CPTPP), in which dairy products from Japan, Singapore and New Zealand are now no longer subject to any import tariffs. Logically wholesale prices of foreign brands exported from these countries will be lower and thus increases the industry competition for local brands. To cope with this new threat, Vinamilk's management has expressed their strategic plan to increase market share by 1% annually in the next few years in the form of expanding offerings beyond dairy products and introducing premium products. It aims to launch more campaigns and products targeting teenagers and adults, a segment that has been under-served at the moment. It has just introduced flavored protein drinks, packaged coconut water, and new flavor variants for its probiotic drink.
Another company worth mentioning is Saigon Beer Alcohol Beverage, or Sabeco, which owns a portfolio of beers such as Saigon Lager, Saigon Export, Saigon Special and 333. Sabeco is the largest brewer in Vietnam with 26 production sites across the nation and a capacity of 2 billion liters. The beer industry has been traditionally dominated by four major breweries with Sabeco leading with a market share of 43%, followed by Heineken's 25%, Habeco's 15% and Carlsberg's 7%. Geographically, Sabeco is competing head-to-head with Heineken in the Southern region, which accounted for 59% of the country's total beer consumption, while Habeco and Carlsberg are the leaders in the northern and Central area, respectively. The total market size is about USD 7.3 billion in 2018 and is estimated to expand at a CAGR of 5.8% in the next few years, reaching to USD 9.6 billion in 2023. Volume-wise, the growth rate ahead will be slightly lower at a CAGR of 2.4%, breaking the level of 5 billion liters in 2023.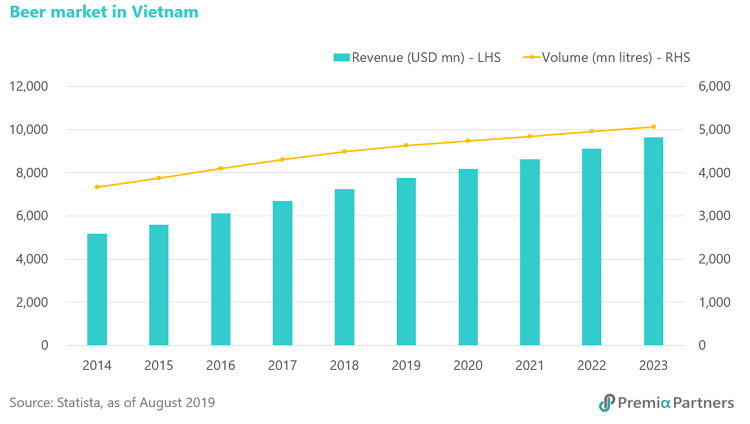 A few catalysts may help support this decent industry growth: (1) Urban residents only constitute 36% of the total population in Vietnam, but the ratio is expected to increase by at least 0.5% annually. Urban residents consume 1.6 times more than rural consumers on a per capita basis. (2) Vietnam has a relatively young population with a median age of 30.5, versus high-30s to mid-40s in North Asian countries. More than 1 million people reaching the legal drinking age every year in the country. (3) Although beer consumption per capita ranks high among Asian countries, it is still below compared to other developed nations in the region such as Japan, New Zealand and Australia, indicating that there remains room for further increment. (4) Vietnam is one of the fastest growing economies with a GDP growth at 6-7% in the next few years. Aspirational consumers will be willing to trade up even in choosing premium beer with improving incomes and brand awareness.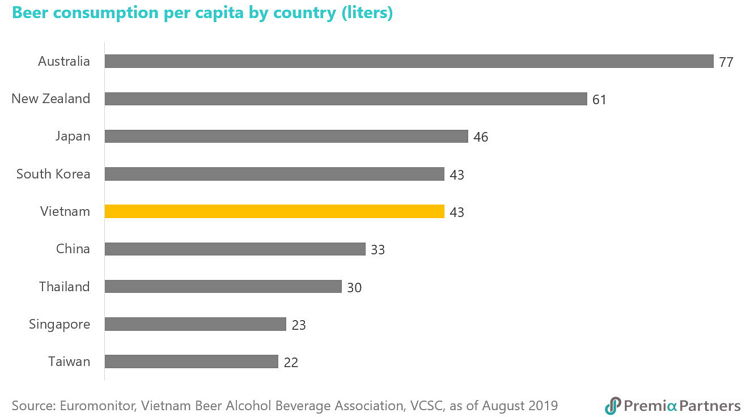 After ThaiBev took over the company in 2018, Sabeco has undergone a management reshuffle and is now equipped with a new leadership team with extensive brewery experience in both Asian and international markets. Having untied itself from its SOE roots, the company targets to improve a few key aspects like brand segmentation, distributor prioritization, product cycle control and margin enhancement. First, the company is now repositioning different brands with clearer images and pricing strategies, say associating Saigon Lager with "Friendship", Saigon Export with "Saigonese", Saigon Special with "Success", 333 with "Heritage". Second, it is adjusting the KPI system for its sales force and prioritizing some core distributors who are willing to reinvest instead of general mom and pop shops. Third, the management is removing the usual practice of channel stuffing before the year-end and reducing the internal inventory days in order to ensure the product freshness. Last but not least, Sabeco determines to increase the margin, which has been lower than its peers' in the past, by increasing the portion of premium products, raising the average selling price, leveraging ThaiBev's effort in procurement, lowing packaging costs, and introducing competitive bidding for logistics outsourcing. In short, the company's growth may accelerate with all the successful transformation.
The third company that fits well into Vietnam's consumption story is Masan Group, which is a conglomerate with business in consumer, nutri-science, resources and financials. Its consumer segment focusing on fast moving consumer goods (FMCG) is the major contributor in terms of revenue (~45.4%) and operating profit (~71.9%) with products across soy sauce, fish sauce, chili sauce, instant noodles, instant coffee, instant cereals and bottled beverages. Industry-wise, FMCG grew at mid-single-digit to low-teen in urban area in the first quarter this year, while the growth was slightly faster at rural area at a pace of high-single-digit to high-teen. Traditional small and medium-sized street shops remained the major distribution channels, accounting for 64% of the overall sales. On the other hand, minimarts/convenience stores and hypermarkets/supermarkets recorded the fastest year-on-year growth at 32% and 14%, respectively.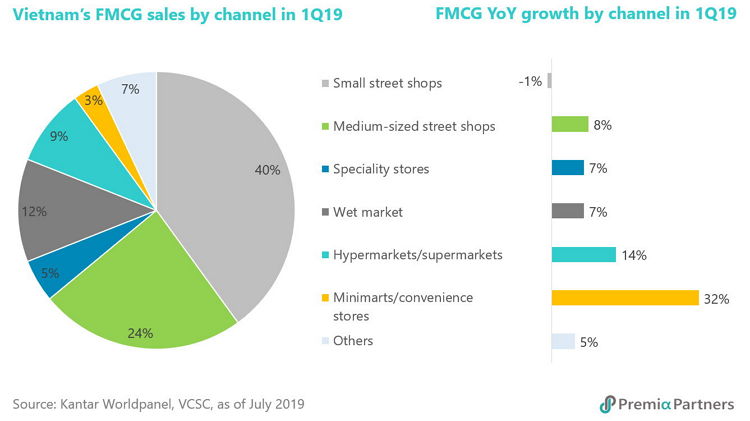 Masan has created and owns some of the most recognized and trusted consumer brands such as Chin-Su, Nam Ngu, Tam Thai Tu, Omachi, Kokomi, Vinacafé, Wake-up, Kachi and Vinh Hao through a strategy of putting Vietnamese consumers first. Masan Consumer was recognized as a "Top 10 trusted food company" by Vietnam Report, and it was also ranked in the top three most chosen brands in both urban and rural area for six years in a row by Kantar Worldpanel. Looking at the sub-segment performance of Masan Consumer, it shows that all of them except processed meats have done well, growing at various rates from 11% to 36%. Seasonings' revenue increased by 35% with the new premiumization strategy in launching Chin-su Man Man and Nam Ngu Vang. Convenience Foods' revenue was up by 29% with 23% growth in volume and 6% growth in average selling price. Innovative products such as Omachi Cup, Omachi Mashed Potatoes and Omachi Business Class received positive market feedback. Beverages did well with a top-line growth of 36%, contributed by the energy drinks like Wake-up 247. Newly launched premium bottled water Viant and heavy-duty energy drink Compact will be the major growth drivers in 2019.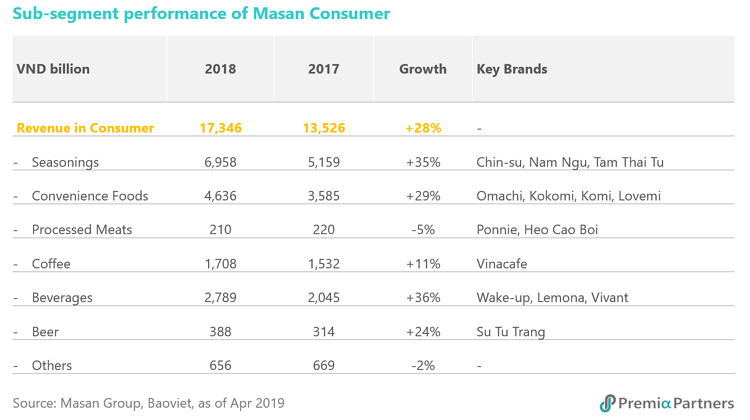 In addition to the existing business in FMCG, the company unleashed its ambition in meeting the needs in the inefficient animal-based protein market in Vietnam. Currently Vietnamese consumers who make on average one-tenth the income of Americans, pay nearly double the price for meat products. It recently launched MEATDeli, a chilled fresh meat brand, to fulfill market gaps in high quality, safe, affordable and well packaged meats. Looking forward, the management expects the group's revenue will increase by 18-31% to VND 45-50 trillion and net profit will be up by 44-58% to VND 5-5.5 trillion in 2019. By 2022, Masan Group aims to achieve a revenue of VND 115 trillion, growing at 2 to 3 times the pace of the country's consumer expenditure growth of 10.2%, and manage a net margin of 12 to 15%. In particular, Masan Consumer targets to position as the number one consumer innovator in the market and deliver 50% of its revenue from new products, including personal care and retail segments.
We believe that more interesting consumer companies will be emerging in the equity market as the economy grows steadily and early investors are able to benefit from taking calculated risks. Please note that all three companies mentioned above are among the top 10 holdings of our Premia MSCI Vietnam ETF.
Related Premia ETF ticker:
Vietnam: Premia MSCI Vietnam ETF – 2804.HK/9804.HK