The share of modern semiconductor manufacturing capacity located in China has grown to 15% now from basically nothing in 1990, while the US share has reduced to 12% from 37% at the same time. This probably triggered Washington to escalate the US-China tech rivalry to a national security level, beginning to introduce measures limiting China's growth in semiconductor development.
The US first barred sales of advanced chips from the American companies to their Chinese buyers by setting up a sanctions list. Then the CHIPS Act passed by the US Congress stated that chipmakers must agree not to expand capacity in China for a decade if they are to receive money from a USD 39 billion federal fund designed to promote the US semiconductor industry. The US Department of Commerce tightened the policy further by issuing a new set of export restrictions aiming at cutting China off from accessing certain high-end chips and further limiting the country's ability to try to produce advanced chips onshore. It also imposed a ban on US persons—both citizens and those with resident alien status—from working on or supporting in any way the production of advanced semiconductors. That step led to an exodus from China with hundreds of engineers leaving their positions at the Chinese chip companies.
The Dutch government has been under pressure to align with a US goal to undermine China's ability to make cutting-edge chips. Eventually, it announced to restrict exports of the country's most advanced chip technology, which includes ASML's extreme ultraviolet lithography system that prints small, complex designs on microchips used in power data centers, cars, smartphones and game consoles. After months of lobbying from the US, Japan also said earlier it would impose export controls on 23 types of leading-edge technology supplied by major companies including Tokyo Electron.
Beijing has made formal complaint to the World Trade Organization that the move of the three nations in alignment to curb chip exports to China violates the openness and transparency principles of the trade body. It is undeniable that recent development may topple China's advancement in the near term, but it does not mean a hard brake for the semiconductor industry in China.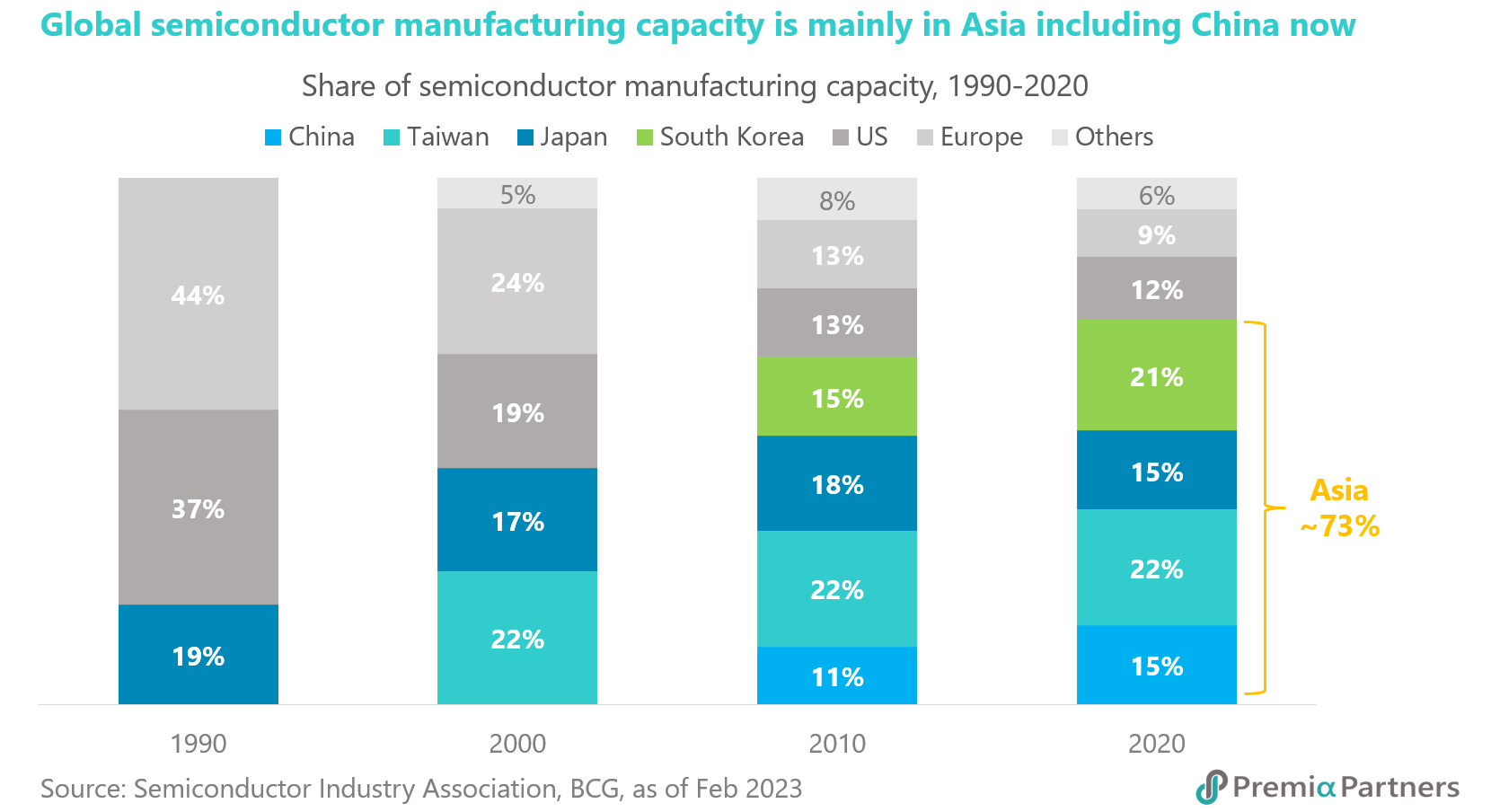 Meanwhile global chipmakers and equipment providers – and their management and shareholders - are caught between a rock and a hard place. On one hand, some leading chip giants may continue to do business as usual with their Chinese clients. Samsung Electronics and SK Hynix, the dominating players in DRAM and NAND flash memory, have recently gained a one-year waiver to supply the necessary equipment for their semiconductor production facilities in China without seeking prior US Department of Commerce approval. US graphics card giant Nvidia gets around the US rules by redesigning its offering chips for the Chinese market, allowing it to continue selling its products to customers in China while still complying with new US export control requirements. The new A800 graphic processing unit (GPU) is an alternative to its original A100 chip that the US government has barred from sale to Chinese clients without approval. Analysts see it is a pragmatic approach for the US firm as Chinese market is simply too big to sacrifice.
On the other hand, California-based Lam Research said it can ship more products to China than previously expected after receiving clarifications on US trade restrictions. A more precise understanding of the new measures shows that the company should revise up their estimates on machine selling to China.
Recently in response to China's cybersecurity review into the largest US chipmaker Micron Technology which dominates the global DRAM memory space, the US is said to have requested Samsung Electronics and SK Hynix not to fill market gap in China should Beijing ban Micron Technology from selling chips according to Financial Times. Yet both Korean chipmakers recently after reporting steep losses, expressed optimism in emerging from the deepest downturn this year, on the back of opportunities from China's reopening and economic recovery.
In fact, semiconductor is now the largest item among all the imports in China. The chip industry in China will remain as the top spot for imports in 2023, more than double the size of the oil & gas industry, according to market research database IBISWorld. In 2022, China's imports of semiconductor slumped 15.3% YoY to 538.4 billion units, a sharp reversal from strong growth in the prior two years amid supply chain disruptions as a result of the country's zero-COVID approach and the CHIPS Act. In term of value, China's imports of chips fell 3.9% YoY only to USD 415.6 billion due to higher average unit price. Meanwhile, the volume of China's chips exports last year dropped 12% YoY to 273.3 billion whilst the value of exports edged up 0.3% YoY to USD 153.9 billion. That leaves the country with an annual trade deficit of USD 261.7 billion in semiconductor trade, highlighting a significant gap – and market opportunities - to be filled.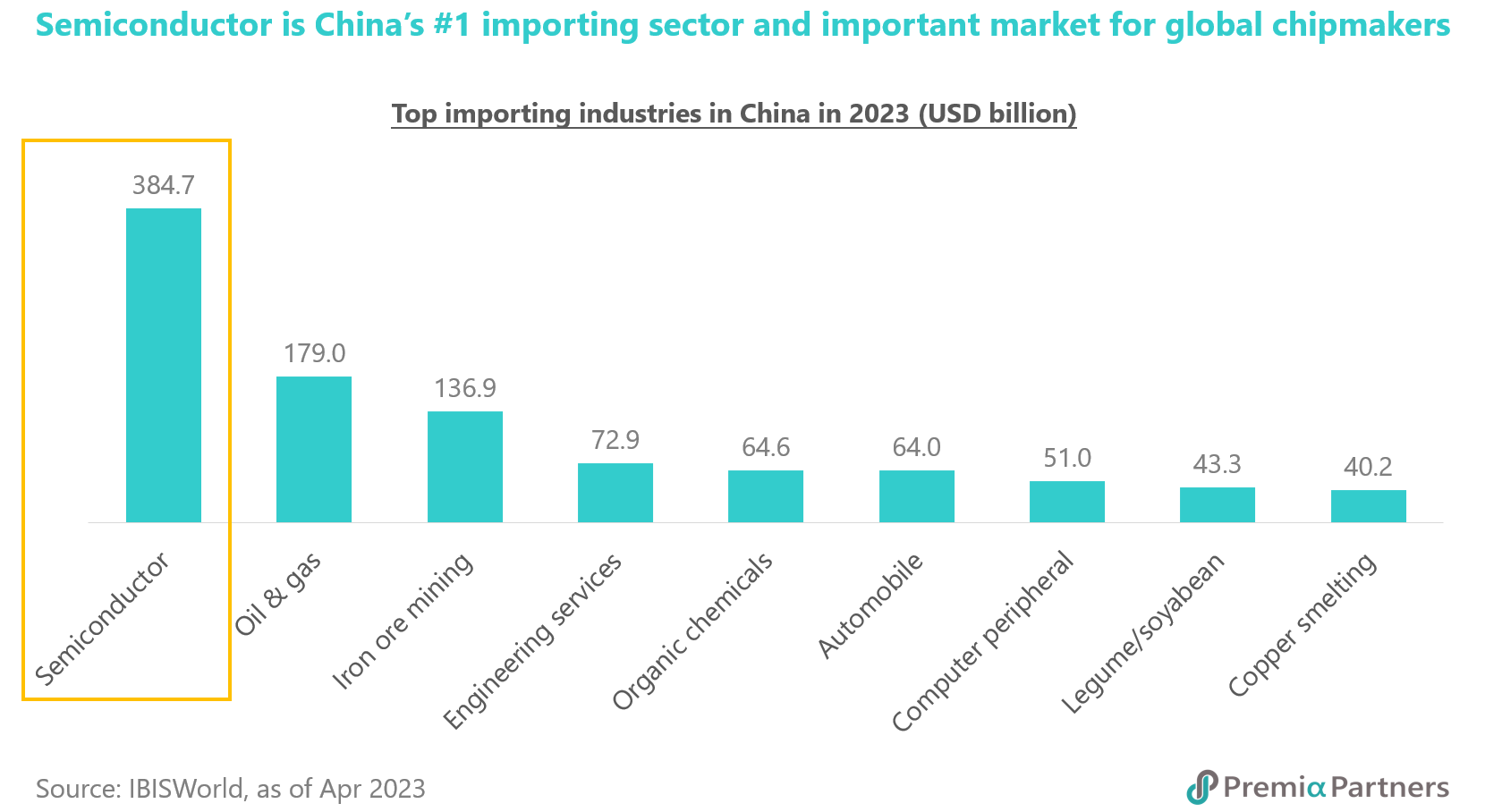 Within the industry's supply chain, China currently possesses some notable strengths in outsourced assembly, packaging, and testing (OSAT), according to the latest study of Semiconductor Industry Association. China's leading OSAT players are ranked among the top 10 OSAT companies in the world, holding a combined market share of 38%. On the wafer fabrication and materials front, China has been making solid progress thanks to the government's lead and a burgeoning domestic end market, holding a decent market share of about 19% - 21% in these capex intensive segments. As a result, some analysts suggest that global chipmakers will put themselves in a vulnerable position in the short term if they have to cut ties with their Chinese suppliers completely since part of the workflows are now finished in a cost-effective way in China.
On the other hand, given China is a latecomer to the industry, it is notably absent in the market for high-end logic, advanced analog and leading-edge memory products. It lags significantly in the areas that need intensive R&D input, including Electronic Design Automation (EDA) tools, chip design IP, advanced logic foundry production, DAO, flash memory, DRAM and semiconductor manufacturing equipment. Chinese foundries now focus on more mature nodes at 40 nanometers upwards, primarily selling discrete semiconductors, lower-end logic chips and analog chips to consumer, communications and industrial market.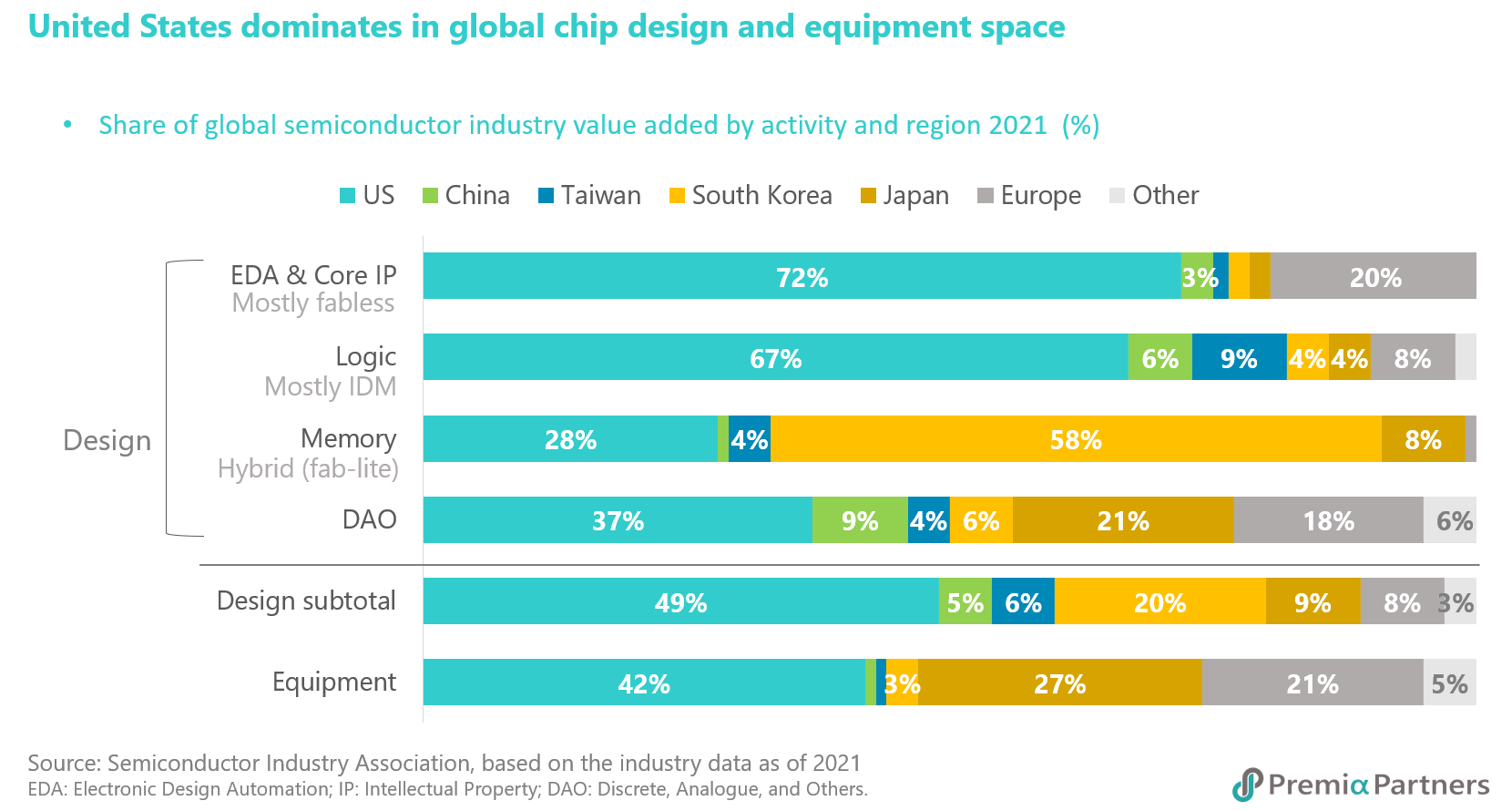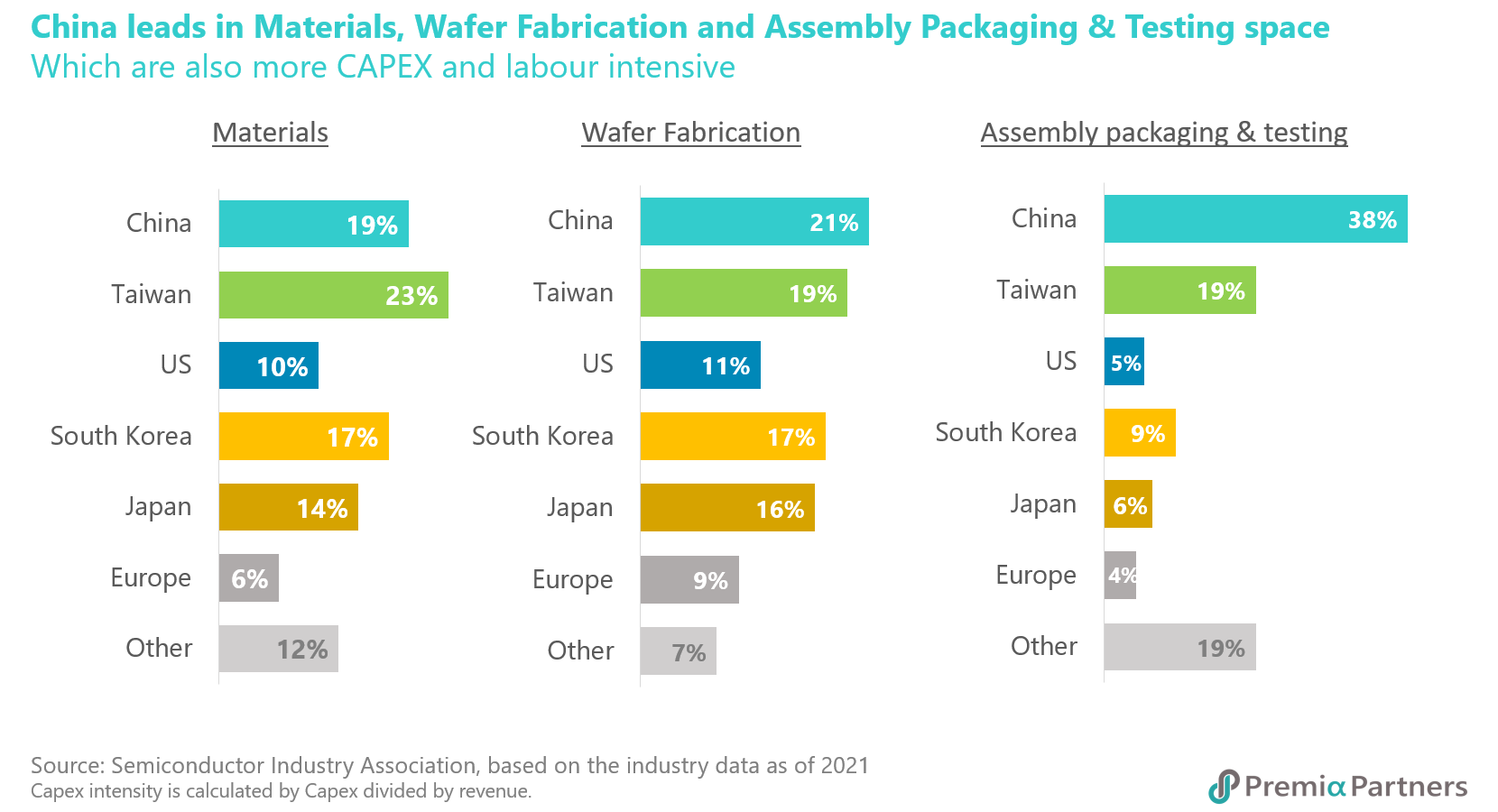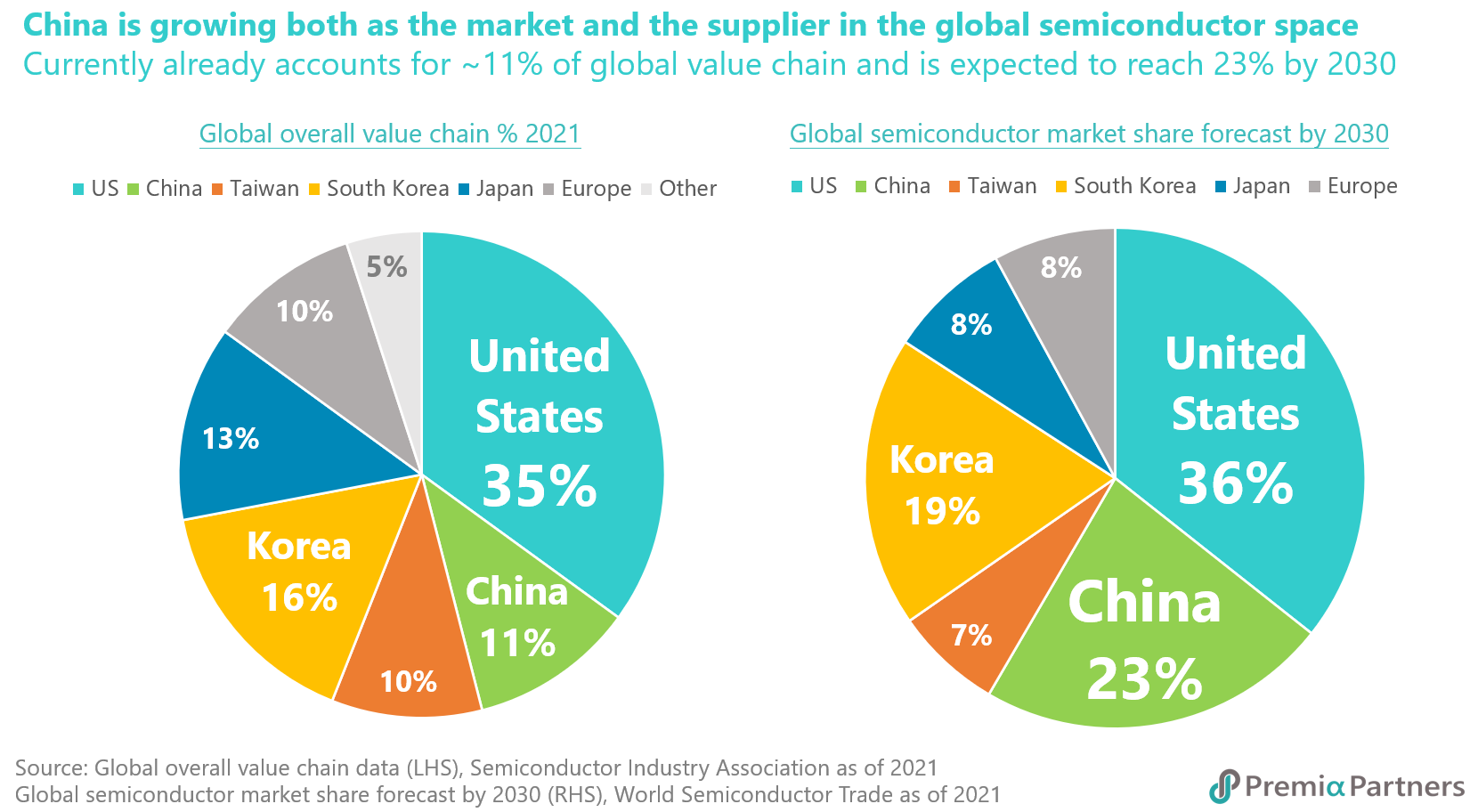 With increasing noise and obstacles in technology transfer, President Xi emphasized in the recent Politburo meeting that the country must accelerate scientific research to achieve self-reliance in critical technology sectors. Vice Premier Liu echoed that China needs to make good use of both government and market forces to develop the semiconductor industry. Guangdong, a major electronics manufacturing hub importing close to one-third of the country's total chips annually, became the first to response for the call. Its vice-governor revealed that there are 40 major semiconductor projects under construction or being planned in the province, with the combined investments worth over RMB 500 billion.
These new developments will provide essential support for next-generation electronics, smart home devices, electric vehicles, robotics and automation equipment, which altogether form the backbone of the Guangdong's manufactory base. Eventually, the Southern Chinese province aims to build itself into a new semiconductor cluster similar to what has been developed in Beijing and Shanghai.
The strong sense of urgency in developing the domestic chip technology may be part of the reasons behind the strong performance of the STAR50 index, which outperformed most onshore and offshore China equity benchmarks year-to-date because of its heavy exposure in the chip industry and coming of age for generative AI applications. For those who are not familiar with STAR market, it is the exchange positioning for nurturing the emerging home-grown leaders in innovative technologies. Since its launch in 2019, the STAR market has already helped over 500 number of companies get listed, becoming the top platform for fund raising activities globally. The future remains bright, with a promising pipeline of more than 800 candidates waiting for debut. Semiconductor Manufacturing Electronics Shaoxing is aiming to raise USD 1.4 billion at STAR market in Asia's largest IPO so far this year, while Changxin Memory Technologies, a leading DRAM producer, plans to file for a listing at a valuation of no less than RMB 100 billion.
As shown in the following table, there are currently 18 companies in STAR50 Index, with a total weight of close to 50%, are engaged in various segments of the semiconductor industry, such as foundry, fabless design, chip equipment, and silicon materials. While it is expected the hardcore technology sectors especially the high end processing and computing space would continue to be subject to scrutiny and pressure from the US, as a balancing act they are also at the major beneficiaries of the policy and resource support from Beijing, and undoubtedly important drivers of both disruptive technologies such as AI, as well as continued consumer and enterprise digital transformations and smart city build outs in China – where China is growing quickly as both the major market and the major supplier.
As the space continues to evolve, we have also observed investors, allocators and investment bank analysts increasingly acknowledge its relevance for asset allocation and uncorrelated alpha vis a vis global technology and traditional China internet exposure and started to allocate more research resources and capital towards such.
At this stage when a lot of emerging leaders are still in the small to mid cap range, supply and demand dynamics would naturally bring higher volatility and valuation swings from time to time. We believe buying on dip by allocating through a more diversified approach would be a good way to start – and our Premia China STAR50 ETF (3151.HK) would be a very relevant building block for global asset allocator to tap into the growing opportunities in China's semiconductor development.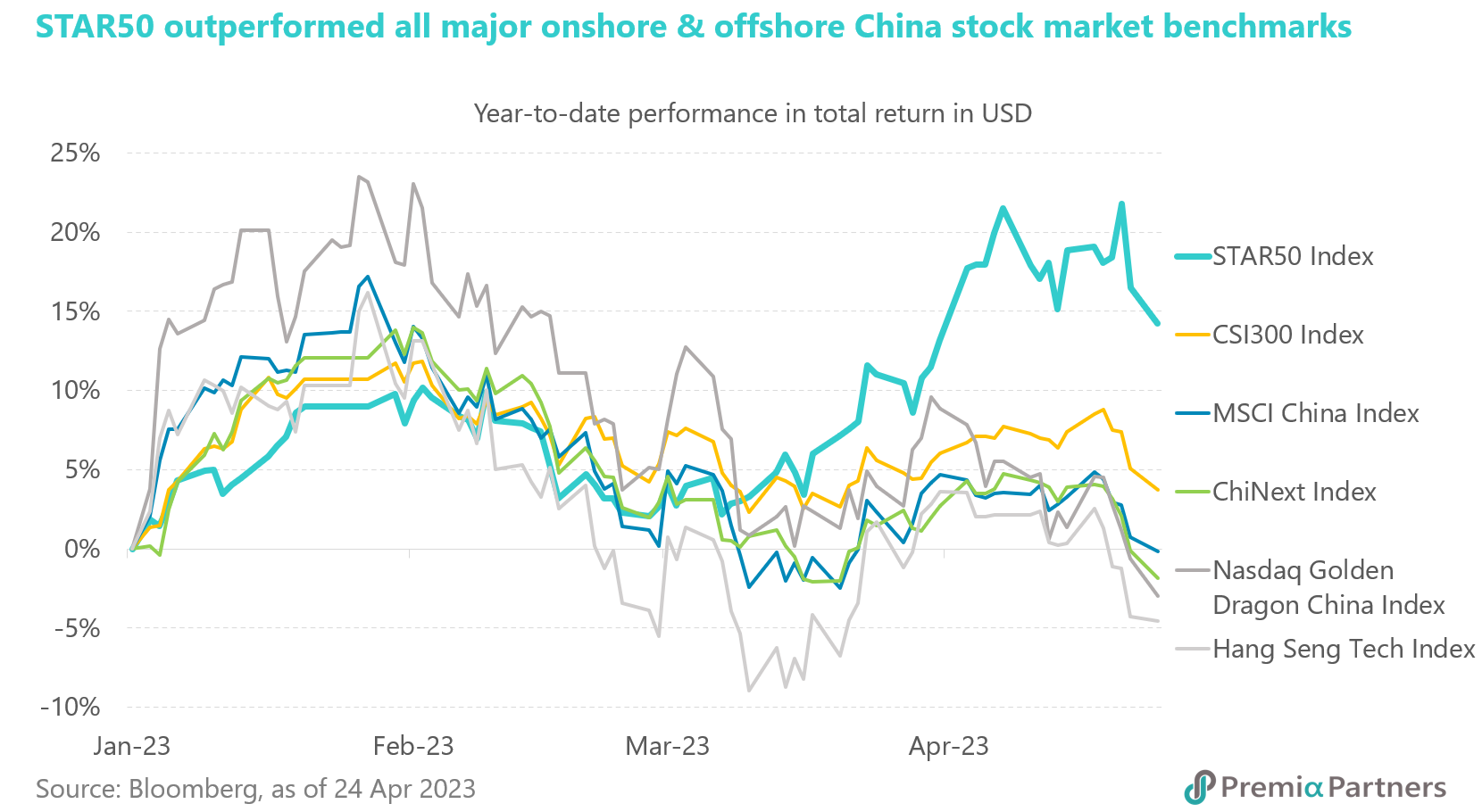 | | | | |
| --- | --- | --- | --- |
| STAR50 Index Constituent in Semiconductor Industry | Stock Code | Index Weight | Description |
| SMIC | 688981 | 12.2% | China's largest chip foundry and the fifth-largest globally after TSMC, Samsung Electronics, GlobalFoundries, and UMC. SMIC is the only foundry in China with 14-nm production and a giant in older technology, including chips that regulate power flows in electronics and EVs. It has been target of US sanction since 2020. |
| Advanced Micro-Fab Equipment | 688012 | 8.0% | China's leading provider of advanced process technologies and equipment for manufacturers of semiconductors and LEDs globally. Its etch tools enable chipmakers to build devices at nodes as low as 5nm, and its MOCVD systems are market leader for production of Blue LEDs. |
| Montage Technology | 688008 | 5.4% | China's leading IC design company, providing high performance chip-based solutions for cloud computing and artificial intelligence applications. |
| Cambricon Technologies | 688256 | 4.8% | China's leading AI chipmaker which AI core processor chips, AI/ cloud components and underlying systems have been used by Huawei, Alibaba, Lenovo, Inspur and many more tech companies for intelligent robots, intelligent cloud servers, edge devices and terminals. |
| China Resources Microelectronics | 688396 | 3.0% | China's largest integrated device manufacturer (IDM), with integrated operation across full value chain including IC design, wafer manufacturing and chip packaging and testing. |
| National Silicon Industry Group | 688126 | 2.6% | Leading wafer company in research and production of wide range of wafer sized from under 200mm to over 300mm, with exports to America, Europe and Asia. Acquired Okmetic, the world's 7th largest wafer manufacturer headquartered in Finland. |
| Amlogic | 688099 | 2.4% | China's leading fabless system-on-chip (SoC) company, providing open platform solutions for HD multimedia, 3D gaming, internet connected consumer applications. |
| VeriSilicon Microelectronics | 688521 | 2.2% | One-stop chip foundry that manufactures chips and provider of "Silicon Platform as a Service (SiPaaS). Provides custom silicon solutions and system-on-chip (SoC) turnkey services for a wide range of electronic devices and systems, as well as data centers, IoT, internet platforms and electronics producers. |
| Hygon Information Technology | 688041 | 1.8% | China's leading supplier of high end processors and computer components for computing, storage devices and cloud servers. Hygon handles CPUs (central processing units) based on Intel's x86 technology as well as DCUs (deep-learning computing units), high-performance processors developed in-house. Its R&D expenses are nearly 70% of sales according to Nikkei reports. |
| Shanghai Fudan Microelectronics | 688385 | 1.5% | China's leading ultra-large scale integrated circuit developer, focusing on security and identification, non-volatile memory, smart meter chips, FPGA chips and integrated circuit testing services. |
| 3PEAK Inc | 688536 | 1.3% | Fabless semiconductor company and major supplier of high speed, ultra-precision, low-power, low-noise analog IC products and systems in China. Products widely used in 5G communications, supply chain management, IIoT, new energy and healthcare equipment. |
| Suzhou Novosense Microelectronics | 688052 | 0.9% | China's integrated circuit designer, focusing on analog sensor, signal chain management and power system that are used in NEVs, industrial automation, smart home and consumer electronics markets. |
| Loongson Technology | 688047 | 0.5% | China's leading processor and CPU manufacturer with proprietary technology, with holistic platform for software and hardware ecosystem that is widely used in business, industrial control and IoT contexts. |
| GalaxyCore Inc | 688728 | 0.5% | Focuses on designing chips and integrated circuits used for CMOS image sensor and LCD display. Products and components used in industrial Internet of Things (IIoT), automations, smart wearables, healthcare and cameras. |
| ACM Research | 688082 | 0.4% | Leading provider of wafer and chip cleaning equipment, and provides solutions to remove defects and improve chip processing yields. Customers include global and domestic chip producers such as SMIC, SK Hynix, Huali Microelectronics (HLMC), and ChangXin Memory Technologies (CXMT). Parent holding is listed on NYSE. |
| SICC | 688234 | 0.3% | Leading advanced material company producing silicon carbide (SiC) and SiC substrate/wafer, widely used for production of semiconductors, radio frequency devices and power charging devices etc. |
| Guobo Electronics | 688375 | 0.3% | China's leading company in developing and manufacturing active phased array T/R components, RF amplifier and control chips used in 5G base stations etc. |
| ASR Microelectronics | 688220 | 0.3% | Leading fabless chipmaker with focus on designing semiconductors and electronics used for wireless communications, including 5G cellular baseband, and complex SoC customization for 5G, IoT and AI use cases. One of the world's largest companies in the global cellular IoT chipset market. |
Source: China Securities Index (CSI), index weightings as of 25 April 2023