Evolution of virtual influencers
Dating back to 1998, there existed a cyber-singer Adam in South Korea.
Despite unsophisticated 3D graphics, Adam is widely accepted as the first-generation virtual K-pop idol before Aespa (K-pop girl group consisting of four humans and four virtual avatar members) exists after around 25 years. His first album was successful – sales of 200k albums, love calls from advertising industry, and even emergence of his fan club.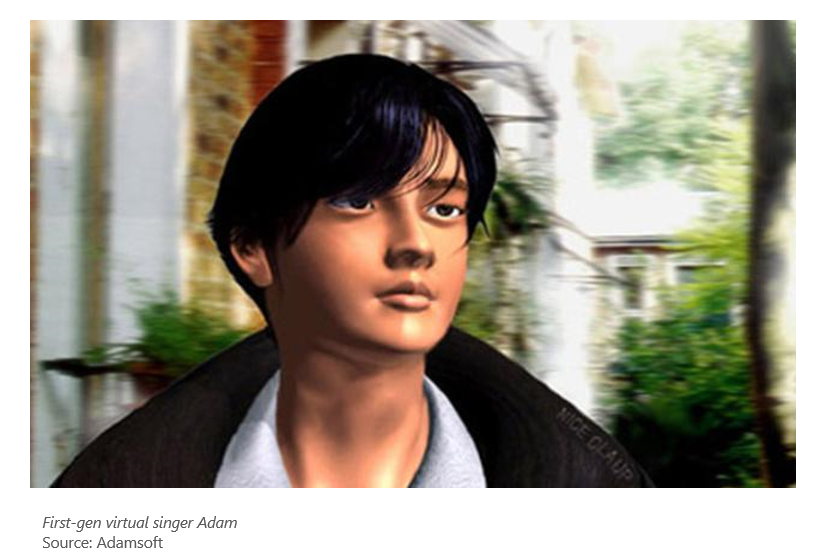 Two decades later with the advancement of computer graphics technologies, virtual influencers today evolve into hyper-realistic humanized forms with much more immersive and interactive metaverse experience for the audience, and increasingly as complementary members or competitors for their human counterparts. In Asia, South Korea again has been leading the trend.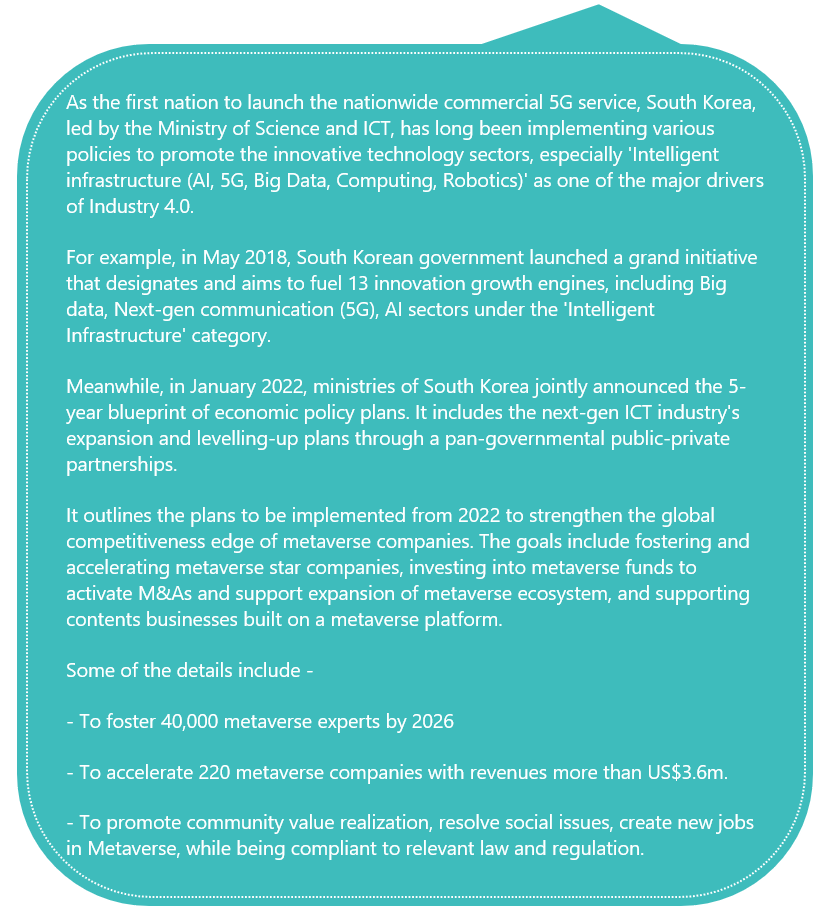 There are at least 150 virtual influencers active in Asia at the moment and the number is growing. In fact, given the conducive demographic profile with GenZs making up the largest internet group, sheer size of population, very high internet penetration rate and 5G network coverage, Asia is expected to lead the growth of the virtual influencer business in the next decade. According to recent survey by IIMedia Research, of the 80% of Chinese netizens follow celebrities online, over 60% follow virtual idols—with over half spending at least RMB500 (US$75) a month on related purchases and 3 times higher engagement rates than human key opinion leaders (KOLs).
Digital native generation and the rise of virtual influencer marketing
When thinking of 'animal crossing' or other games, game players tend to regard their characters as their avatars, or as a medium that helps manifest their identities on Internet. Gen Zs and most Millennials are more acceptable with any form of virtual beings to which they have been exposed to for their entire lives as being 'digital natives' generation. Some of these Gen Zs and Millennials are already taking lead in global consumption trend as major drivers. In fact, according to Bloomberg's research, Gen Z commands US$360 billion in disposable income, more than double the estimated amount from three years ago.[1] As the figure increases, businesses are striving hard to figure out how to get engage them, and Forbes' survey[2] reveals that social media would be the best method to reach out to the generation.
To best engage Gen Z, good comprehension of their consumption pattern is crucial. The use of influencers or brand ambassadors is effective to get this cohort buy, as Gen Zers tend to be influenced by people they admire, and they would like to stick to the trend following the influencers.[3] KOLs (Key Opinion Leaders) and 'Zhongcao' 种草 (recommendation-based marketing strategy now dominant in China) are the new trends in China that could explain the Gen Z's consumption behaviour during the region's livestreaming industry boom and importance placed on word-of-mouth recommendations – and these human influencers are very costly hires with also potential conflicts and risk exposure attached to the perception of the influencers by their fans and society at large. For instance, hiring a top-level K-pop idol Blackpink's Jennie for an advertisement costs ~US$800,000 annually. Despite a huge amount of advertising costs, the risk the brand, which leverages and pays for an influencer's public image, must bear is too costly as no one can predict which scandal or issue the model will be confronted in the future.
According to the Bloomberg's forecast, the global influencer marketing market size is expected to grow from US$9.2 billion in 2020 to US$20.8 billion in 2025 with a CAGR of 18%[4]. Another report states that 74.5%1 of U.S. marketers responded they are planning to use influencer marketing in 2022, which shows the firm evidence of a critical role of influencers or KOLs in affecting the Millennials and Gen Z's purchase decisions.

[1] Gen Z has 360 billion to spend trick is getting them to buy, Bloomberg, 17/11/2021
[2] As Gen Z's Buying Power Grows, Businesses Must Adapt Their Marketing, Forbes, 20/07/2022
[3] Virtual Singers Headline Multibillion-Dollar Industry in China, Bloomberg, 12/06/2021
[4] 가상인간이 세상을 움직인다 가상 인플루언서 시장 빅뱅, Fortune Korea, 11/07/2022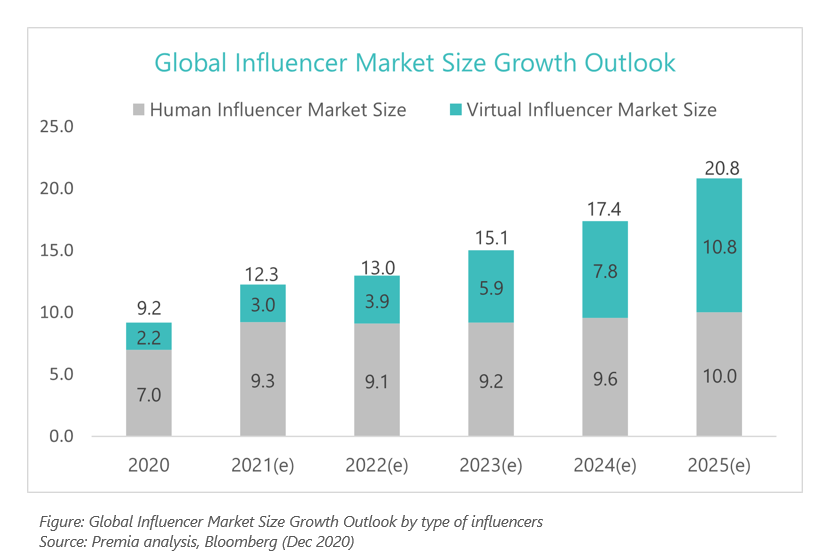 Meanwhile, the virtual influencer market size is also growing at an alarming rate with a CAGR of 37%, from US$2.2 billion to US$10.8 billion within 5 years, getting almost 5 times bigger in size. Especially in China, where e-commerce-driven platforms dominate and virtual KOLs have diverse opportunities to monetize their connections with fans, the virtual KOL industry has grown 70% since 2017 and reached US$960 million in 2021.[5] The major audience, Gen Z and millennials now reach almost 390 million in China[6] and this is an important segment that has exhibited much stronger acceptance to virtual influencers also. In fact, disappointed by the recent scandals by some human endorsers, increasing number of companies also started to experiment with virtual endorsers to diversify exposure.
According to Christopher Travers, the founder of virtualhumans.org, "Virtual influencers, while fake, have real business potential. They are cheaper to work with than humans in the long term, are 100% controllable, can appear in many places at once, and, most importantly, they never age or die." – and in China, they also would never expose brands to risks of tax evasion, personal relationship or ethical issues.
Christopher sums up most of the unique features of virtual influencers. They are free from the scandals that human celebrities might face, so-called the 'model risk' which has to do with their personal lives, crimes, or even their political stances that may result in substantial damage to their image and therefore the brand they represent.
Furthermore, all humans are aging and may no longer fit into the image that a brand pursues, so extra costs or efforts might be needed. On the other hand, virtual influencers can always be perfect and fully controlled to act or speak in a way that is likeable to the public, based on big database.
In addition, according to the HypeAuditor's study, "virtual influencers have almost 3 times more engagement than real influencers. This means that followers are more engaged with virtual influencers'content."[7]

[5] Virtual Singers Headline Multibillion-Dollar Industry in China, Bloomberg, 12/06/2021
[6] Virtual influencers are helping brands to succeed in China, Econsultancy, 06/08/2021
[7] Virtual Influencers Make Real Money While Covid Locks Down Human Stars, Bloomberg, 29/10/2020

Rising virtual influencers : from Youtubers to brand ambassadors
Lil Miquela, 19-years-old Brazilian American pop singer based in LA, is creating global sensations and winning brand ambassador spots from multiple global luxury brands such as Chanel, Prada, Burberry and Louis Vuitton. She was even selected in Top 25 of the most influential figures on the Internet by Times. She got 3 million followers on her Instagram and charges around US$8k per advertisement post – compared to US$250k for Instagram post advertisement by human influencers with similar number of followers.
And she is not human. In fact, she was created as an Instagram profile project by the American robotics engineering and AI-specialized company Brud in 2016, which is now worth US$125 million. She is amongst the most famous virtual influencer, and she gained popularity by keeping herself sensational – her Instagram account was once hacked by a pro-Trump CGI model, and this went viral. That's why global brands love her.
Similarly, UK-based Shudu Gram is another influential icon in fashion industry, being the first virtual super model in the world. Her profile is set as a tall South African super model with an attractive mask by the UK photographer Cameron James Wilson in 2017. She became viral with the photo of her posing with orange FENTY lipsticks on and surprising people as turning out to be a virtual human. She also served as a Z Flip model for Samsung electronics, leveraging her iconic, next-gen image.
Regardless of their "nationalities", common features are observed among virtual influencers - highly detailed profile with well-defined concepts and identity, plus unique and trendy appearance that would make themselves appealing to Gen Zs and Millennials.
How do brands leverage on virtual influencers? Content Commerce Insider presented a "Virtual Influencer Framework", which consists of 4 matrices which classify virtual influencers by the level of 'storytelling' and 'ownership'.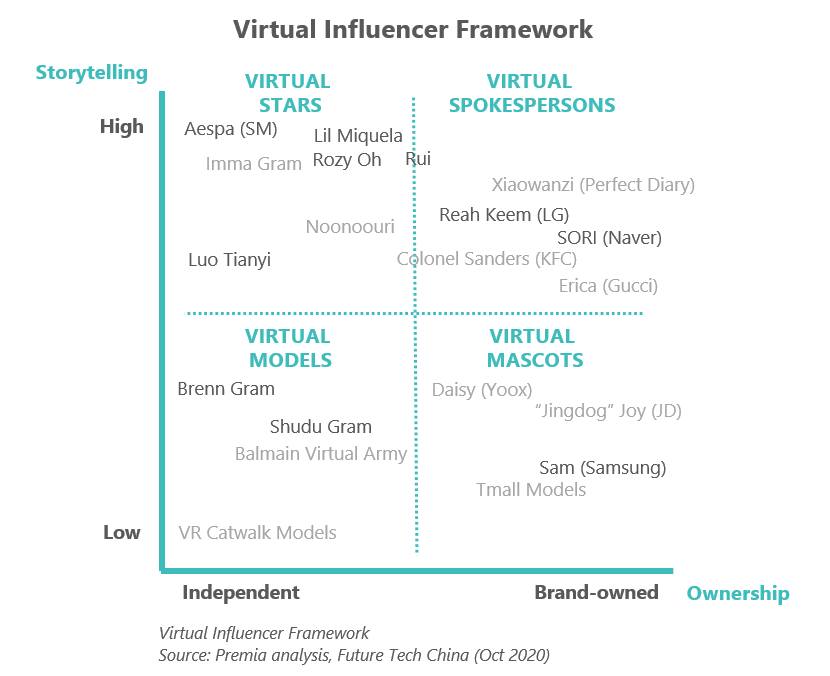 Based on this framework, Lil Miquela exhibits the highest level of engagement in storytelling but not much of ownership by an individual or a firm, while keep emerging in multiple brands' eventful advertisements. On the other hand, Shudu Gram focuses on attracting the audience with her image rather than giving a full storyline about her.
Virtual KOLs are increasingly experimented also in East Asia: from Japan's Imma, Korea's Rozy and Rui, to China's Ayayi, Ling and Luo Tianyi. They are getting increasingly famous mainly through their Youtube channels, social media and advertisements for the regional big names.
With virtual influencers, brands can also 'programme' according to the preferences and purposes the audience value. For instance, Gen Zers are often found to value diversity, equality, peace, family and success. They are also found to be more self-aware, striving towards to be socially and environmentally responsible and promoting mental health as well. Consequently, Gen Zs are more likely to gravitate toward brands which showcase their brand philosophy or stance that aligns with their beliefs, and the same mechanism applies to the influencers to whom Gen Zers are the major consumers.[8] The major reason behind building up structured, highly sophisticated storylines as well as granting unique characters to virtual influencers lies on such characteristics of Gen Z's consumption behaviour.
[8] As Gen Z's Buying Power Grows, Businesses Must Adapt Their Marketing, Forbes, 20/07/2022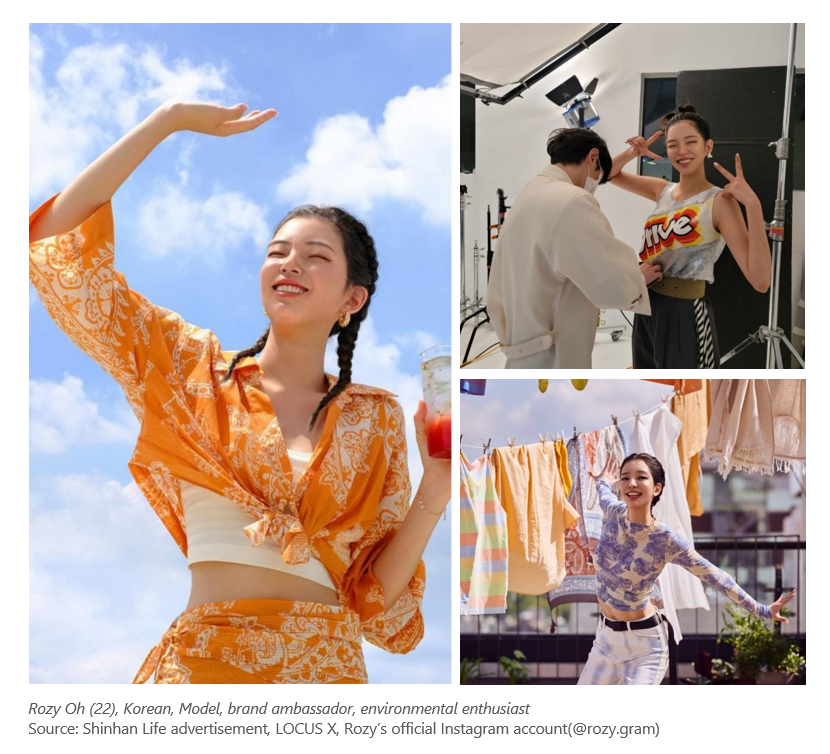 Some consumer brands are also entering the virtual influencer market. One of the largest Korean conglomerate, LG, featured Reah Keem, who was first introduced in CES 2021 to present LG Electronics' products in order to be differentiated among numerous global firms in one of the largest global fair which held only online. Reah also debuted as a singer and will expand its scope of activities to produce greater impacts beyond direct-marketing purposes. LG Electronics' AI technology is leveraged in the design, enabling her to collect natural language information and to generate her own voice. Moreover, by creating Reah, LG expected to produce an effect of breaking away from the old image and transform into trendy vibes. Reah, with detailed profile and storyline, would be grouped under "virtual spokespersons". Samsung Electronics' Sam also went viral after Brazil Graphic studio Light Farm designed the 3D character of Sam, who was originally a 2D character served as a virtual sales trainer for the Brazilian subsidiary. Sam's story is kept in veil, so he would fall under "virtual mascots" dimension.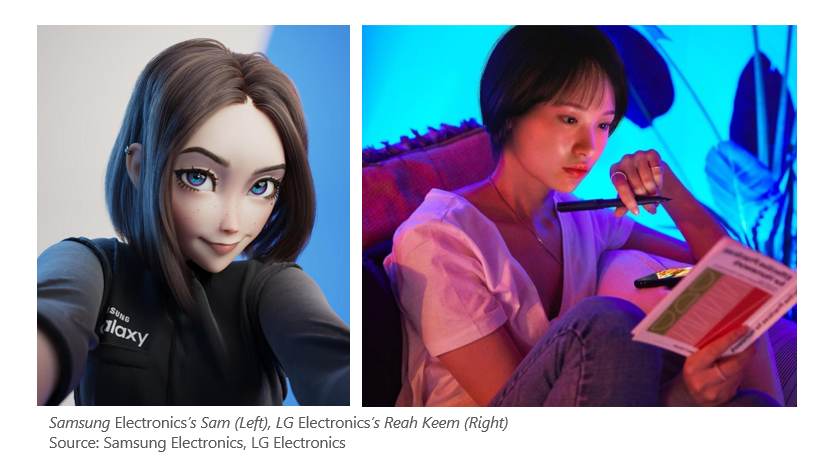 Besides the consumer brands, Asia's leading entertainment agency, South Korea's SM Entertainment also created now one of the most famous K-pop girl group Aespa, which roots its concept from the storyline that four human members and their four virtual counterparts – avatars – that exist in two different worlds: the real world and the virtual world, and their songs tell the story of these two different groups of members seeking for the bridge that could connect each other. With the underlying concept that human and virtual members exist in the parallel world, they often perform together in one stage and even showcase the scenes of "communicating" with each other.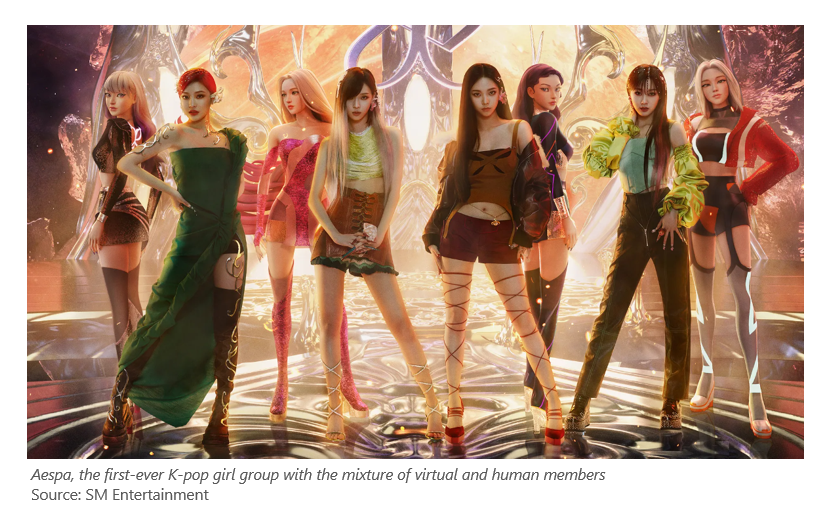 Technology giants entering the market with powerful engines
Technologies used in developing these nearly human KOLs vary, so is the sophistication level of design in manifesting concepts of these virtual characters. Many technology-powered companies are entering the virtual influencer market to capture the market share at an early stage. Let's take South Korea's virtual influencer market as an example, which showcases the leading technology and heated-up competitions to gain dominance.
Rui from the YouTube channel called 'RuiCovery', who serves the ambassador of South Korea's Ministry of Culture, Sports and Tourism and Korea Tourism Organization, has an appearance indistinguishable from a real human. It is very difficult to tell that she is not existing in the physical space without having knowledge of her. Rui's face is created by synthesizing 7 real human faces with AI and "DeepFake"(Deep Learning + Fake) technology without 3D modelling.
Korea's IT conglomerates Naver and Kakao also joined the competition in making virtual humans more realistic, leveraging their in-house technologies.
Naver recently unveiled its first virtual influencer SORI for the first time through "Naver Shopping Live", a live commerce platform's new NARS product launch broadcast to introduce new cosmetics. SORI was built based on a real-time engine and has rich expressive power and natural motion production capabilities. Naver plans to use SORI not only for the live commerce platform but various content service businesses. Furthermore, Naver is making substantial investments in virtual human industries, by acquiring Korean top influencer Rozy's developer as well as CG/VFX specialized firm LOCUS corp last year and make investments to Giant Step, a digital human producing technology developer that created SORI and Aespa. The core technology that Naver is experimenting with is the application of TTS (Text-to-speech) technology and AI voice technology to create a more advanced version of virtual human.
Meanwhile, Kakao Games' subsidiary Neptune has also acquired On mind, a virtual K-pop star Sua's developer. An innovative American technology company AMD's TressFX technology, a hair and fur rendering tech which delivers real-life details of hair movement depending on head movement, gravity and wind speed, is used to create each strand of Sua's hair. As such, Kakao has been focusing on improving visualization effect in virtual humans with neural rendering technology at its core. Besides On mind, Neptune also has acquired Deep studio and Pulse9, the AI-specialized firms committed to develop digital K-pop idols, to capture the share of the virtual influencer market in Korea.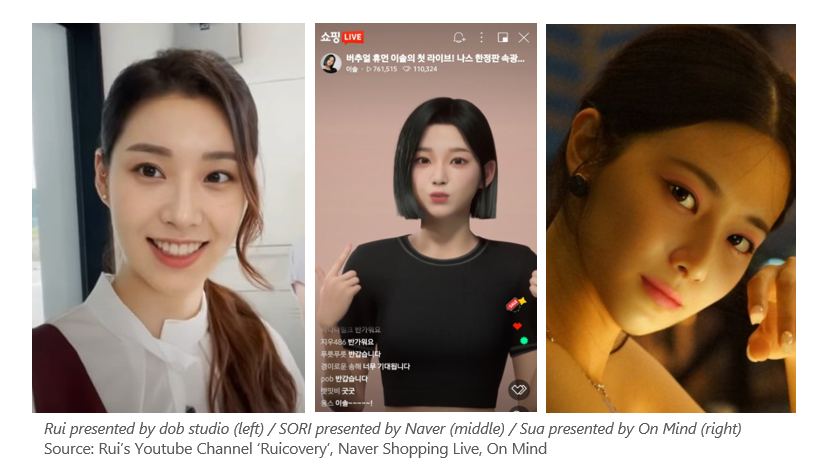 Krafton, a South Korean video game holding company, also joined the competition with its technological capabilities, focusing on VFX (visual effects), AI, Unreal Engine's 3D hyperrealism technology for creating realistic facial expressions or wrinkles. Movements are realistically designed with the combination of rigging technology (creating 3D character's virtual bone and ligaments to control its movements) and motion-capture technology (recording human body movements in digital format). Its futuristic speech synthesis technology enables digital human to engage in a more natural conversation.
Outlook of Future Virtual Influencer Industry
One interesting trend to point out is the dominance of female virtual influencers over male counterparties. Christopher Tavers explained, "Female-dominant virtual influencer market is the result of the global cultural demand. The characters are created in more often visited, accepted and complimented form, which is a female character, and this phenomenon manifests the social definition of attractiveness as well as the result of high demand from the male-dominated animation market. On the other hand, Seungyeop Baek, the CEO of LOCUS X, a leading virtual human developer in South Korea, suggested that female dominance in the market is due to that a female character is easier to show abundant types of contents in beauty, fashion and hobbies to target on female users in female-dominant social media.
Now, Virtual influencer industry is still at the very early stage, but it is growing in a rapid pace not just with fast-moving consumer goods or electronic brands, but across many different industries from financial institutions to traditional conglomerates or public sectors. As people's screen time increases and digital transformation changes our daily life from personal to workplace, and metaverse related technologies continue to develop, the virtual influencer market is projected to grow exponentially – as share of physical world engagement give way to the digital forms especially for the digital native generation.
In Asia with large population and high internet and 5G penetration, the benefits of digital transformation in both the consumer and enterprise space are huge. This also makes Asia a fertile ground for metaverse-related opportunities, and deployment of virtual influencers is one of the examples.
Premia Asia Innovative Technology and Metaverse Theme ETF (3181.HK) which captures 50 technology-enabled leaders in Asia, is very well placed to capture the related opportunities with its tilts towards innovative technologies for digital transformation, robotics automation, green energy technology and metaverse. In fact, as of the recent rebalancing in Jun 2022, around 48% of the constituents have revenues from metaverse-related businesses. For instance, South Korea's tech conglomerates Kakao and Naver which are constituents of the ETF, are leading in the space with its experiments of new virtual human technologies. We expect to see more and more Asian companies leveraging on virtual influencers and expand their footprints and processes with metaverse applications, and this to become a new form of cultural export as well. It is an important space to watch, and we shall share more related research as things evolve.