Chart of the Week
---
Vietnam stocks at a deep discount
David Lai , CFA

Partner, Co-CIO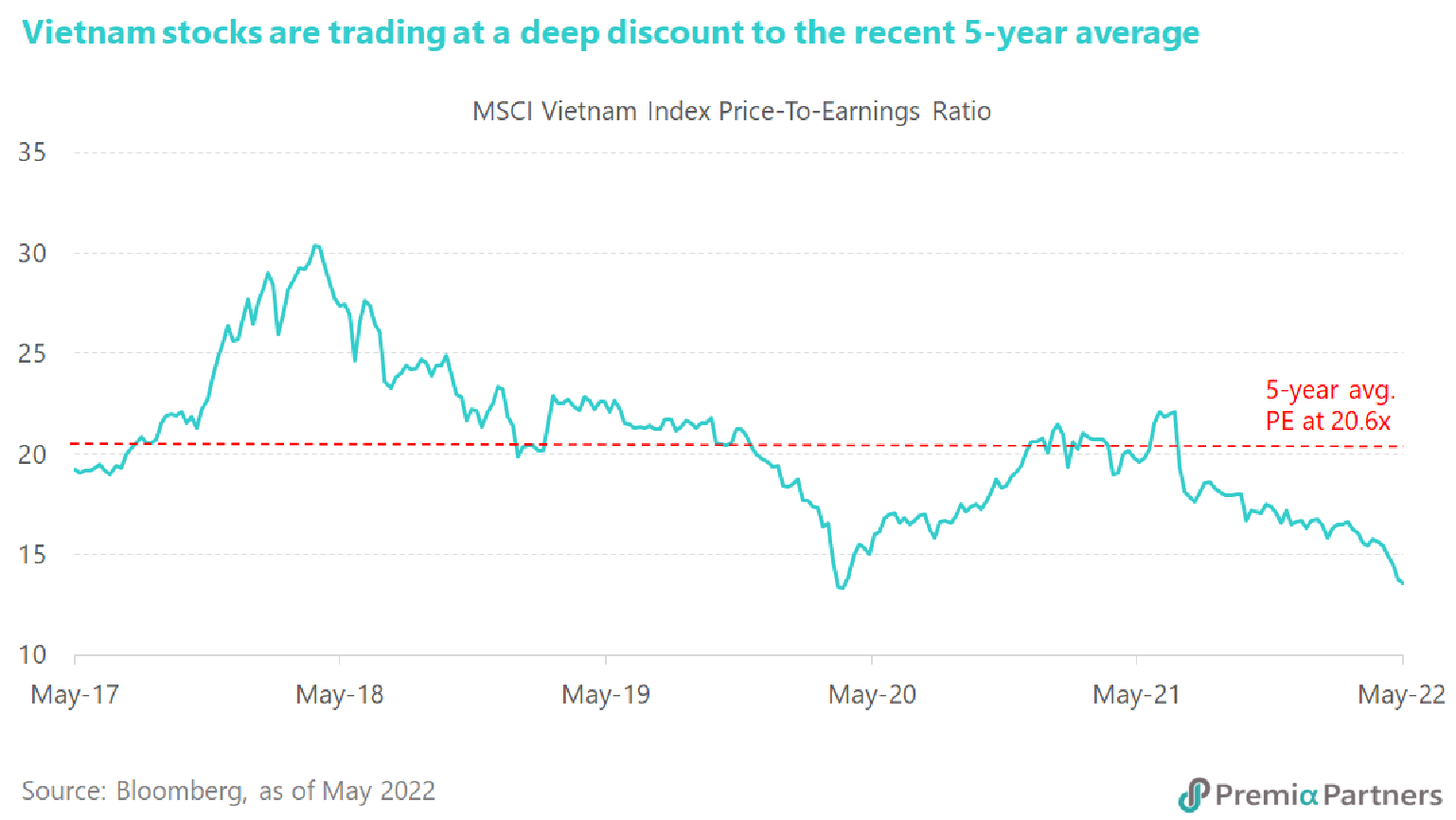 Vietnam stocks have fallen behind in share performance versus its regional peers amid margin calls on highly leveraged positioning and investigations related to irregular activities in the capital market. Tri Viet Securities CEO and Louis Holdings Chairman have become the latest in a string of Vietnamese executives to be detained by policy, accused of allegedly manipulating stock prices. These cleanups could be bitter pills that may have a blessed effect in medium term. The fundamentals of Vietnam have been improving with increased domestic mobility, inbound tourist inflows and accelerated industrial production. Valuation-wise, MSCI Vietnam Index is trading at an attractive historical PE level of 13.6x versus a 5-year average of 20.6x. Investors may take advantage of the current market discount to gain exposure of Vietnam via Premia MSCI Vietnam ETF (2804.HK).
---
US unemployment rate vs 10Y-2Y US Treasury yield curve
Simon Say Boon Lim

Senior Advisor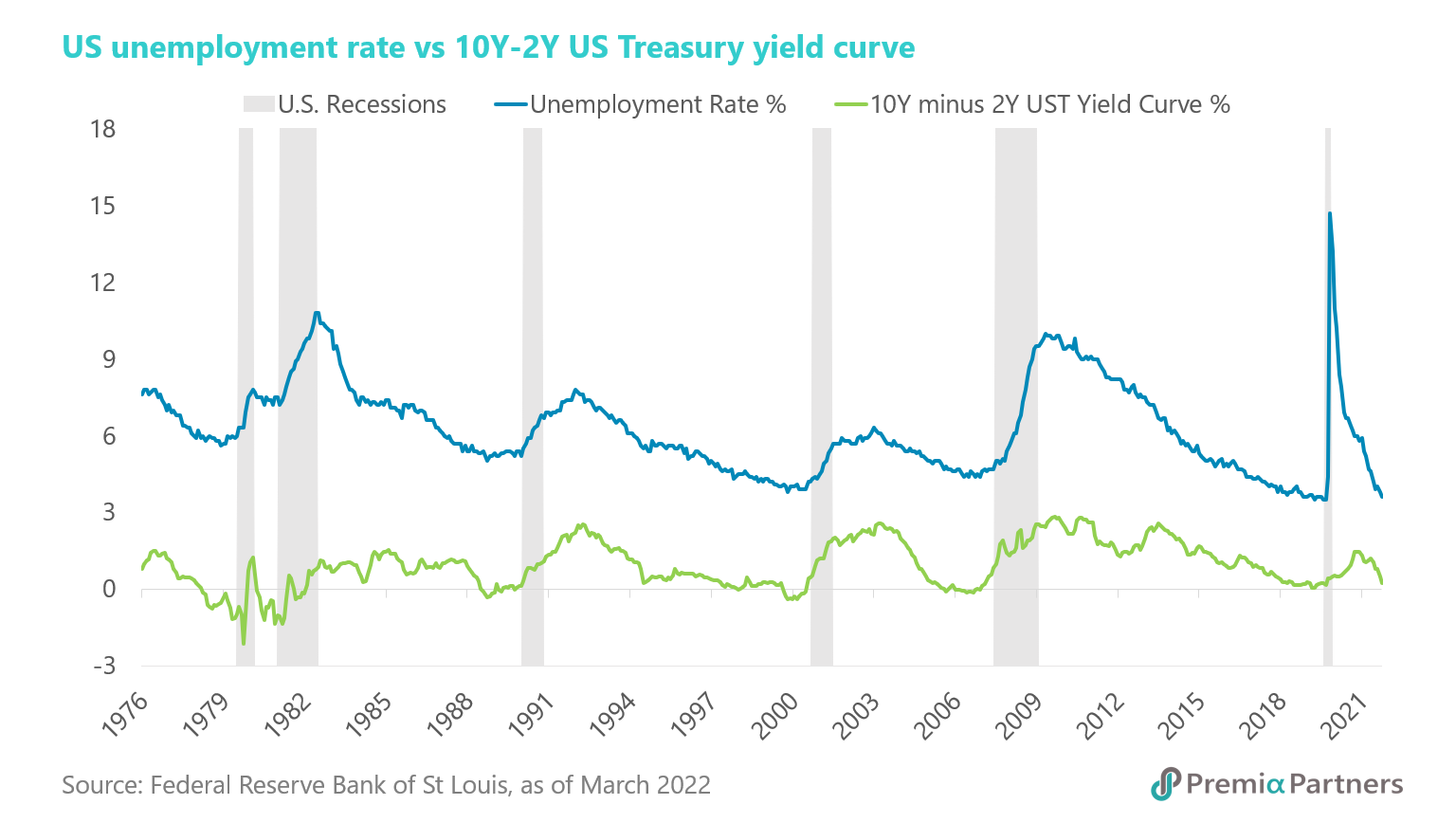 While the economic data for US jobs are "red hot", this is a double-edged sword at a time of rising inflation and plunging consumer confidence. That is, it feeds into inflation via wage rises. Inflation also eats into real wages, damaging consumer confidence. So, last week, US non-farm payrolls added 431,000 jobs in March. That was a robust figure but it was down from 750,000 in February, and lower than the January figure of 504,000. The unemployment rate continued to decline to 3.6% in March, from 3.8% in February and the peak of 14.7% in April 2020. Yet, the cost was rising average hourly earnings, which was 5.6% higher YoY in March, up from 5.2% for February and continuing the uptrend from April 2020.
On the surface this appears bullish for the economy. So, how does that fit into the Conference Board's expectations of much slower economic growth? A worrying tendency is that lows in the US unemployment rate have coincided with flattening or inversion of the 10Y-2Y US Treasury yield curve, and recession 1-2 years after that. In short, this may be as good as it gets.
---
Indonesia stocks reached a new high
David Lai , CFA

Partner, Co-CIO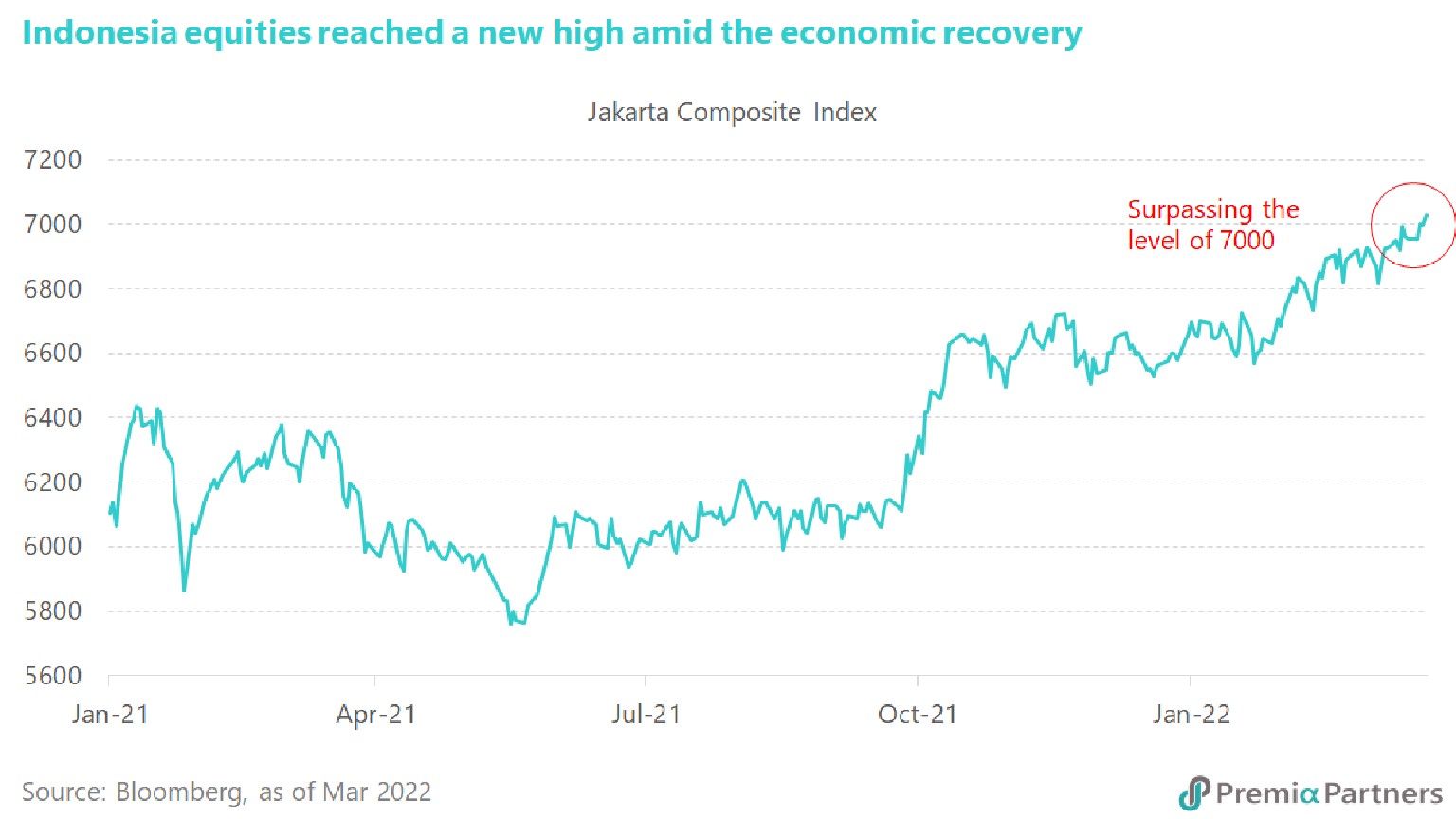 Indonesia equities kept reaching new highs, with Jakarta Composite Index once surpassing the 7,000-point psychological barrier. Analysts see further room to go up as business continues to recover on reopening. Indonesia is lifting all quarantine rules for international travelers to end two years of border closure, following its neighbors to ease restrictions as Southeast Asia moves past the worst of the omicron wave. The daily infection cases have fallen significantly to roughly one-tenth of the peak seen in mid-February. The International Monetary Fund expects the country will grow 5.4% this year and 6% in 2023, supported by favorable global commodity prices, easing virus curbs and rising public mobility. The government's decision in restoring budget deficit cap of 3% of GDP next year will bolster the credibility and sustainability of the fiscal framework.
---
A-shares have seen less volatility versus H-shares & China ADRs
David Lai , CFA

Partner, Co-CIO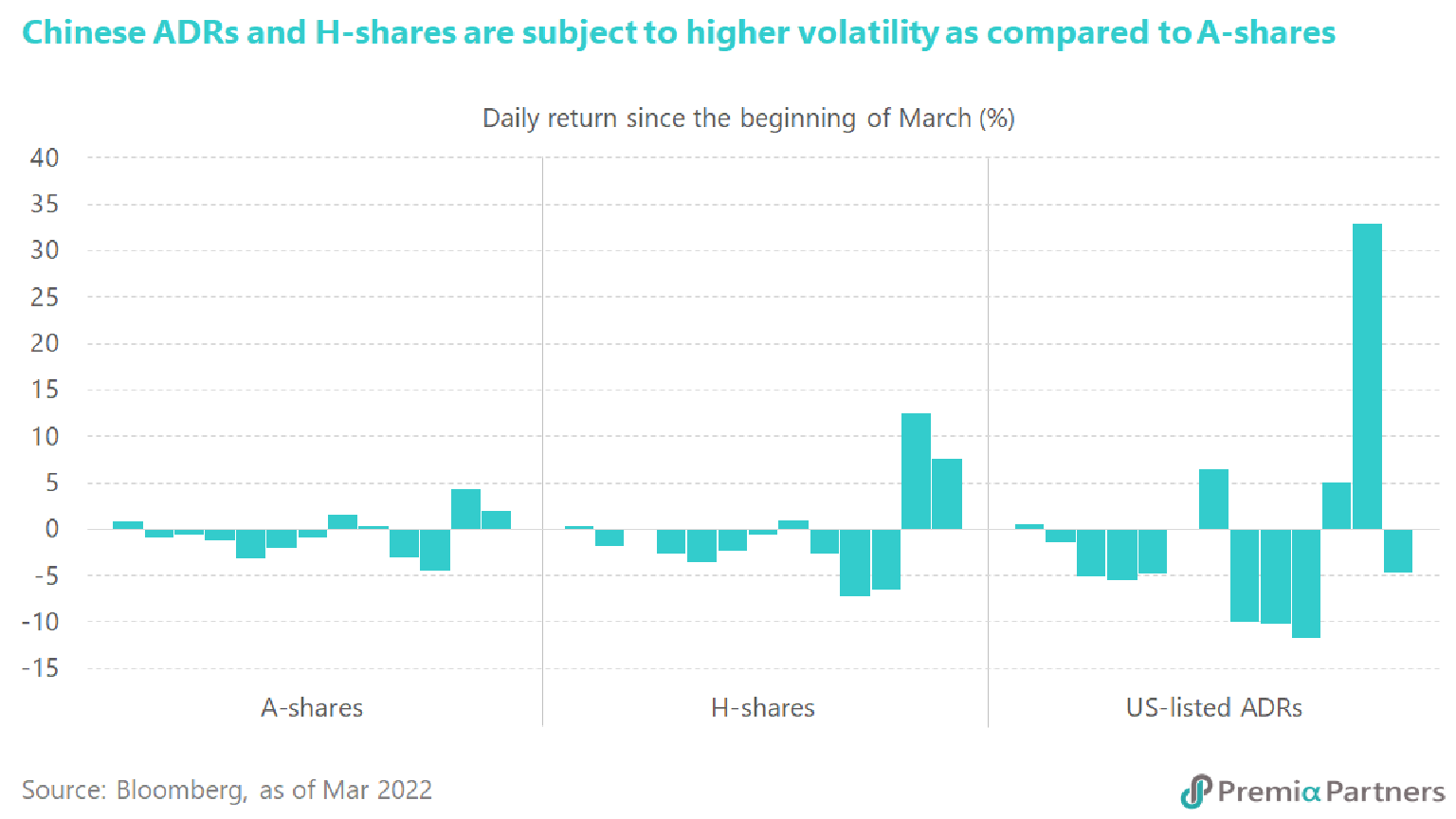 China markets have witnessed both capitulation and euphoria lately. Sentiment first swung to extremely bearish, almost suggesting China is getting into the World War III and all China-related assets will markdown to zero. Then the positive signals released by the Chinese government helped investors realize the fact that the world is not ending whilst China equity is way oversold. Both short-squeeze and bargain hunting have triggered the strongest rally since the financial crisis a decade ago. Fundamentally, China's economy has done reasonably well in the first two months this year, with industrial output, retail sales, fixed asset investment and exports up 7.5%, 6.7%, 12.2% and 13.6% respectively. Policy-wise, PBOC, CBIRC and CSRC have jointly reaffirmed to maintain the stable development of the capital market. Interestingly, A-shares are seeing lower volatility as compared to their peers listed in Hong Kong and the US.
---
China Bedrock Economy ETF helps capture the surging commodity prices
David Lai , CFA

Partner, Co-CIO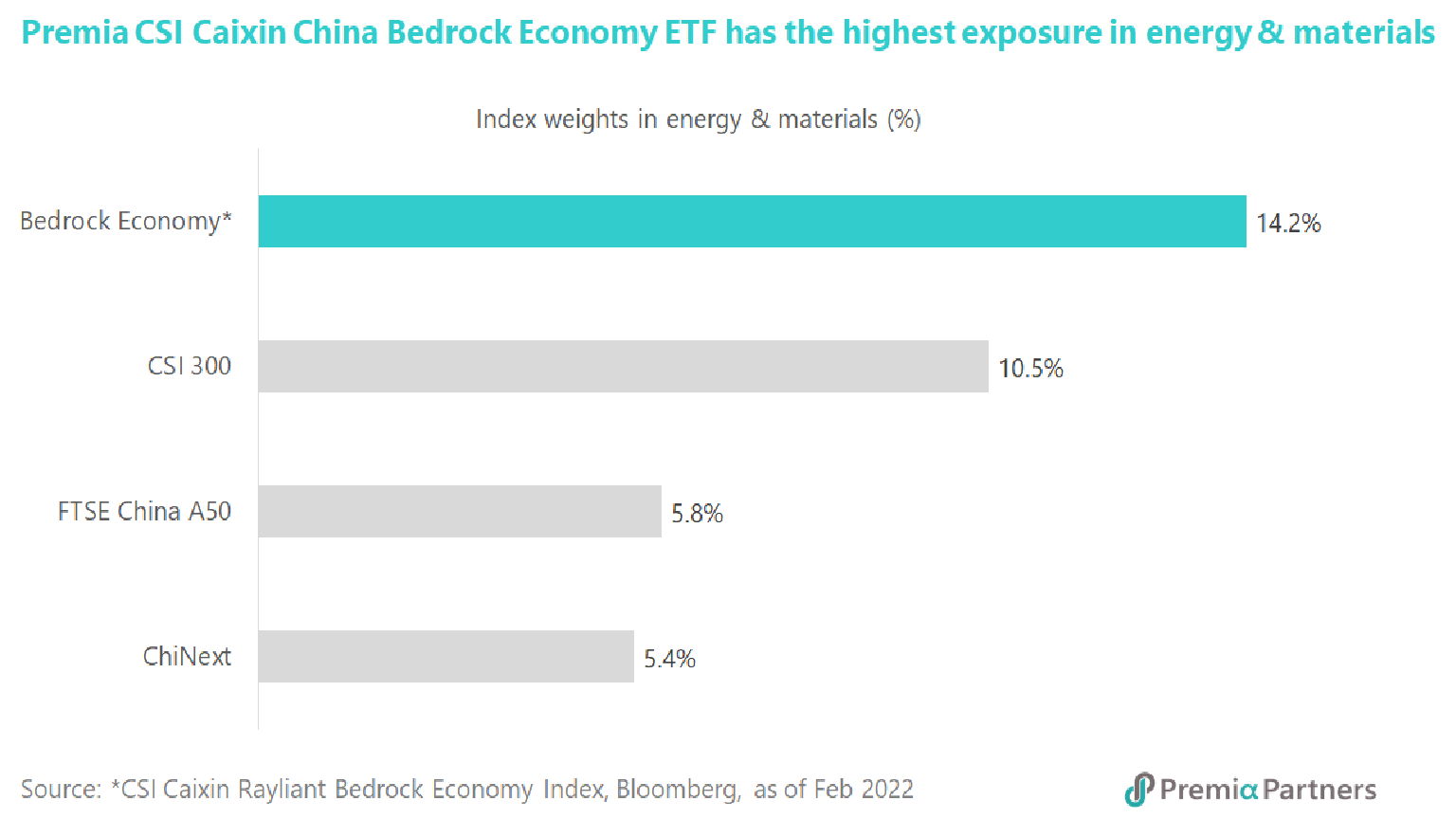 Oil's surge toward USD 100 a barrel for the first time since 2014 is threatening to deal a double-blow to the world economy by further denting growth prospects and driving up inflation. Indeed, the pricing pressure has been escalating in most developed markets such as the US and UK. Although China does not face the same inflationary environment with its latest CPI lowering to 0.9%, the country still has to import close to 70% of oil and natural gas on a daily basis. The strengthening commodity price began to reflect in the onshore A-share market as energy stocks topped the sector performance year-to-date, recording a positive double-digit return. Brokers including Goldman Sachs and Citi see commodities as the top pick among asset classes in 2022, highlighting the case for oil and gold as hedges for geopolitical risks. Premia CSI Caixin China Bedrock Economy ETF (2803.HK) may help capture the opportunity as its underlying index has a higher exposure in energy and materials sector as compared to CSI 300 index and FTSE China A50 index.
---
China's multi-factor ETF has done well so far in 2022
David Lai , CFA

Partner, Co-CIO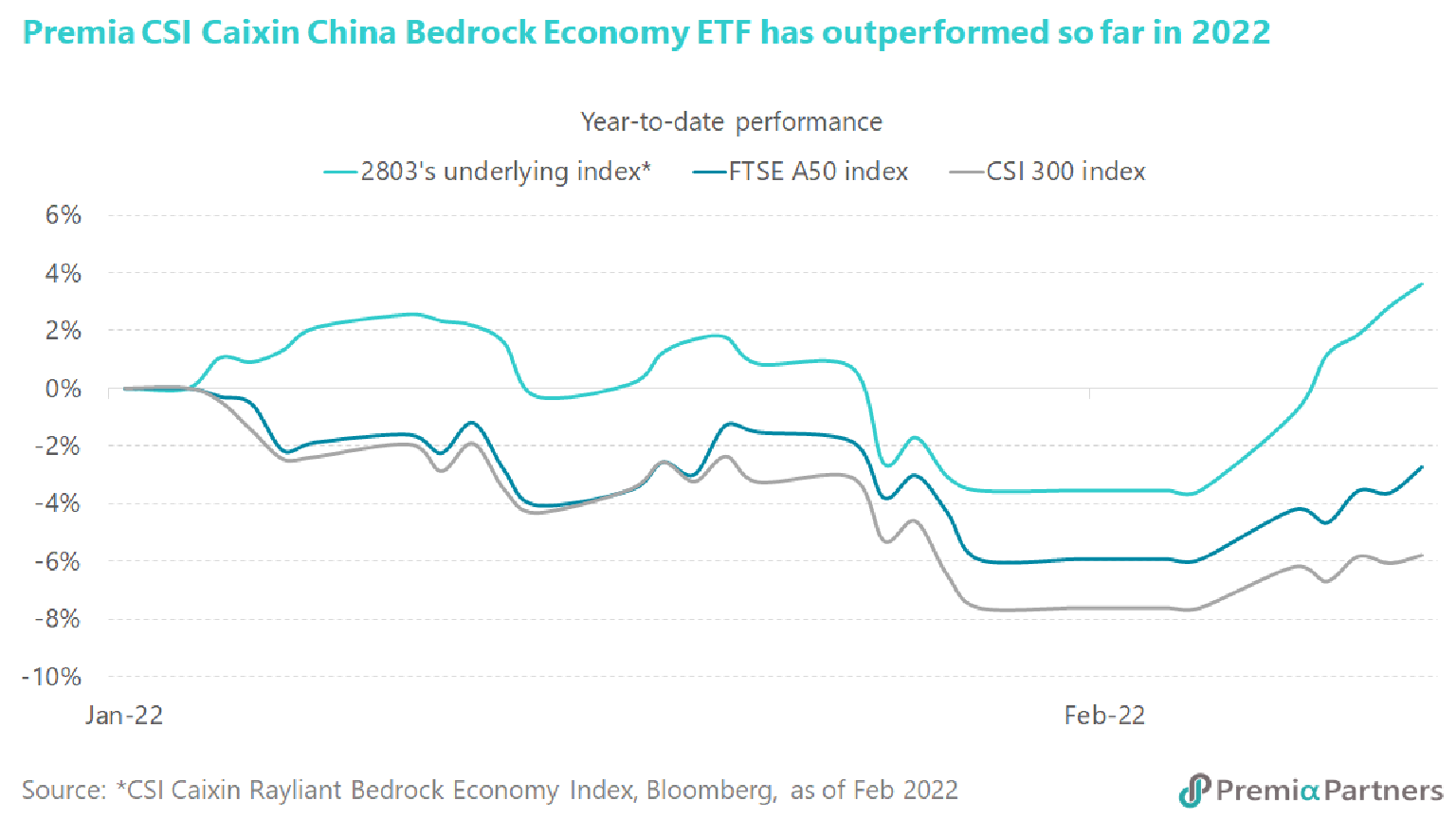 China's financial regulators including the PBOC and the CSRC have issued a plan to advance standardization of the financial sector over the 14th Five-Year Plan period. The authorities plan to improve standardization in a wide range of areas, including supervision, risk prevention, financial technology, green finance and digital currency, with the goal of basically establishing a financial standard system that fits modern finance in 2025. It also proposes to formulate product and service standards for insurance, trust, deposit and loan in internet. Coincidently, the PBOC and the CBIRC issued "The Notice on the Exclusion of Government-Subsidized Housing Related Loans from the Centralized Management of Real Estate Loans". It clarifies that the government-subsidized housing related loans are not included in the centralized management of real estate loans. The new rule should encourage banks to increase their support for the development of government-subsidized housing in accordance with the principles of legal compliance, risk control and commercial sustainability. These new policies may support the medium-term outlook of the domestic financial and real estate industries. Investors may consider Premia CSI Caixin China Bedrock Economy ETF (2803.HK), a multifactor ETF tilting value, quality and low volatility, to capture these opportunities as it invests over 40% in these two pillar industries.
---
China property market takes time to heal
David Lai , CFA

Partner, Co-CIO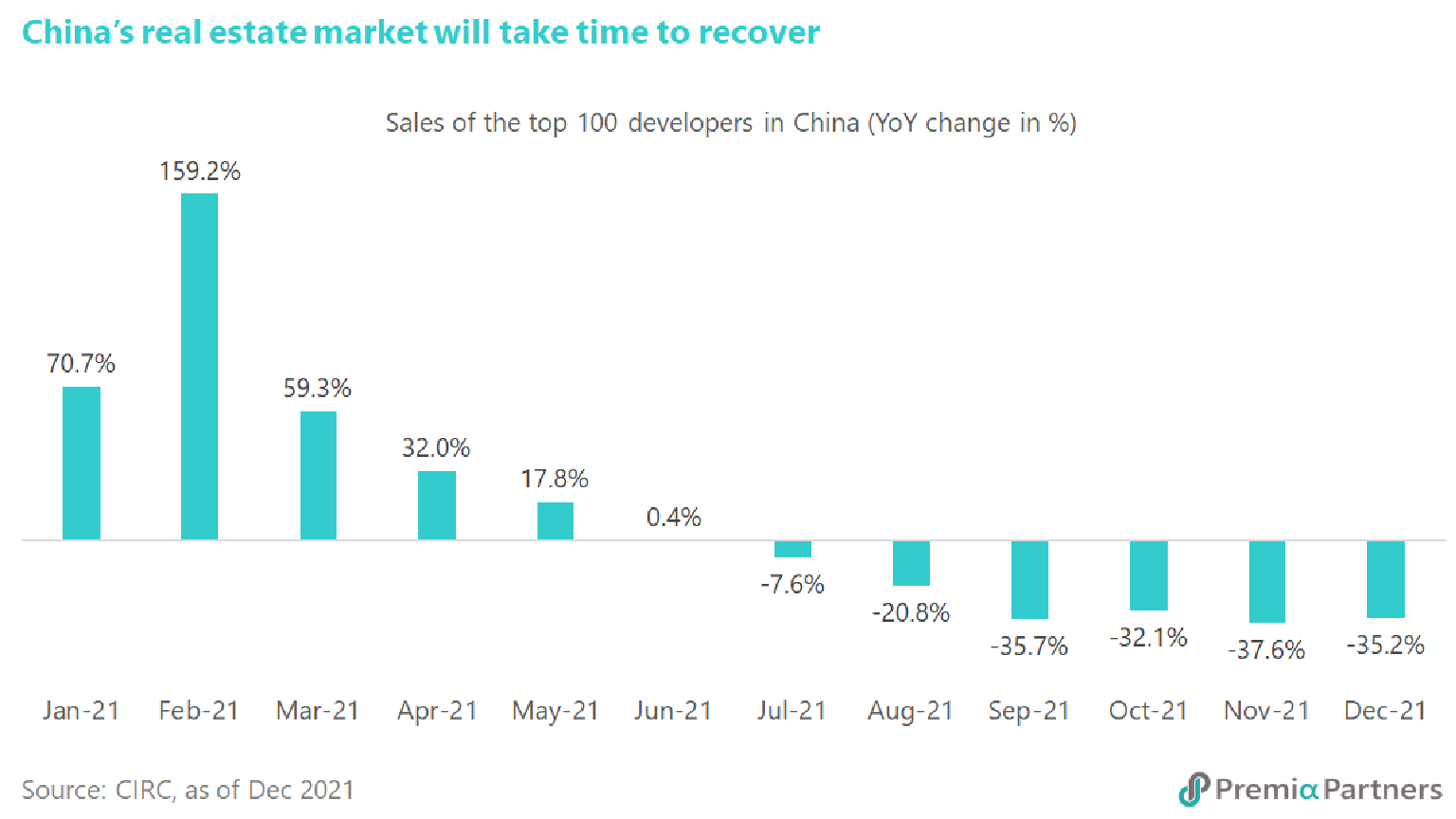 China's real estate market fell into a trough, financing difficulties and a sharp decline in sales caused a number of real estate companies to experience defaults in their debts. Based on the data from CRIC, the latest sales of the top 100 developers rebounded by 32.4% month-on-month in December, but still fell sharply by 35.2% year-on-year. The cumulative annual sales fell by 3.5% year-on-year, marking the first full-year sales drop since 2010. The completion of the industry's annual sales target was about 90%, lower than the average level of ~105% in recent years. Among the large-scale real estate companies, more than 80% did not achieve their targets last year. Looking forward to 2022, the industry's sales may turn more conservative whilst home buyers would seek pricing discounts. Beijing-based China Index Academy believes that property market control policies may have peaked in near-term, but market sentiment will remain sluggish whilst sales should take time to improve. On a positive note, Chinese government may introduce more supportive measures in mortgage financing and tax reduction to promote a healthy development of the industry. Besides, the M&As activities encouraged by the authorities may help the sector speed up the turnaround.
---
Foreign investors keep increasing positions in Chinese government bonds
David Lai , CFA

Partner, Co-CIO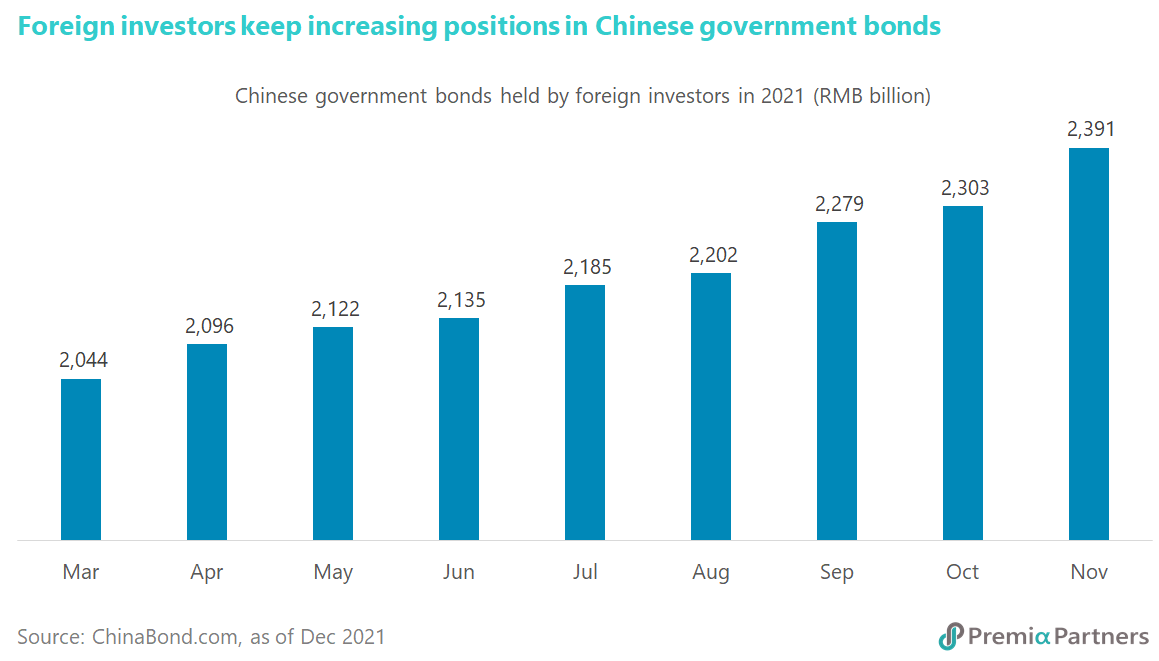 The Mandatory Provident Fund in Hong Kong, with total assets of over USD 150 billion, plans to relax investment in mainland government bonds and policy bank bonds, providing more investment options for the public in managing their pension. For investors, adding these bonds in their portfolios can help increase diversification given their low correlations to most asset classes. Their relatively higher yields are quite attractive in the global ultra-low interest rate environment. The demand for Chinese government bonds by foreign investors has increased unabated. Since the launch of Bond Connect, the total amount of Chinese government bonds held by foreign investors has expanded rapidly in the past few years and reached 2.39 trillion by the end of last month. Premia China Treasury and Policy Bank Bond Long Duration ETF (2817.HK) may help investors capture the long-end exposure of China's yield curve. As of 29 December 2021, it recorded a positive return of 10.7% since its inception in mid-April this year.
---
Northbound stock connect investors are buying A-Shares at a record pace last week
ETF Capital Markets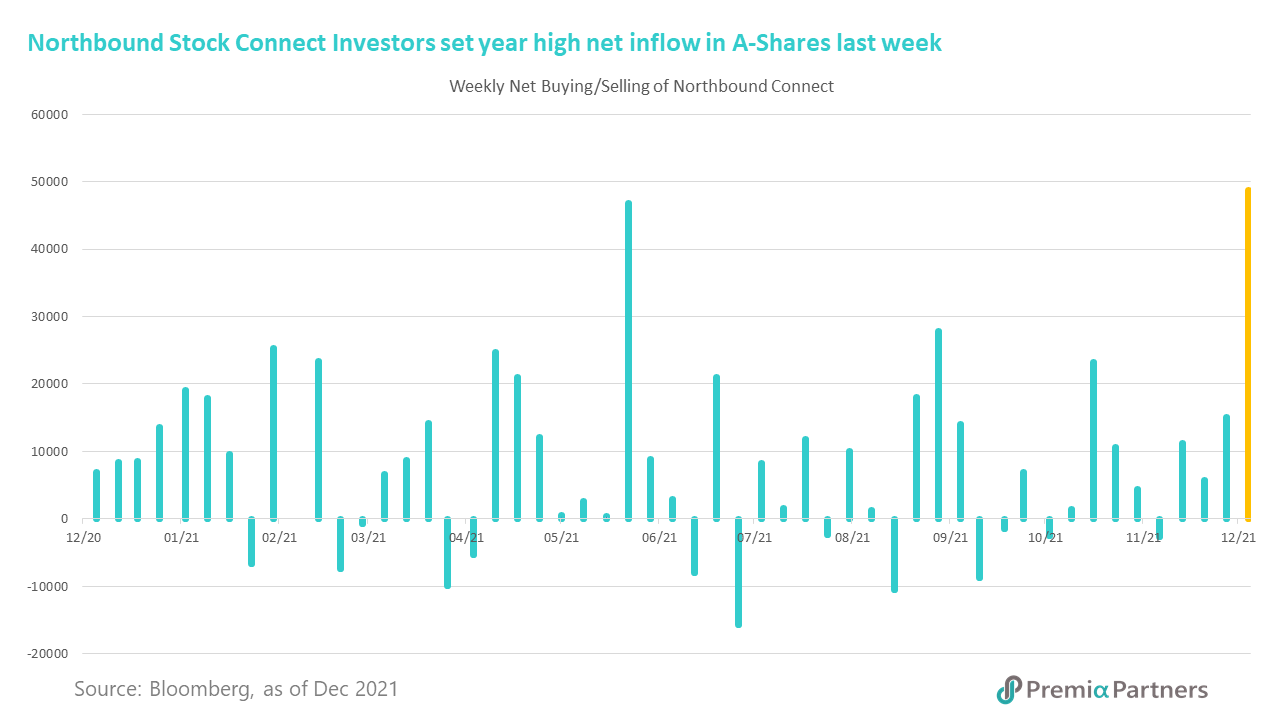 Northbound investors are buying the most A-Shares last week in the year for 48.8 billion yuan. Yuan appreciated to the strongest level since 2018 helped to drive more investors to buy A-Shares earlier last week but the purchases continued even as PBOC increase 2 percentage-point for FX reserve ratio to 9% and set its daily yuan fixing at the weakest relative to estimates later in the week. Central Economic Work Conference held in Beijing on 8 -10 Dec. Investors have looked toward easier policy to support economic growth kept sentiment positive.
---
Renminbi has reached the highest level since 2015
David Lai , CFA

Partner, Co-CIO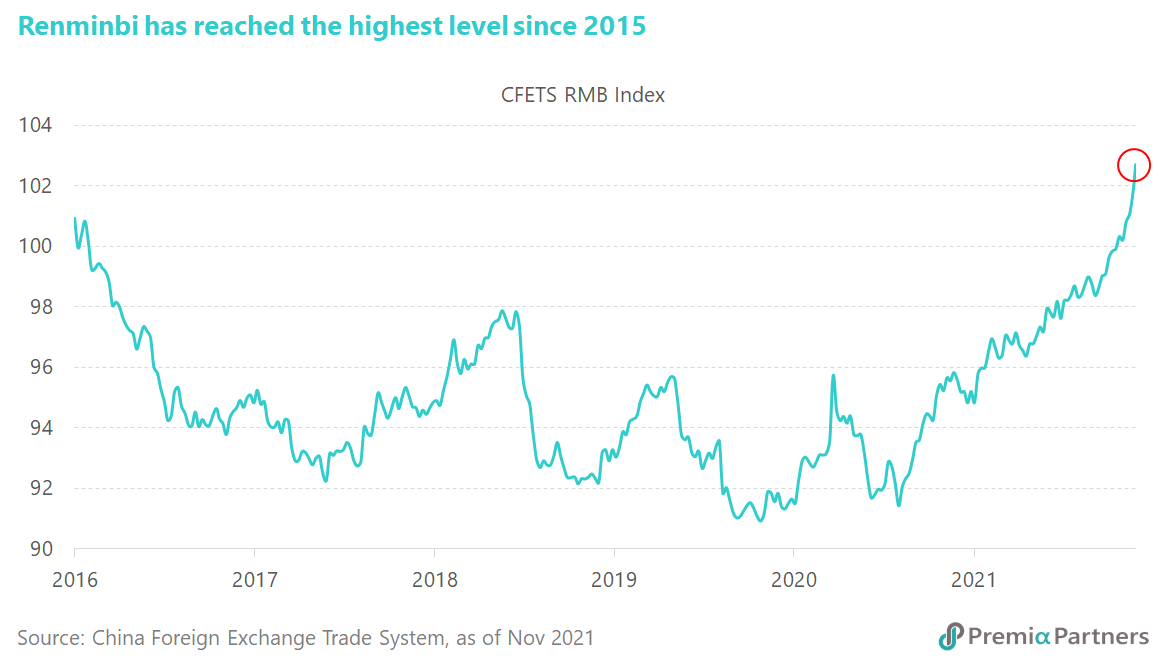 The renminbi has strengthened to the strongest level since 2015 despite the market noise of an economic slowdown. The currency is the best performer in emerging markets this year. Its strong movement did not stop the robust trade orders coming from the external recovery demand. China exports stayed buoyant with a year-on-year growth of 27.1% in October, the 13th straight month of double-digit growth. Foreign investors remain upbeat on Chinese economy as the country's cumulative foreign direct investment rose 17.8% year-on-year in the first ten months in 2021, while the overall foreign exchange reserves hovered at the high level of USD 3.22 trillion. The renminbi-denominated assets such as onshore bonds are getting higher acceptance by international investors with total foreign holdings having increased from USD 2.84 trillion from the end of last year to the latest reading of USD 3.34 trillion.