PREMIA POINT OF VIEW
---
New economy A-shares began to recover in April
David Lai , CFA

Partner, Co-CIO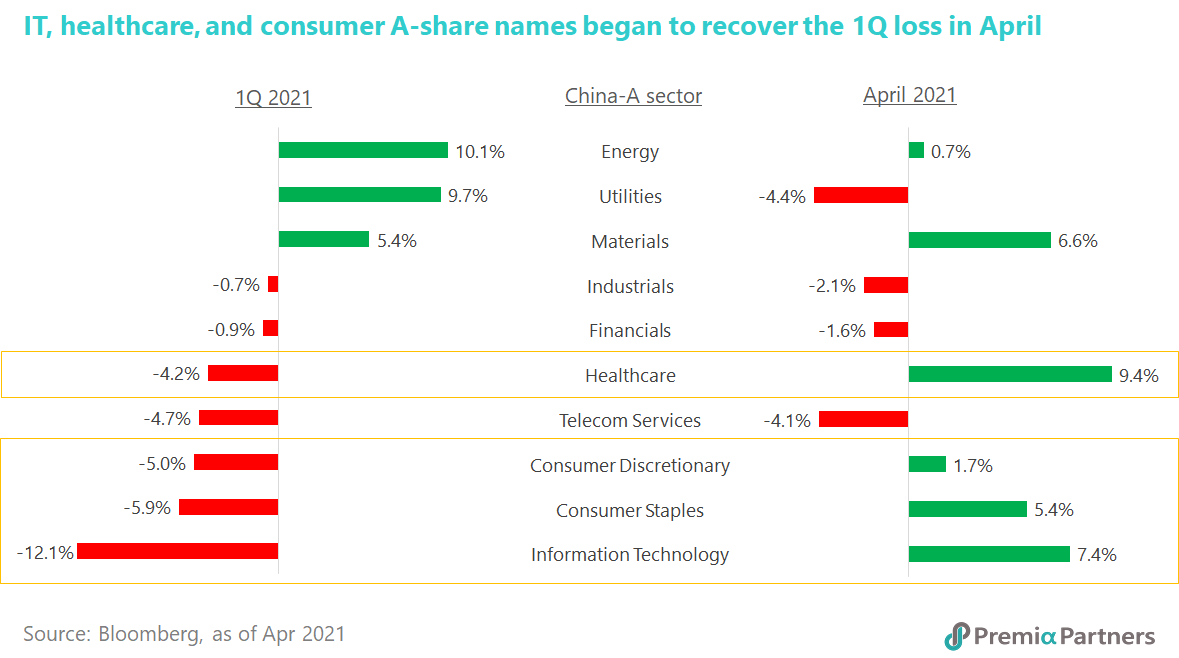 Old economy and value stocks dominated the global equity performance in the first quarter of 2021. China is no exception. Energy, utilities, and materials topped the sector performance table in the A-share market with a decent return of 10.1%, 9.7%, and 5.4% respectively. On the flip side, the growth segments such as information technology, consumer, telecom and healthcare lagged their peers. Stepping into April, the dynamic changed drastically after the listed companies released their 2020 full-year financial results and provided guidance on their business outlook for the rest of the year. Healthcare recovered all its first-quarter loss last month driven by the robust vaccine stocks including Shanghai Fosun Pharmaceutical which would probably get the regulatory approval to distribute BioNTech's vaccine in China as early as in June. Information technology also performed well in April with Goertek and Will Semiconductor leading. The former was benefited from the spinoff news whilst the latter was upgraded by brokers on strong sales of sensors for automotive and medical customers. Materials names kept surging in both time periods on the back of rising metal prices.
---
IT names remain the favorite A-shares among offshore investors
David Lai , CFA

Partner, Co-CIO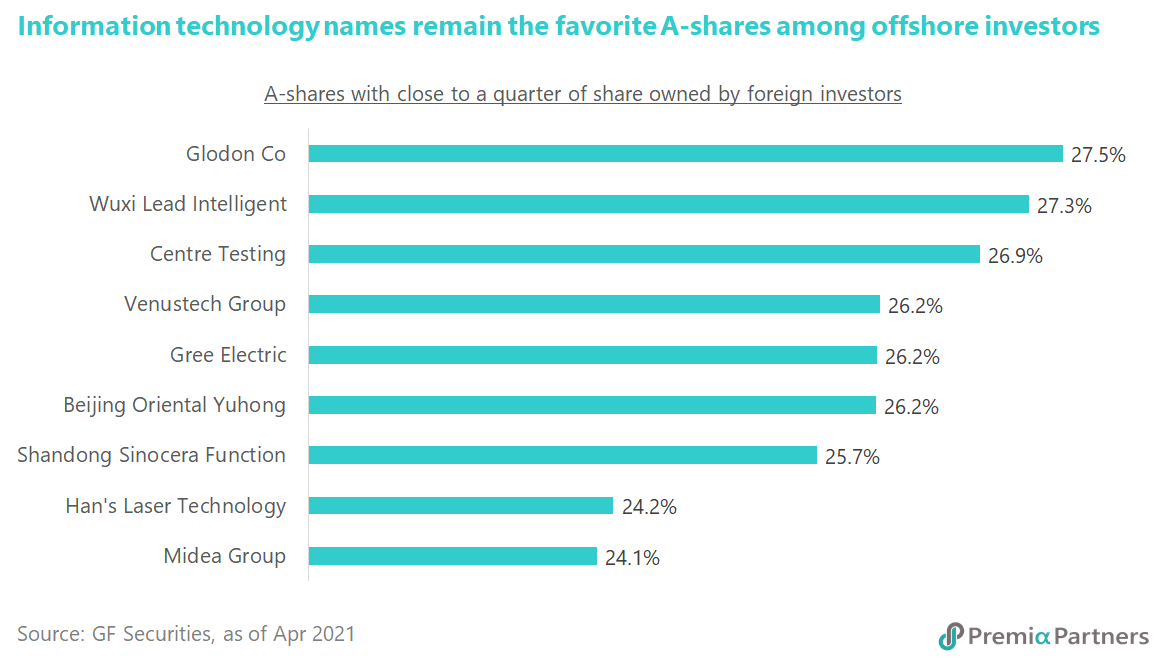 Analysts begin seeing the correction of China A-share is over after a maximum drawdown of ~17% since February this year. One of the drivers behind the slump would be positioning concentration among domestic institutional investors, with the top 50 A share favorite stocks contributing over 85% of the index gains since 2020, representing 45% of local equity mutual funds' total holdings. That said, the market movement in the past couple of weeks probably indicates the sell-off among quality blue chips is largely done. In near-term, the market is most likely to range trade with an upward bias in what the local brokers would refer it to a healthy consolidation. The interests from the offshore investors have recovered. The net inflows from Northbound trade have picked up gradually with RMB 32.5 billion month-to-date in April versus RMB 18.7 billion in March. Among the A-share with the highest foreign ownership, information technology companies such as Glodon Co, Wuxi Lead Intelligent, and Venustech Group topped the table, followed by industrials, consumer discretionary and materials names.
---
Vingroup's share price is on fire on a potential EV spinoff
David Lai , CFA

Partner, Co-CIO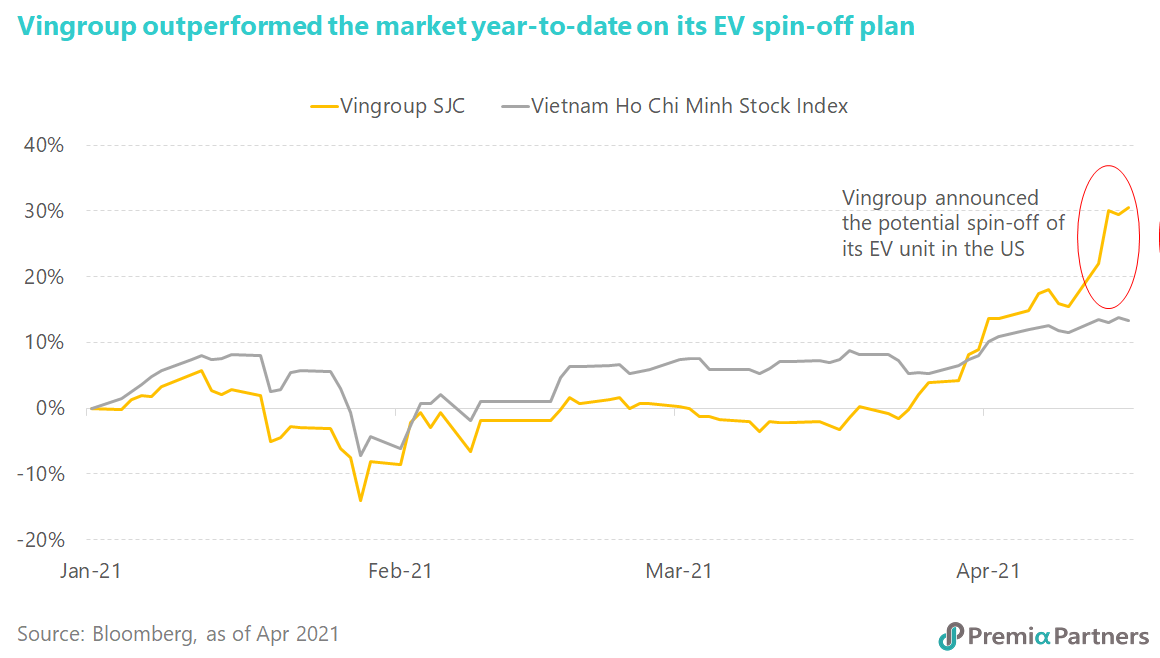 It is natural to think about the US, China or Japan when referring to the places that produce electric vehicle (EV). Now we may add one more place – Vietnam. VinFast, a 51%-owned subsidiary of the country's largest conglomerate Vingroup, announced the debut of its first EV, E34. The smart compact car is priced at an attractive level of VND 590 million, or ~USD 25,000, along with a one-year free battery subscription. E34 is powered by an electric motor and uses a 42-kWh battery making 110 kW power and 242 Nm torque, offering a driving range of 300 km on a complete charge. The company targets around 40,000 electric car charging points in 63 provinces and cities by the end of this year. Vingroup is now considering various fund-raising opportunities for the automaking unit including an IPO or SPAC in the US market. If successful, VinFast will become the first Vietnamese company listed in the US with a potential market cap of USD 50 billion. A significant re-rating would be waiting for Vingroup which is now trading at a market cap of ~USD 20 billion. For investors who would like to get ahead of the crowds to invest in this opportunity, one may consider gaining the exposure through Premia MSCI Vietnam ETF (2804.HK), in which Vingroup is the top holding with a weight of ~20%.
---
Asian corporates, especially China, offer attractive yields
David Lai , CFA

Partner, Co-CIO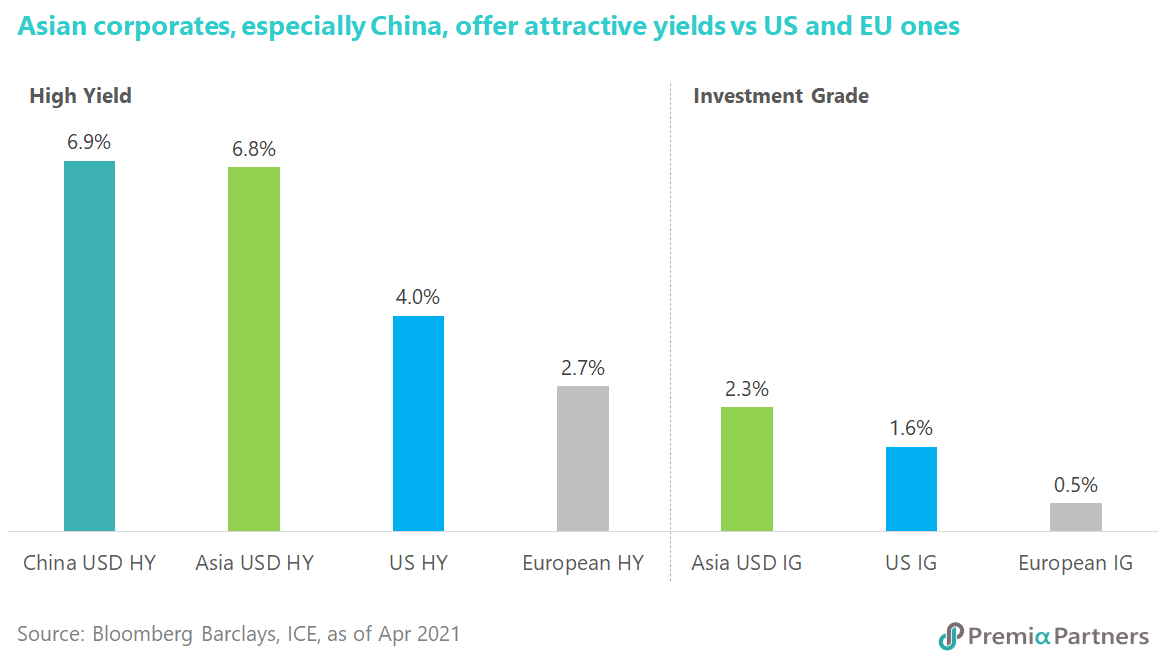 Covid-19 and lockdowns would have resulted in surging defaults in the past 12 months, but it did not happen anywhere. Both US and European high yield bonds are even trading close to their record low yield level as investors are willing to chase potential higher return in a low-rate environment. With the successful rollout of vaccination programs globally and improving business condition amid economies reopening, investors' interest on high yield bonds may only get stronger in near-term. The attractive yield spread offered by Asian borrowers including Chinese ones over their peers in the US and Europe seems unjustified given the strong economic recovery in Asia. The recent tumble of China high yield bonds triggered by Huarong's failure to publish 2020 preliminary earnings by the end of March may provide a buy-on-dip window to accumulate quality issues. Alternatively, Premia China USD Property Bond ETF (3001.HK) could be a handy instrument, which invests in a diversified basket of bonds issued by China real estate firms offering a yield of 7%. It mitigates risks by (1) eliminating all local government financial vehicle issues; (2) applying 5% cap at issuer group level; (3) cutting off the long tail with an effective duration around 2 years; (4) selecting secured and senior unsecured issues only; and (5) removing any non-rated bonds.
---
Foreign investors favor China RMB bonds
David Lai , CFA

Partner, Co-CIO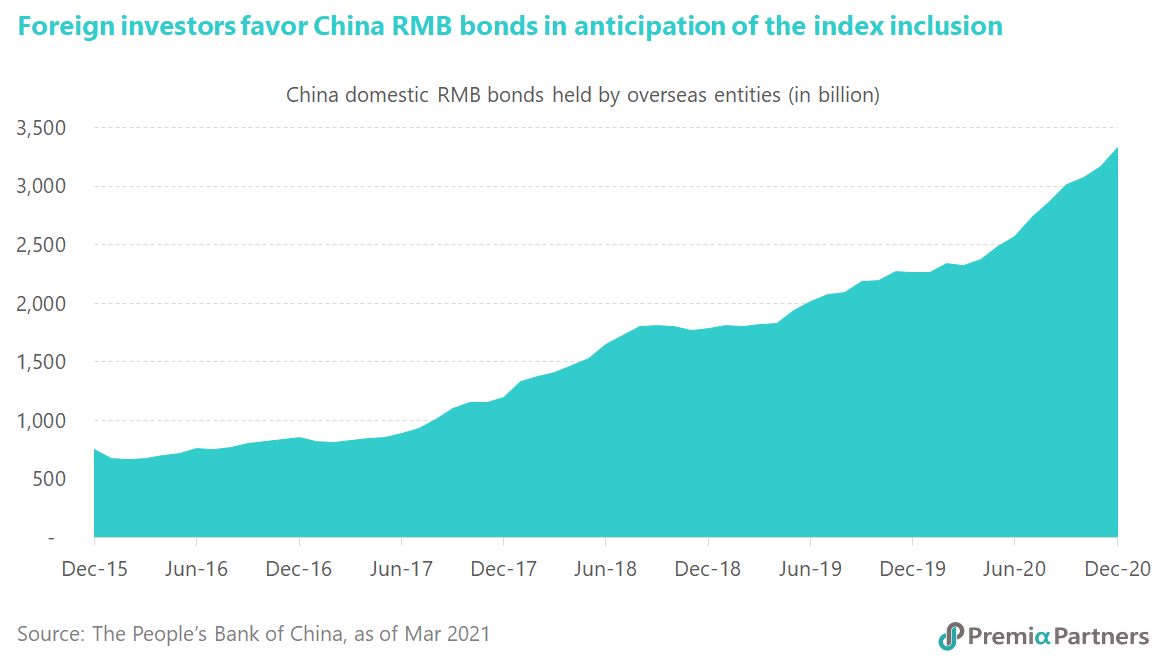 Chinese sovereign bonds will have the sixth-largest weighting in FTSE Russell's flagship World Government Bond Index (WGBI) from the end of October and will be phased in over three years. The duration is longer than the 12 months initially envisioned, but industry participants see it sensible given its significant impact. JPMorgan and Bloomberg Barclays have already included China bonds in their index suites earlier, but the inclusion of FTSE Russell may have a larger effect due to the size of passive fund flows tracking it. There is an estimate of total USD 2.5 trillion following the WGBI, so the ultimate index weighting of 5.25% implies an inflow of USD 130 billion buying Chinese sovereign debts, or USD 3.6 million a month. The People's Bank of China welcomed the move and said it would work actively to promote further opening of China bond market to international investors. The foreign ownership of Chia bonds continued to climb even as yield spread over US debt shrank lately. Total holdings of Chinese government bonds held by investors outside mainland China stood at a record RMB 2.06 trillion, or USD 319 billion, at the end of February.
---
Asia dominates global chip manufacturing
David Lai , CFA

Partner, Co-CIO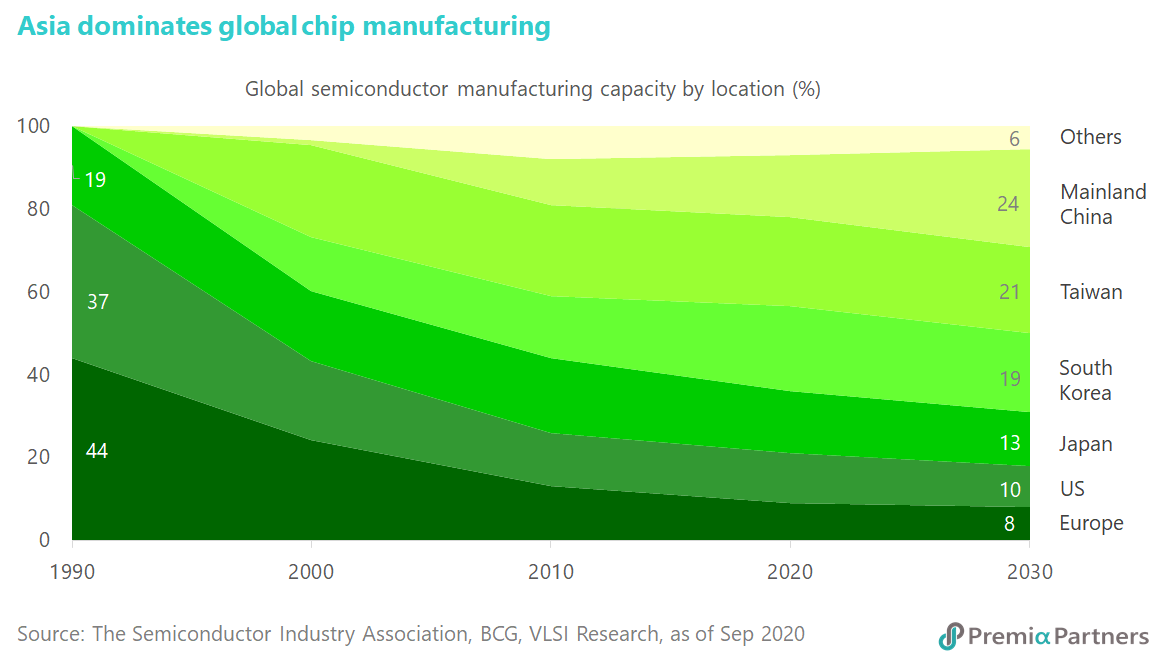 Intel's plan to restore its past chipmaking glory surprised the tech world. With the new CEO on board, the US firm unveiled an ambitious bid to regain its manufacturing lead by spending an initial USD 20 billion on two new plants in Arizona and creating a standalone foundry business line that will make chips for other companies. The new direction is a significant shift from the business model set by the previous management team, which considered abandoning Intel's in-house production entirely for cost saving. There are renewed calls for the US government to support domestic production, so Intel's action should be well received from the Biden administration. Analysts remain cautious whether the firm can dominate again the USD 400 billion industry. It missed deadlines for its 10-nanometer production before and delayed the latest 7-nanometer process. Besides, it tried and failed to get into the foundry business in the past. From the global semiconductor manufacturing capacity perspective, the trend of "Going east" has been accelerating. According to the report issued by Boston Consulting Group and The Semiconductor Industry Association, Mainland China, Taiwan, South Korea and Japan will have a combined market share of 77% by 2030.
---
Inflation expectation climbed in ASEAN
David Lai , CFA

Partner, Co-CIO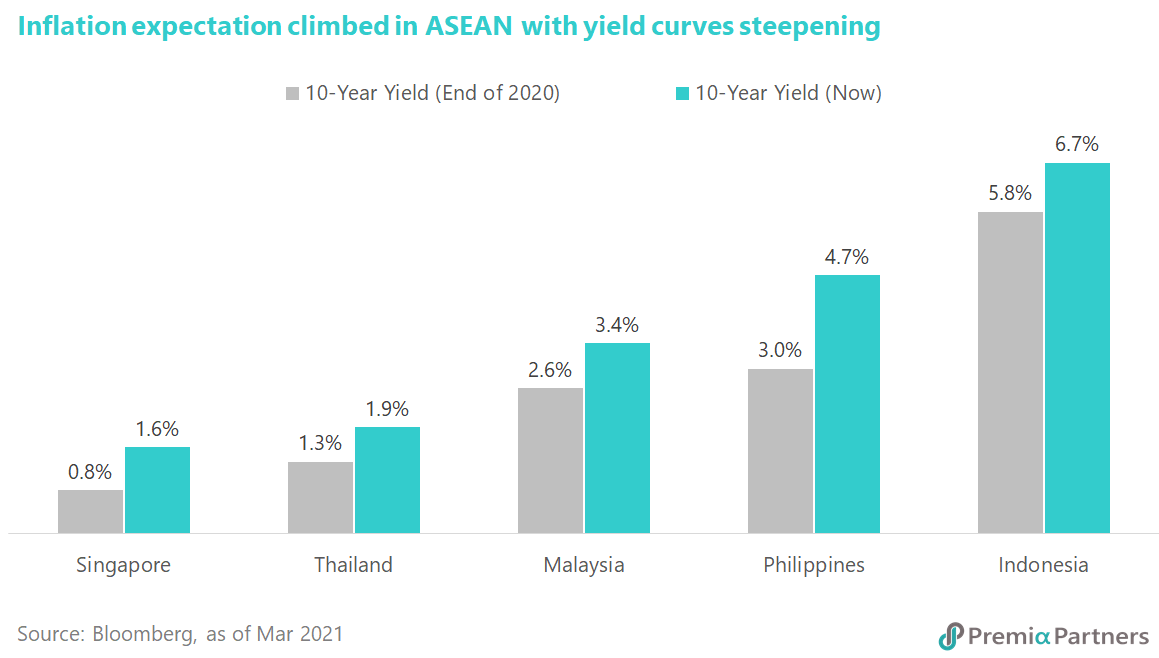 Yield curve steepening is not only happening in the US, but also gaining momentum in ASEAN as the reflation trade swings into overdrive. Taking the 10-year government bond yield as a benchmark, the sharpest rise is seen in the Philippines, where the yield surge 170 basis points year-to-date, followed by Indonesia's 89 basis-point move. While Malaysia and Thailand still reported deflation in their latest data, there are signs prices will soon return to a consistent uptrend in these countries too. While yields on the long-end are getting higher, the short-term rate are at record lows and will not expected to change over the next 12 months. For the investors who are interested to place their bet on reflection trade, ASEAN markets should be paid close attention. Cyclical plays accounted for the majority weights of the regional benchmark , say 31.2% in financials, 11.1% in industrials, 8.0% in real estate, 7.1% in materials, 5.7% in energy, and 4.3% in consumer discretionary. Premia Dow Jones Emerging ASEAN Titans 100 ETF (2810.HK) is now trading at a forward PE multiple of 17.0x for 2021 and 14.7x for 2022, while earnings growth is expected to reach 48.5% in 2021 and 15.5% in 2022.
---
Vietnam equities outperformed frontier markets year-to-date
David Lai , CFA

Partner, Co-CIO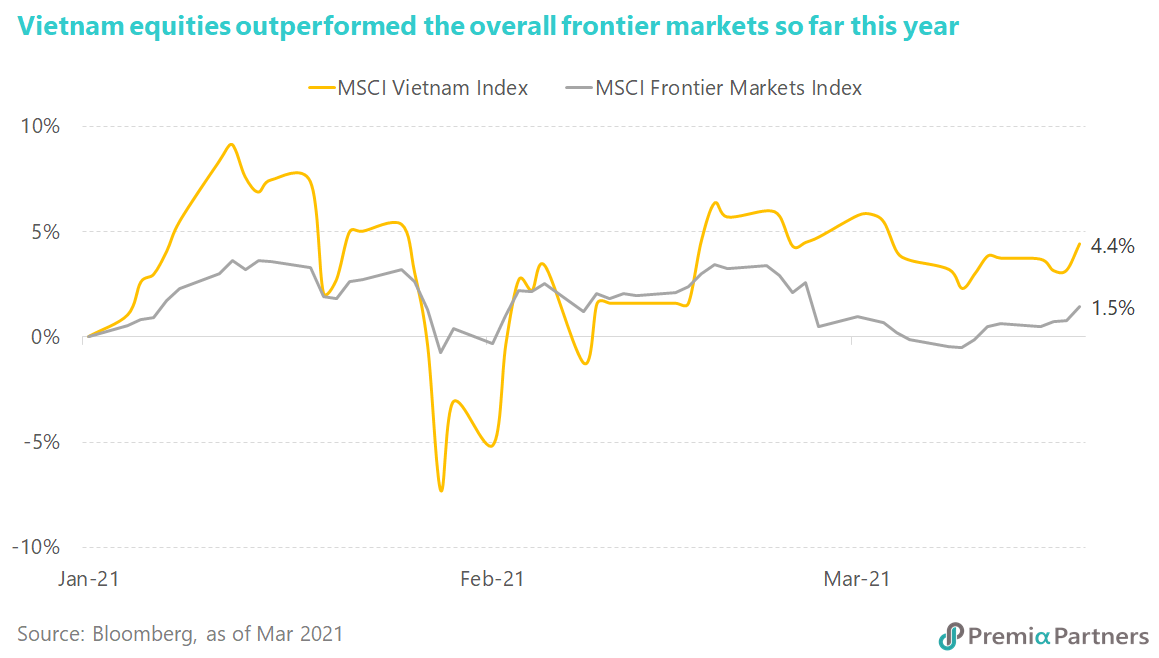 Vietnam finally launched its COVID-19 vaccination program earlier this month with health care workers first in the queue. Thanks to early border closures, targeted testing, and a strict, centralized quarantine program, Vietnam has suffered fewer disruptions to its economy than much of Asia. Vietnam was one of Asia's top-performing economies in 2020 with a GDP growth of 2.9%, narrowly edged out by the Taiwanese economy's 3.0% growth. The Vietnam economy will expand 7.5% in 2021 and 6.8% in 2022. The strong fundamentals help explain the robustness of its stock market, which outperformed the overall frontier markets by 2.9% year-to-date. The trough seen in late January was a result of an outbreak in two northern provinces, which was quickly contained within weeks. If investors are concerned about the trading liquidity of individual Vietnamese stocks given the recent congestion at the Ho Chi Minh Stock Exchange, the HK-listed Premia MSCI Vietnam ETF (2804.HK) would be an efficient investment instrument to obtain the market exposure.
---
China's R&D spending continued to climb
David Lai , CFA

Partner, Co-CIO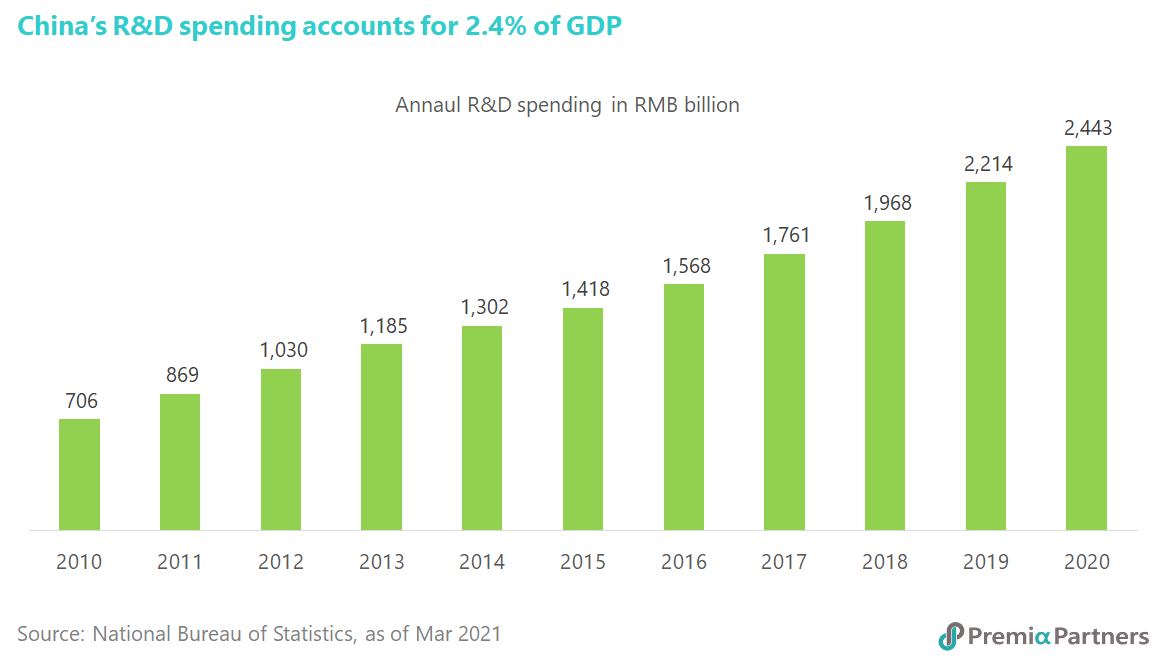 National Bureau of Statistics revealed that China's spending on research and development (R&D) went up by 10.3% to RMB 2.44 trillion, or USD 378 billion, in 2020, accounting for a record high 2.4% of GDP. The figure is in-line with the average intensity of 2.38% recorded in the OECD area. China had 522 national key laboratories and 350 national engineering research centers in operation. Besides, some 457,000 projects were funded by the National Natural Science Foundation of China and 3.6 million patents were granted in 2020, increased by 40% from 2019. Facing the unstable global supply chain, China has taken steps to boost its technology sovereignty and become more self-reliant on core critical technologies such as 5G and semiconductor. China's current share of global chip manufacturing capacity stands at 15%, 3% points higher than the US, but none of its national champions are considered world-class. More details will follow after the Two sessions closed to see how China catches up under the 14th Five-Year-Plan..
---
Premia China Bedrock Economy ETF outperformed since Lunar New Year
David Lai , CFA

Partner, Co-CIO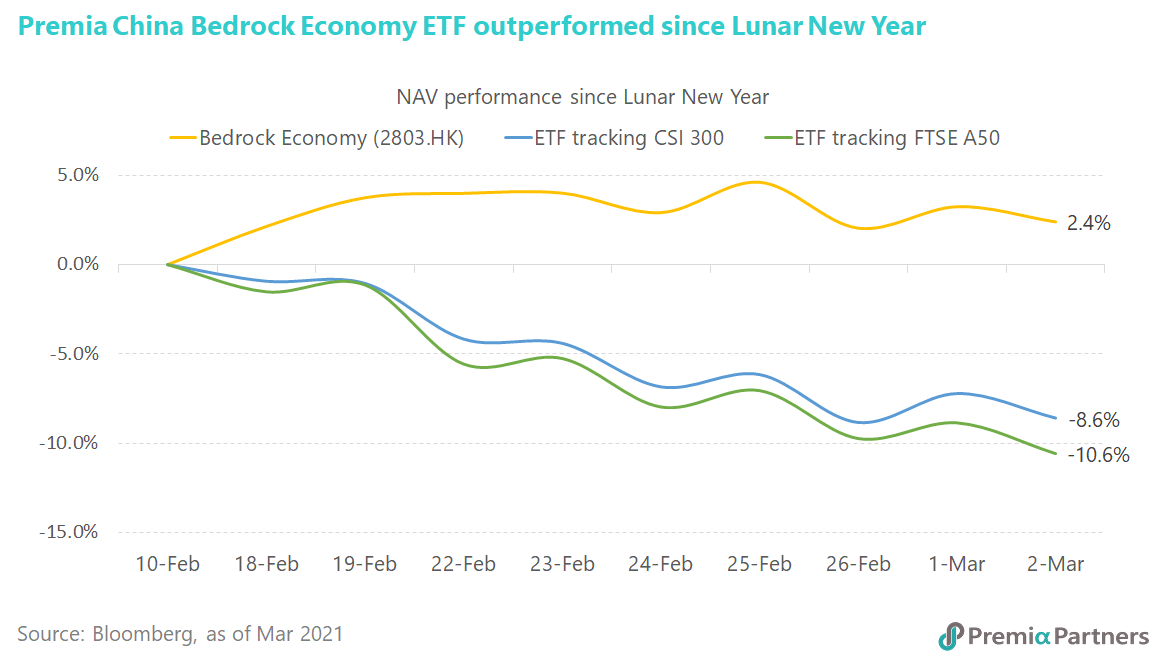 The reflation trade dominated the global capital market with long-dated bond yields kept surging whilst cyclical names became investors' favor. A promising progress of the vaccination program and the initial positive feedback help lift the expectation higher for the economic recovery. Investors began to take profit from the former winners such as EV and cloud computing names and put new bets on metal, energy and financials plays. Essentially value stocks have beaten growth counterparts in the equity markets. In the US, Dow Jones Industrial Average outperformed S&P500 and Nasdaq Composite Index in the past few weeks. China is no exception even though there is less concern on the rising inflation expectation and significant yield curve steepening. Premia CSI Caixin China Bedrock Economy ETF (2803.HK), a multi-factor strategy emphasizing value, quality and low-volatility, showed good performance since A-share market reopened after the Lunar New Year holiday. It outperformed the largest ETF tracking CSI300 Index by 11% points and the largest ETF tracking FTSE A50 by 13% points during the period.