Chart of the Week
---
CNH strengthen to 3months high
ETF Capital Markets
USDCNH is strengthen below 6.38 for the first time since June. Investors continue to like downside USDCNH option exposure into Jan-end 2022 with 6.30-6.35 strikes. SHCOMP always advance together with the strengthen in CNH. Currently SHCOMP stand above major moving average. On the other hand, China's yield curve steepening due to higher inflation expectation as commodity price rose and the hopes of loose monetary policy faded. The selloff in China bond market would also encourage fund flow into equity market. SHCOMP's seasonal pattern which suggests the final quarter marks the seasonally strongest period of year for A-Shares, registering an average gain of more than 5.5%, if the same tendency repeats.
---
Bloomberg Commodity Spot Index hits record high
ETF Capital Markets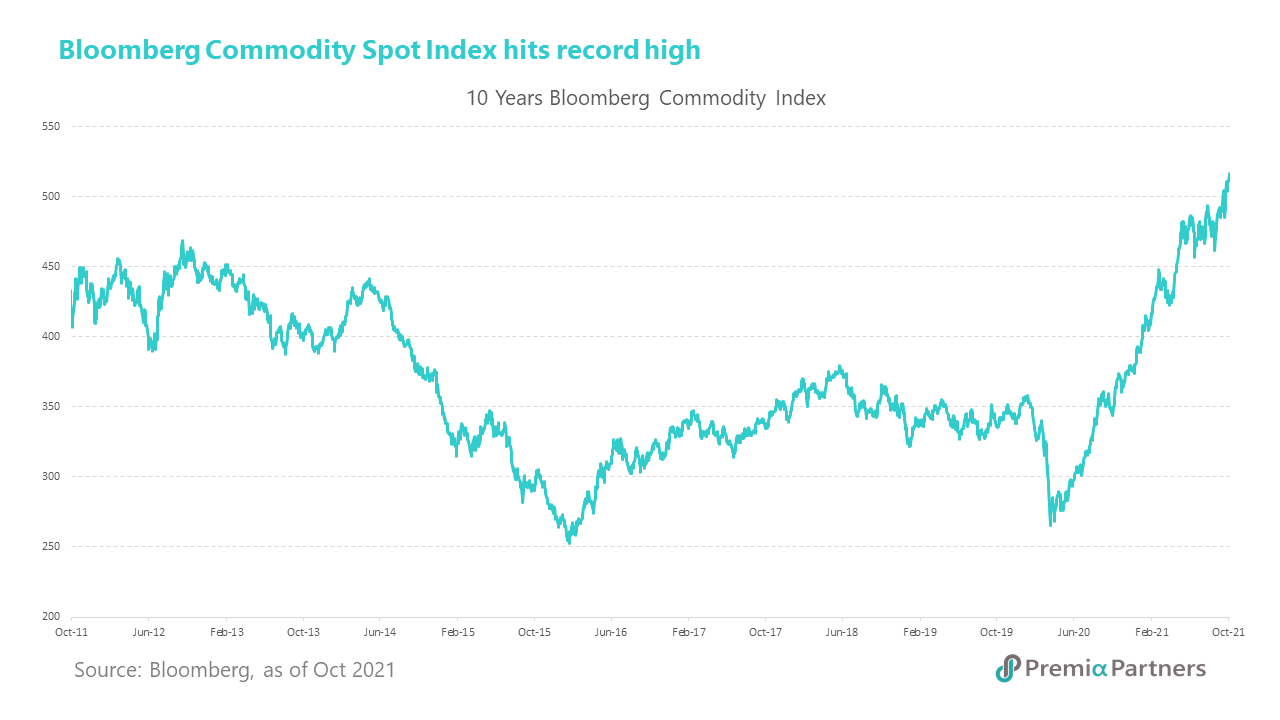 Bloomberg Commodity Spot Index hits record high with the rebound in demand for raw materials and supply constraints, exacerbating concerns about global inflation. Bloomberg Commodity Spot Index rose 1.2% in the past week, breaking the previous record high set in 2011 and rising over 90% from the four-year low set in March last year. The index tracks 23 energy, metals and crop futures contracts. The top gainers are energy commodities such as natural gas. The shortage of supply in Europe has brought the risk of spreading to other regions. Base metals such as steel, aluminum and copper climbed with China's efforts to rein in a burgeoning energy crisis continuing to dominate the outlook for both supply and demand. China's electricity curbs have put pressure on metals and coal prices. Thermal coal set new high in the past month in China's Zhengzhou Commodity Exchange. Meanwhile, the worsening squeeze on India's coal supply is triggering a power crisis that could last as long as 6 months. Premia CSI Caixin China Bedrock Economy ETF (2803.HK) currently has an exposure of ~20% in basic materials, energy, utilities, cyclical, electric, miners, oil and gas related stocks.
---
How the US tapering may change global asset allocation in Q4
David Lai , CFA

Partner, Co-CIO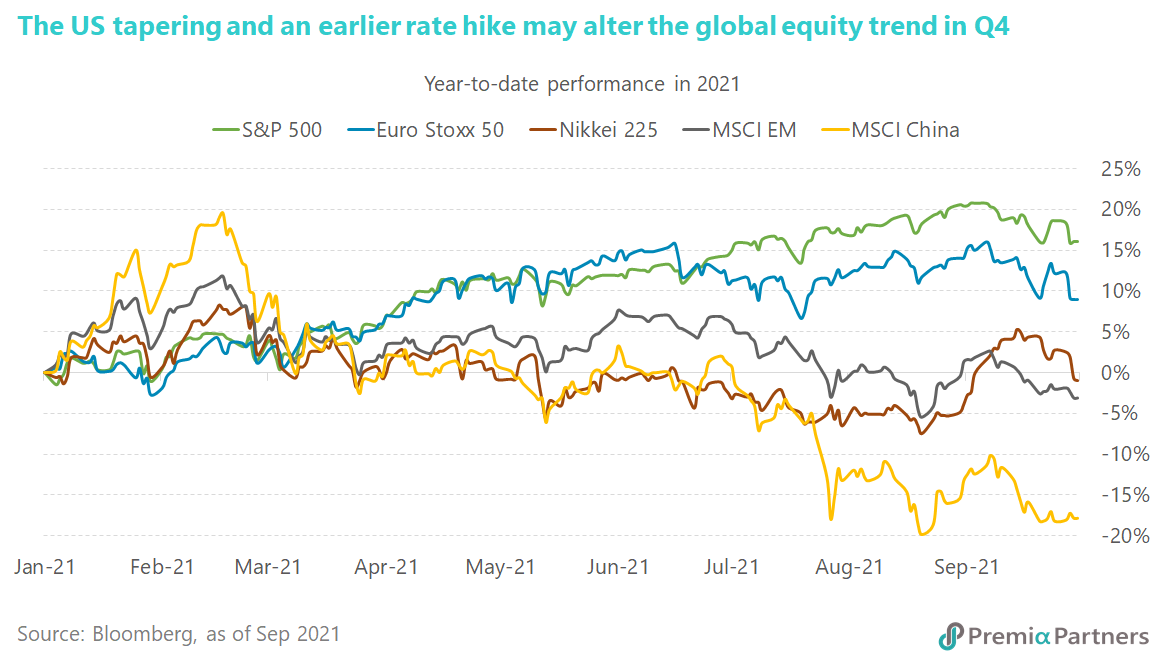 The Federal Reserve said that it will begin reducing its monthly bond purchases as soon as November and signaled interest rate hike may follow earlier than expected as the US planned to pull out some of the stimulus provided during the pandemic crisis. Total 9 of 18 FOMC members now see the first increase happening in 2022 instead of the widely expected 2023, a response to the rising inflation which is estimated to be at 4.2% this year, more than double the Fed's target rate of 2%. Investors have been anticipating the US tapering will come soon, so it should probably be considered as a non-event. That said, the beginning of reducing liquidity and a sooner than expected rate hike may trigger some changes in asset allocation among global investors. Developed markets have outperformed significantly over emerging markets including China year-to-date. It is interesting to see if a major turnaround of the US monetary policy will change how investors position their portfolio in the last quarter of this year.
---
Renminbi remained strong despite the regulatory crackdown
David Lai , CFA

Partner, Co-CIO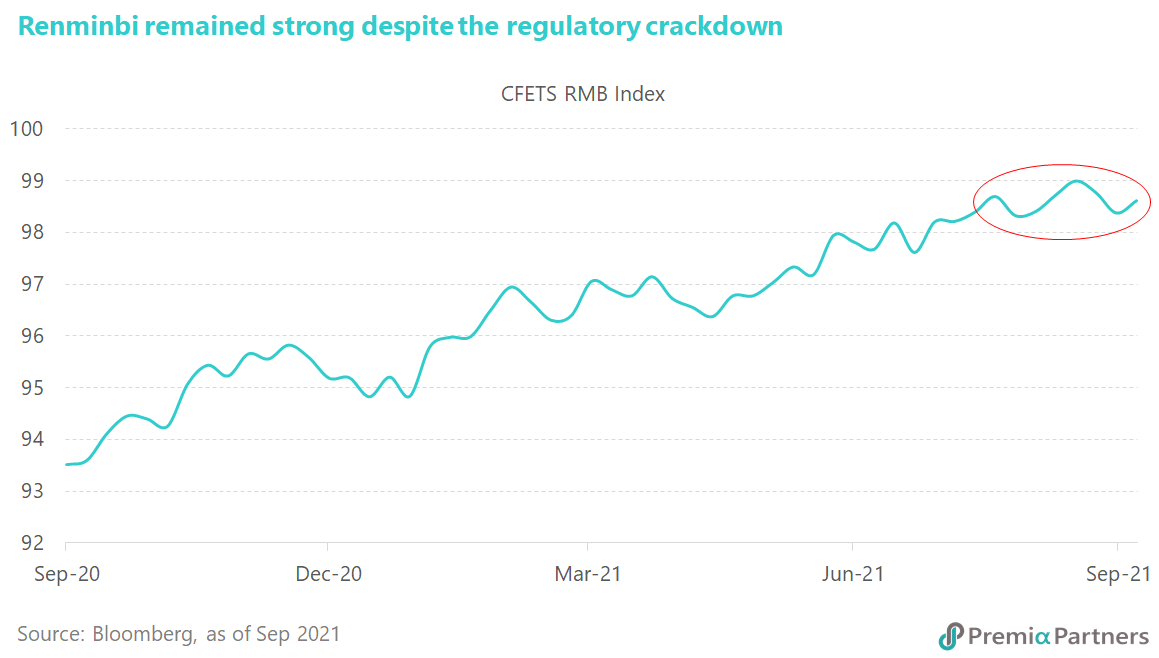 The Chinese yuan remained strong in September, hovering at a level close to the 5-year high, even the noise of selling Chinese assets was loud amid the regulatory crackdown. Investors stay confident on the currency as witnessed by the net addition of RMB 163 billion of bank deposits denominated in the offshore yuan over the past year in Hong Kong, about the four times the pace of the previous 12 months. IMF data indicates most central banks globally have been continuing to accumulate yuan. Fundamentally, China looks set to head for a balanced budget for the first time since 1985. The CFETS RMB Index shows that the Chinese yuan has appreciated 5.4% against a basket of foreign currencies in the past 12 months. Premia China Treasury and Policy Bank Bond Long Duration ETF (2817.HK) would be a useful investment tool that offers exposure in the Chinese yuan, the long-end of China's yield curve, and the sovereign credit ratings.
---
Nikkei 225 hit a new high in 30 years
David Lai , CFA

Partner, Co-CIO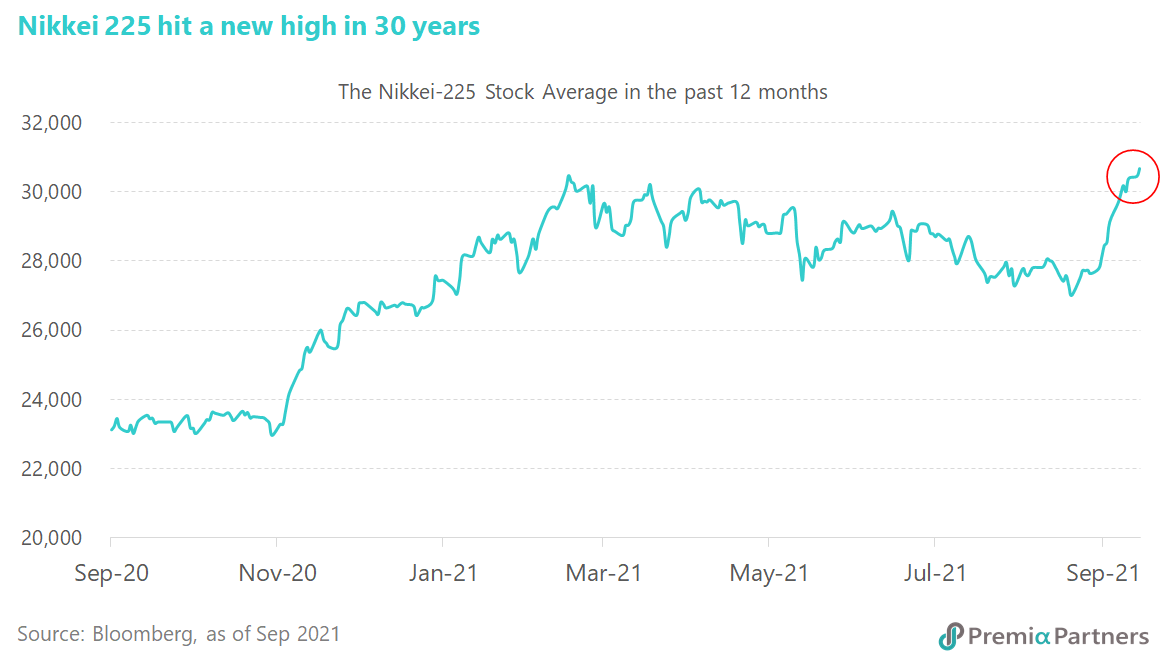 The Nikkei 225 Stock Average hit a new high in 30 years as a reshuffle of the blue-chip gauge added to a wave of positive sentiment on Japanese equities. Keyence, Murata Manufacturing and Nintendo will be added into the index in early October as a result of the latest review. Like the Dow Jones Industrial Average, the Nikkei 225's methodology adopts a price weighted approach. Analysts have long speculated firms such as Nintendo and Keyence were not previously added due to concerns over the potential impact of their large share price. That said, the index provider eventually made a revision earlier this year, capping a new stock's weight at the time of addition. Analysts now see the updated Nikkei 225 better representing the Japanese economy. Keyence, a maker of industrial automation systems, is the second-biggest firm in the country by market value, while Nintendo is among the most well-known brands and Murata Manufacturing is a key supplier to the world's smartphone makers. Premia Asia Innovative Technology ETF (3181.HK) currently has an exposure of ~30% in Japanese equities, which includes all three newly added index constituents mentioned above.
---
Chinese banks: low systemic risk but muted growth
David Lai , CFA

Partner, Co-CIO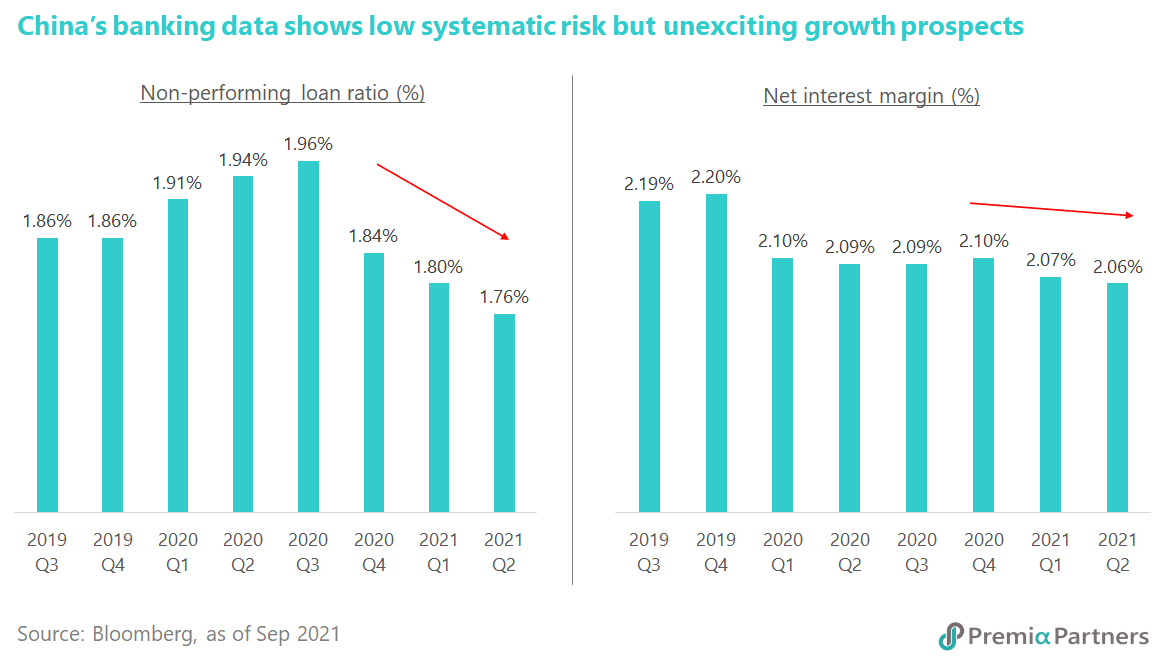 China's commercial banks posted a 11% gain in first-half profits, with non-performing loan ratio dropping for three straight quarters to 1.76%. Asset quality was the biggest highlight in the interim results of the domestic bank's performance. The slowdown in non-performing loan formation in the past few quarters reveals that China economy does not have any imminent systematic risks and the negative impact from the pandemic seems to be peaked. Real estate, aviation and traditional energy are the key areas that require attention though. The current ongoing defaults in the onshore bond market may alter the downtrend of the industry's asset quality potentially. On profitability, the double-digit earnings growth is largely a result of the low base effect, so investors should not be too optimistic and expect that Chinese banks could maintain a similar pace in future. The narrowing net interest margin and a low single digit growth rate in loan expansion may point to unexciting prospects of the banking industry.
---
SEA has outperformed FAANG since listing less than 4 years ago
David Lai , CFA

Partner, Co-CIO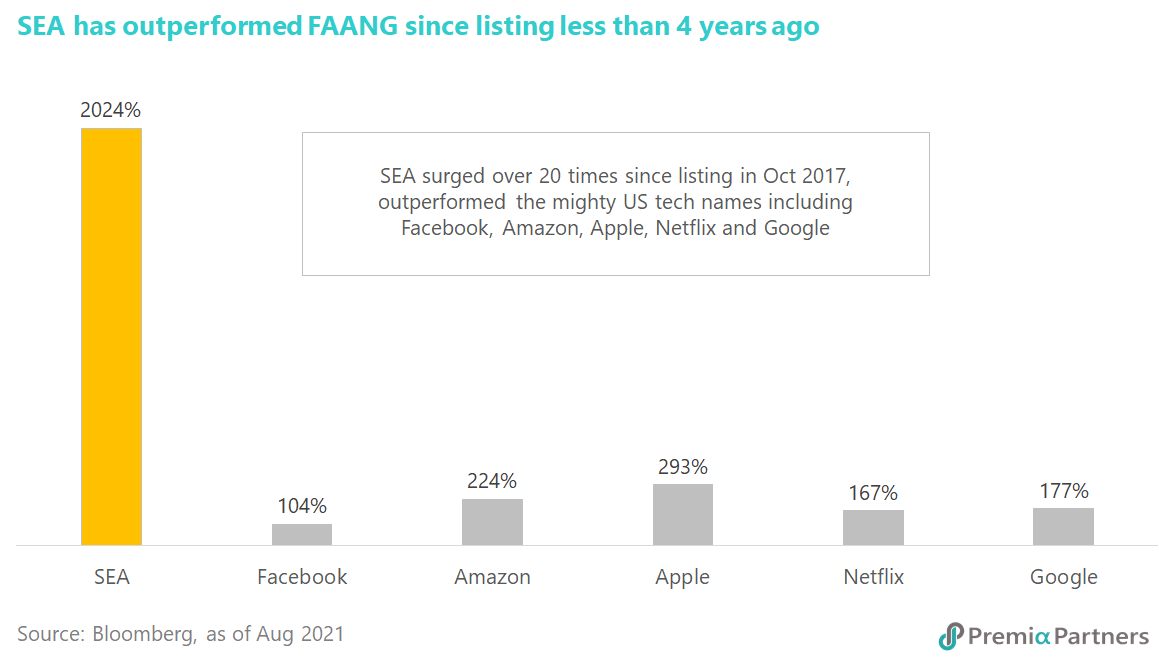 SEA, the most valuable company in Southeast Asia, reported a stellar quarterly result with turnover surged 159% year-on-year. The company raised its annual guidance for both e-commerce and mobile gaming business. Unlike its Chinese peers subject to a tightening regulatory environment, the company has partnered with local governments to drive adoption of digital wallets. The COVID-19 pandemic has led to big shifts across Southeast Asia with 40 million people came online for the first time in 2020, bringing the total number of Internet users in the region to 400 million, according to the report from Google, Temasek, Bain & Company. The region's online spending will increase from USD 100 billion last year to over USD 300 billion by 2025. Since its listing in late 2017, SEA has seen its share price up more than 20 folds. SEA is currently the fifth largest holding at Premia Asia Innovative Technology ETF (3181.HK).
---
China Telecom's A-share IPO looks set to be the largest one globally in 2021
David Lai , CFA

Partner, Co-CIO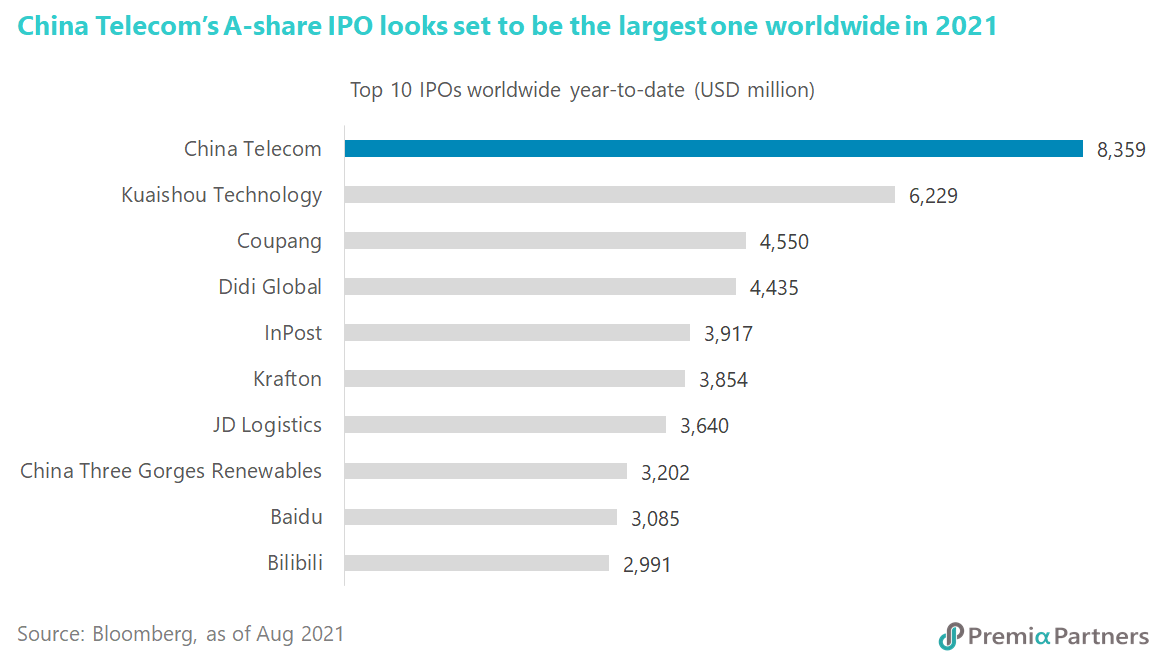 China Telecom looks set to be the world's largest IPO in 2021, raised RMB 54 billion in Shanghai Stock Exchange assuming the green shoe option is fully exercised. It is also the biggest share sale in A-share market since Agricultural Bank of China's in 2010. The proceeds will be invested in 5G projects, new infrastructure integrating cloud and internet services, as well as other scientific and technological innovation projects. The carrier's listing in the A-share market is partly driven by an earlier delisting from New York Stock Exchange amid the US investment restriction. China Mobile, delisted along with China Telecom in May, also announced its plan to return to the onshore market. Among the global top ten IPOs so far this year, seven of them are Chinese companies whilst the remaining are two Korean gaming companies, and a Polish logistics solution provider. Hong Kong is the most desired IPO destination with four of these companies choosing it for their listings, followed by Shanghai and Seoul.
---
Time to accumulate the discounted ASEAN exposure
David Lai , CFA

Partner, Co-CIO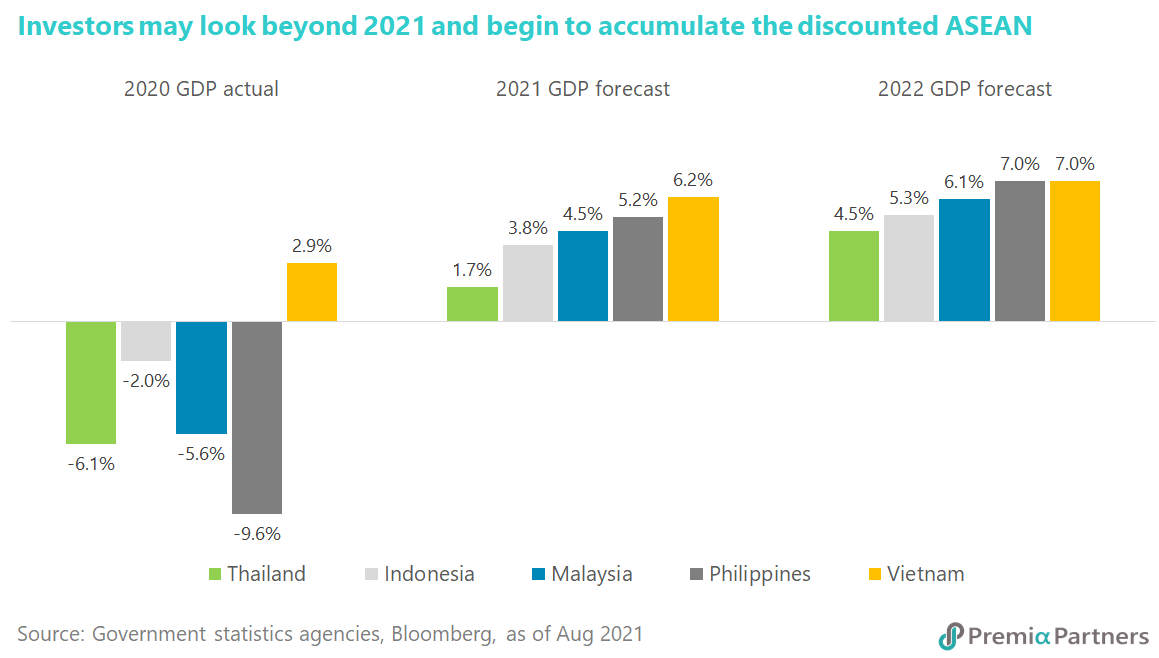 ASEAN economies faced an economic slump in 2020 amid the pandemic hit. Most countries except Vietnam saw a sizeable recession with shrinking consumption and exports trade. The region is supposed to make a strong rebound this year, but the latest delta variant dragged the recovery progress, e.g., Thailand has just extended quasi-lockdown measures to 29 provinces that account for 40% of the population and two-thirds of GDP, while Malaysia's COVID-19 curve has steepened with weekly deaths and new cases hitting fresh highs. The highly infectious variants combined with the low vaccination rate will be challenging for ASEAN. That said, investors may take advantage of the current dip and begin to accumulate the equity exposure because: (1) most ASEAN countries may record phenomenal growth in the next few quarters given the low base effect; (2) equities are generally trading at a discount relative to the historical levels and their peers in other regions; (3) market is shifting away from traditional cyclicals and getting more diversified with more new listings including online marketplace Bukalapak in Indonesia and credit agency CTOS Digital in Malaysia. Premia is offering investors two investment vehicles to capture the opportunities in the region, namely Premia Dow Jones EM ASEAN Titans 100 ETF (2810.HK) and Premia MSCI Vietnam ETF (2804.HK).
---
China long duration government bonds performed well
David Lai , CFA

Partner, Co-CIO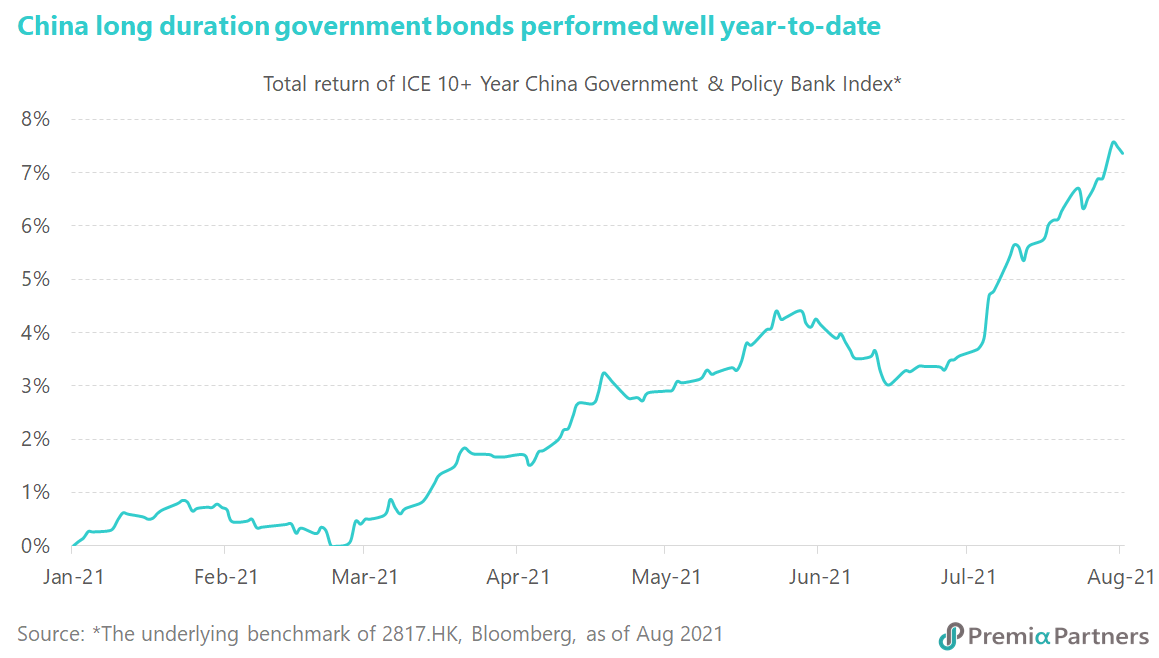 China government bonds showed its class during the latest market turbulence and acted like a safe haven for those who would like to tune down the portfolio risks. Some international investors see China bonds provide a proper protection in a global systematic event because the People's Bank of China is the only central bank worldwide which still has plenty of tools to deploy if necessary. The relative high yield of China government bonds as compared to other sovereign bonds has attracted consistent flows of capital into the onshore market, about USD 43 billion year-to-date and USD 119 billion in the past 12 months. According to estimates from the Institute of International Finance, central banks' reserve accumulation in renminbi accounted for 60% into China government bonds in the first quarter and a third of flows last year. This has led the strong performance of the ICE 10+ Year China Government & Policy Bank Index, which is the benchmark index tracked by Premia China Treasury and Policy Bank Bond Long Duration ETF (2817.HK).