Last week was the 3-month anniversary of 2803 HK and 3173 HK – our China A-share smart beta ETFs. To those who invested in them, thanks so much for your support! You should be feeling pretty good with a ~10% return since inception. To those who haven't yet, we wanted to do a quick summary of where the ETFs stand today.
In addition to the 3 month update, we realized that though you've heard a bit from David and me, you probably aren't aware of the other 16 people working at Premia to support our products. To that end, we'd like to introduce 2 of our colleagues, Alex and Chi, by asking them for a quick opinion on bedrock or new economy.
So, the topics for this week are:
An update after 3 months of trading

Alex Chu, portfolio management, on the merits of the Bedrock Economy ETF (2803 HK)

Chi Lam, trading, on the importance of allocating to the New Economy ETF (3173 HK)
----------------------------------------------------------------------------------------------------------------------------------------------------------------------------------------------------------------
3 months in – how are we doing?
So far so good, the ETFs are growing and trading nicely. Below are a few key stats:
AUM - 2803 and 3173 listed with US$42m and US$46m, respectively. Today they are US$59m and US$55m with 2803 overtaking 3173 in terms of both performance and inflows.
Fees - still only 0.5% total expense ratio for both ETFs!
Inflows/Outflows - 2803 saw US$7m in creations, vs US$2m for 3173. 2803 had 6 creation days and 3173 had 4. Both ETFs had 1 redemption each.
Performance - 2803 is up 12.9% since inception (Oct 20) and 3173 is not far behind with 7.8%. In 2803, the main contributors were financials and industrials, followed by real estate and consumer staples. 3173, as you'd expect, was led by consumer discretionary and health care stocks. From a factor point of view, results were in line with expectations as well. 2803 was led by value outperformance, but suffered from its size bias as small caps underperformed. 3173 similarly lagged due to size bias, but profitability was the key positive contributor to returns.
Tracking - both ETFs are outperforming their benchmark – 2803 by 0.9% and 3173 by 1.7% on the back of sampling decisions made around suspensions. We expect this to reverse and average 0 over time.
Liquidity - 2803 is trading slightly better with US$480k per day on average whereas 3173 is at US$280k. The average bid/asks are 17 bps and 19 bps, respectively, which is pretty much in line with the A-shares ETF market (putting us in top 10 A-shares ETFs in HK). Importantly, for those concerned about bigger sizes, the implied liquidity is US$159m and US$153m, which means our broker-dealer partners can easily handle large sizes for clients without market impact.
Premiums - 2803 has averaged a discount of 0.25% whereas 3173 is nearly flat to NAV with a discount of 0.01%.
A quick chart summarizing the above is below: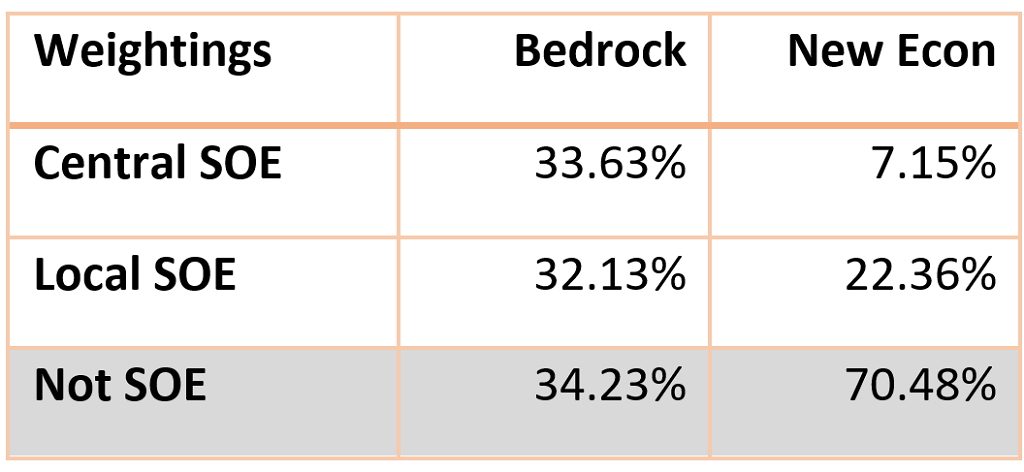 Source: Bloomberg, Premia Partners, as of 26 Jan 2018
-----------------------------------------------------------------------------------------------------------------------------------------------------------------------------------------------------------------------
Alex Chu on why he prefers 2803 HK
There are two main reasons why you should buy Bedrock instead of New Econ.
More weightings in SOEs
China will speed up SOE reform in 2018, which includes changing shareholder structures, spinning off non-core assets and calling for more innovation. The latest data from the Ministry of Finance showed that combined SOE profits rose 24.9 percent year-on-year to 2.2 trillion yuan ($332 billion) in the first three quarters. Local SOEs even outperformed central ones, with combined profits up 40.3 percent year-on-year.
Since the reform can help improve the profitability of SOEs, the market would revalue the SOEs and give them higher valuations. SOEs have historically traded at lower multiples than private companies, but that might be about to change. Since Bedrock has more exposure to SOEs (~65.8%) than New Econ (~29.5%), Bedrock would be the better ETF to take advantage of this shift.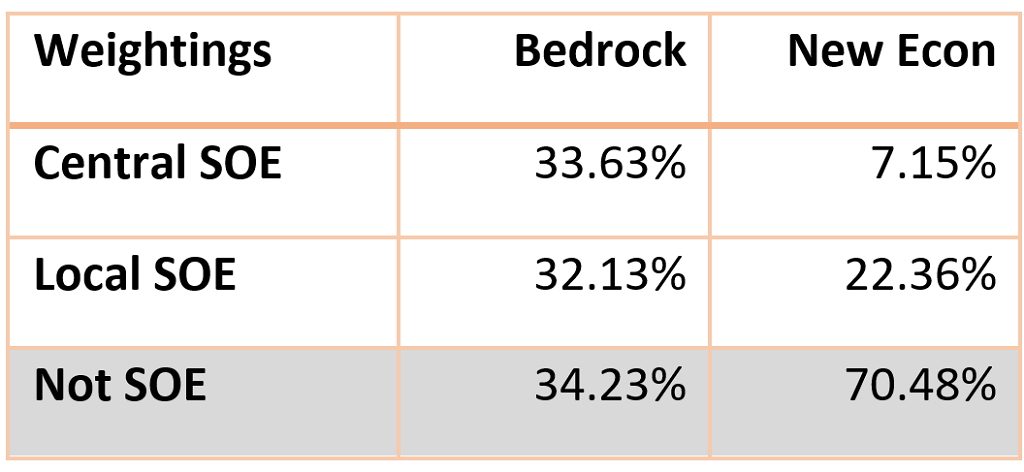 SOE reform news: http://www.chinadaily.com.cn/business/2017-10/26/content_33736071.htm
More stable Income
As of 29 Dec 2017, Bedrock has a higher dividend yield than New Econ – 2.0% vs 1.3%. We often focus on price movements and ignore dividend returns as being immaterial. In reality, it can be quite a large driver of returns. To figure out the impact a buy and hold investor can expect, I tried to approximate the dividend yield a buy and hold investor can get by subtracting the price return from the total return on a daily basis and summing up the differences.
The usual dividend payout period is between May and August each year, which explains the bumps you see in the chart below. Every year since 2014, the surges for Bedrock are much higher than that of New Econ, indicating a stable income gain. If you invested in Bedrock rather than New Econ since July 2013, you would have received 4% more in income yield, i.e. around 1% more per year.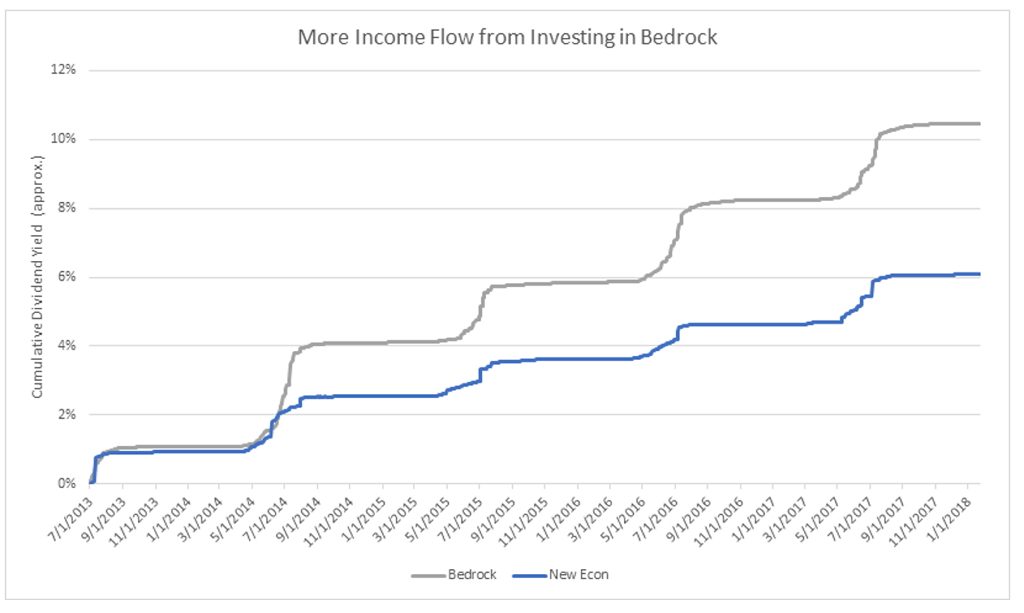 Source: Bloomberg, Premia Partners, as of 26 Jan 2018
-----------------------------------------------------------------------------------------------------------------------------------------------------------------------------------------------------------------------
Chi Lam on why new economy is a must for any portfolio
The reason I prefer the New Economy ETF is quite simple – I like the stocks the ETF provides exposure to. For those not familiar with 3173, this is a list of stocks selected by non-fixed asset, financial health and growth factors, but limited to the new economy sectors in China. And new economy means growth.
Here's an example of what 3173 means at a stock level. The largest holding right now is Gree Electric Appliances (000651 CH). They started in 1991 with 200 employees and are now the world's largest residential air conditioner manufacturer. By 2015 Gree ranked in the Forbes Global 2000 at 385 and was listed no 1 in the Household Appliances industry category. And now that the domestic market is covered, it's gunning for global domination with a mission to change the way the world thinks about the quality of Chinese made products. This growth did not result simply in increases in volume, but fantastic performance for investors that's likely to continue.
The chart below shows Gree's return vs the FTSE A50 and CSI 300 over the last 10 years. Your eyes do not deceive you. The two broad benchmarks are still down vs January 31, 2008. Gree, in contrast, is up 600%. And it's currently trading at only a 14x forward PE!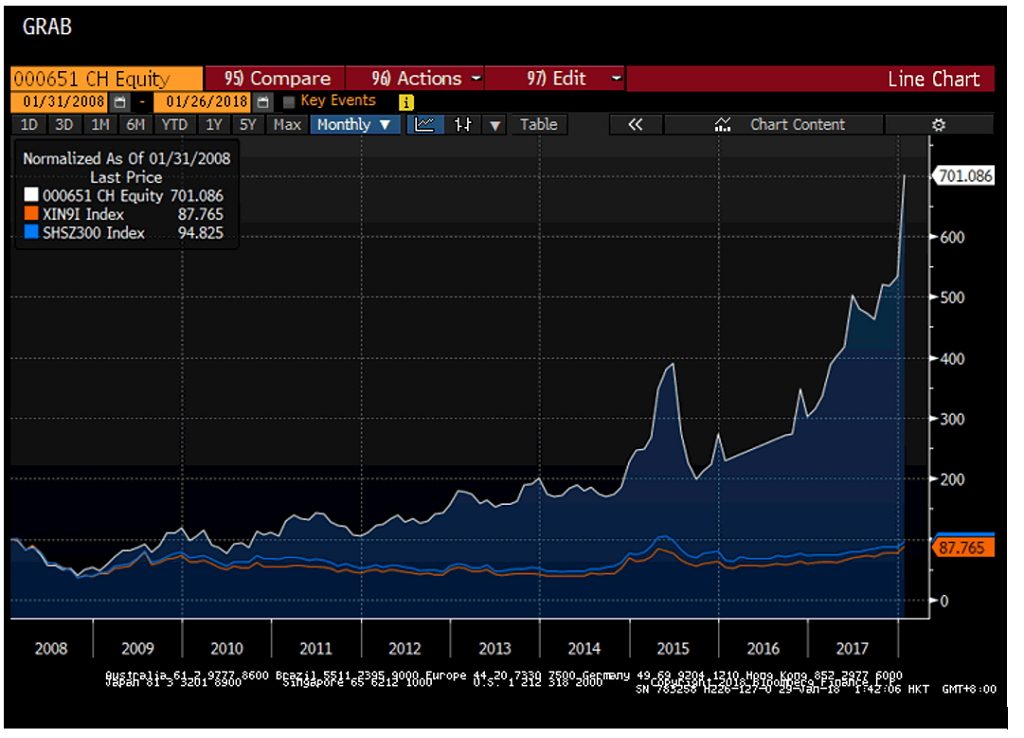 Source: Bloomberg, as of 26 Jan 2018
Add on the fact that "Sister Dong Mingzhu", the chairlady, is mulling over investing into building accommodations for all their staff and you have a company that not only delivers growth but thoroughly ticks the corporate governance box as well (for more reading on Corporate governance, click https://www.premia-partners.com/china-governance-should-you-take-the-plunge).
Another stock I like is Iflytek (002230 CH), #6 in the ETF. Given the amount of money China is investing in AI and how it wants to be the global frontrunner down the road, Iflytek is perfectly positioned for absurd amounts of growth. It has JVs with JD.com and Industrial Bank and recently exhibited at CES for the first time. Similar to Gree, with the domestic market fully covered Iflytek is getting ready to expand globally. They are building something world class, which can only feed into success over the long-term. As AI evolves from the periphery of computer science to something used by all of us in daily life, Iflytek's AI headset and their involvement in China's first AI lab are sure to propel them to greater heights. Not to mention provide plenty of fodder for any nerd to drool over.
Here too, the performance history tells you everything you need to know. Since listing in May 2008, Iflytek is up 1300%. FTSE A50 and CSI 300 are up roughly 12% during the same time.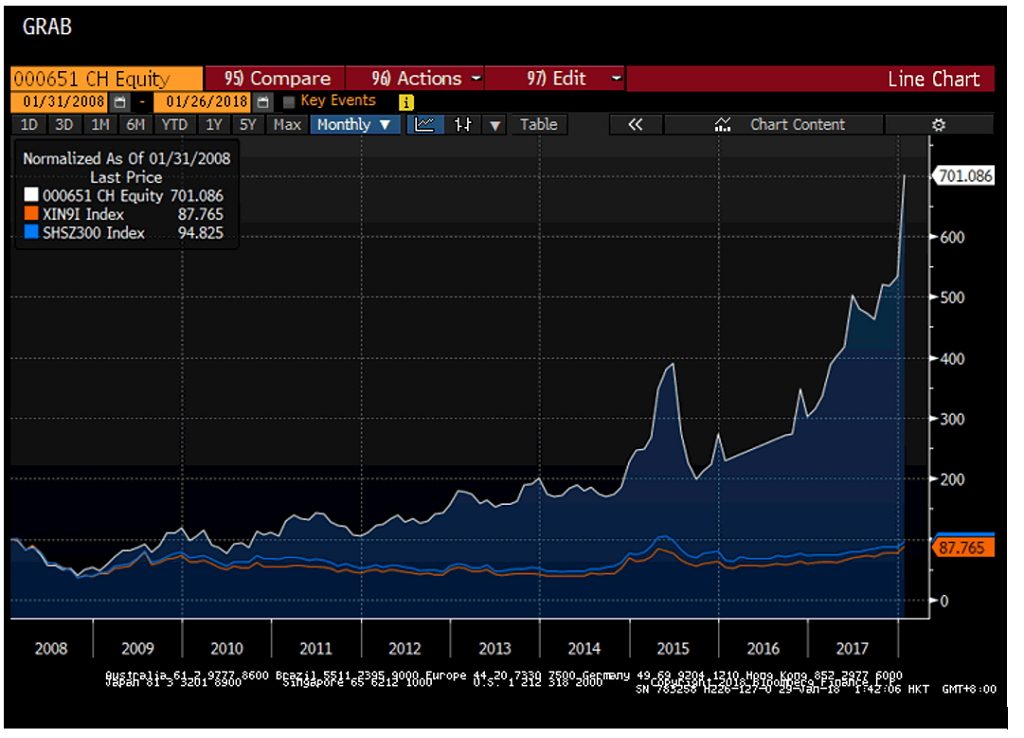 Source: Bloomberg, as of 26 Jan 2018
Of course, two companies don't make an ETF and you should look at the total exposure of any investment vehicle before deciding to invest. But the point for me is very simple – I don't just want to own China – I want to own China's new economy as it transitions from new to mainstream. China's future is enormous and not just limited to a domestic story. Many of the companies in 3173 are on the verge of breaking out to the global stage, making a position in 3173 not just an investment in China's growth, but an investment in perhaps the key global growth story of the 21st century.