Recap 2021 YTD
Broader market factors behaviours have been reflective of these economic cycles and regulatory events for 2021. We consistently observe greater than 1 standard deviation of Quality and Value factor movement throughout 2021 based on 3 years of daily factor returns data and more than 2 standard deviations for Growth, Value, Quality and Momentum factors in the quarter to September end. Factors returns shown in Figure 1 are representative of the broader China A market, roughly 7000 stocks, by taking the return spread between top and bottom 30% stocks according to their factor strength.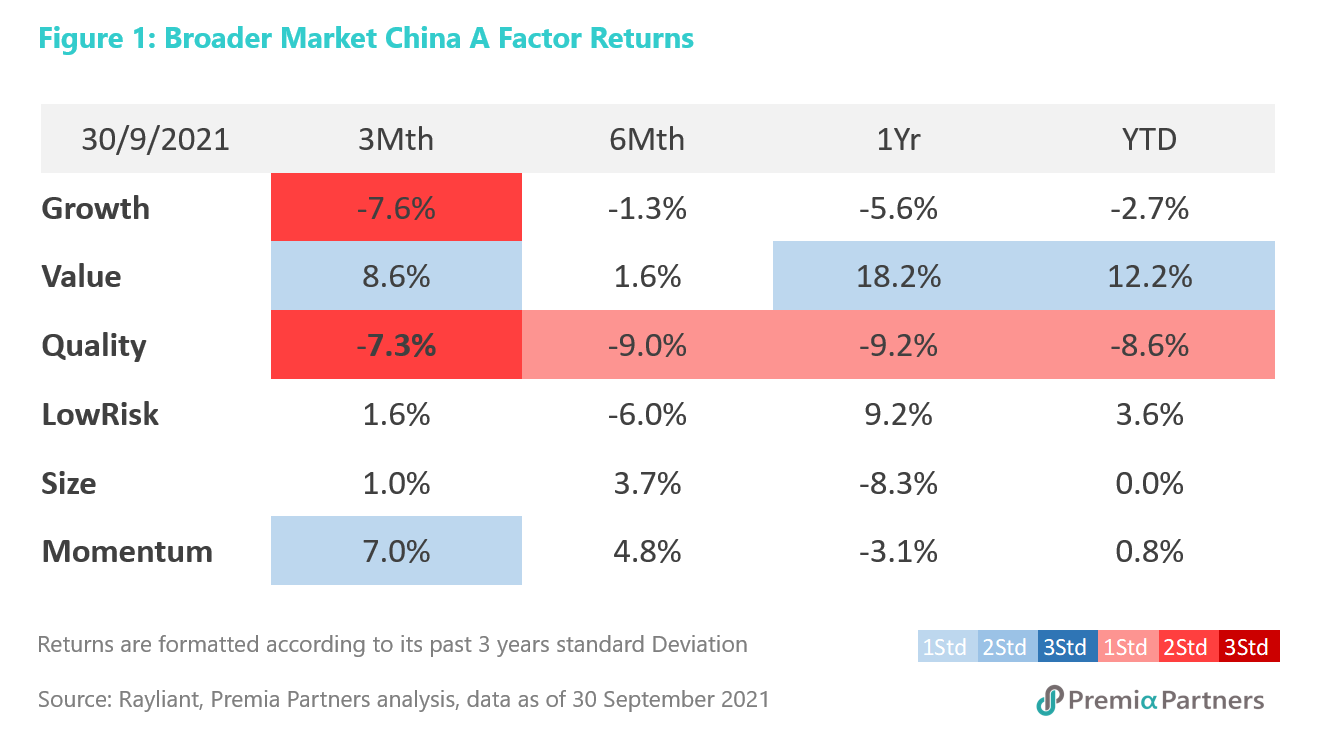 Value has been the stellar of 2021 despite experienced with big up and down swings. In fact, 2021 has been the best performing year in recent history (Figure 2), with YTD outperforming the same period in the previous 3 years by an average of approximately 16%.
Quality factor performance, as proxied by return spread between Top and Bottom 30% Quality stocks across the whole China A shares (7000+ stocks) had been underperforming after the initial boom. It has been the worst performing year since 2018 (Figure 2). It follows the logic that in the environment of expedited economic growth, investors would put less focus on quality and focus more on valuation and growth potentials. Please note our CSI Caixin Rayliant Bedrock Economy Index and CSI Caixin Rayliant New Economic Engine Index had prior screening process before applying Quality score, the Quality returns shown in Figure 1 served as approximates for the broader whole China A whole market and may not be representative of the Quality scores used in our Indices. For more details, please refer to our China Bedrock ETF strategy (2803 HK) and China New Economy ETF strategy (3173 HK).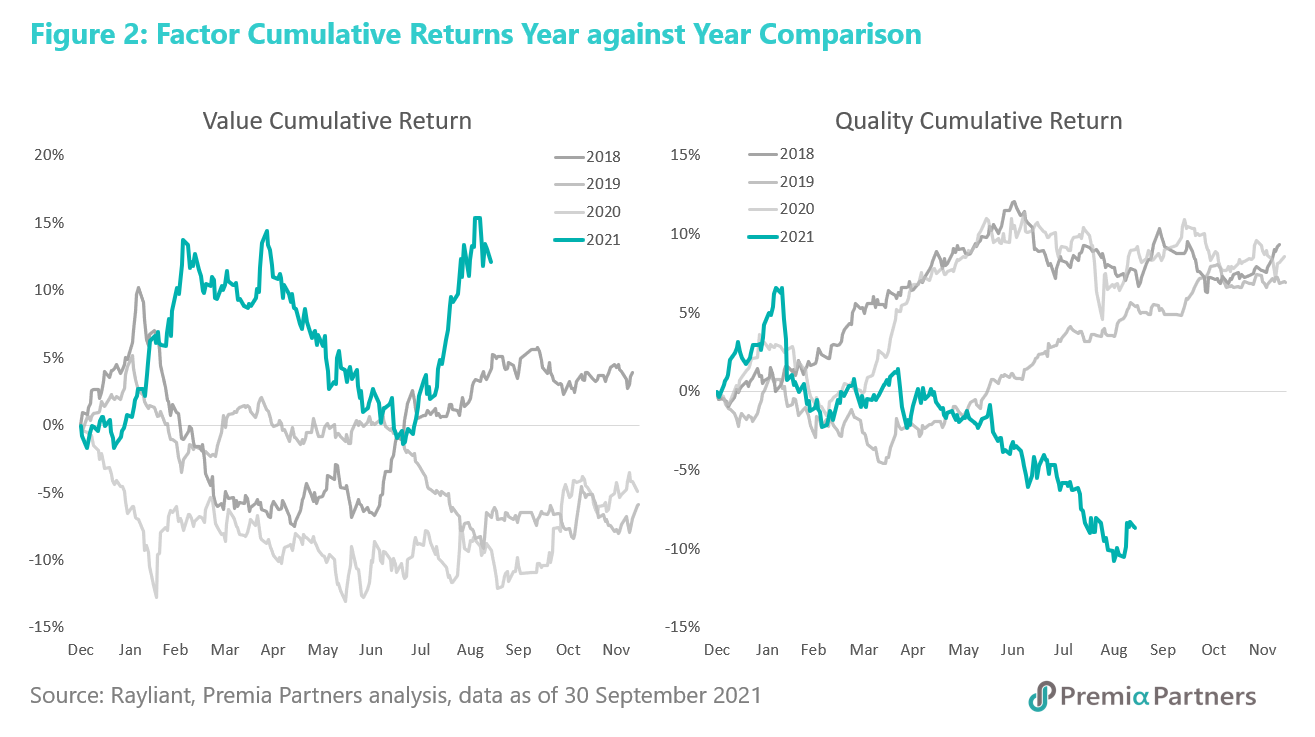 Growth had been much on the other side of Value and underperformed more than 2 standard deviations in September quarter end. Year to date, it had been steadily going up in Q1 and Q2 despite a short period of slump after Chinese New Year, then paced by a Q3 decline, resulting in a slight decline year to date to the end of September.
Value Growth Style Rotation
We have seen Value and Growth performance rotation (Figure 3) throughout 2021 quarter by quarter. These rotations were primarily driven by economic cycles and their corresponding valuations.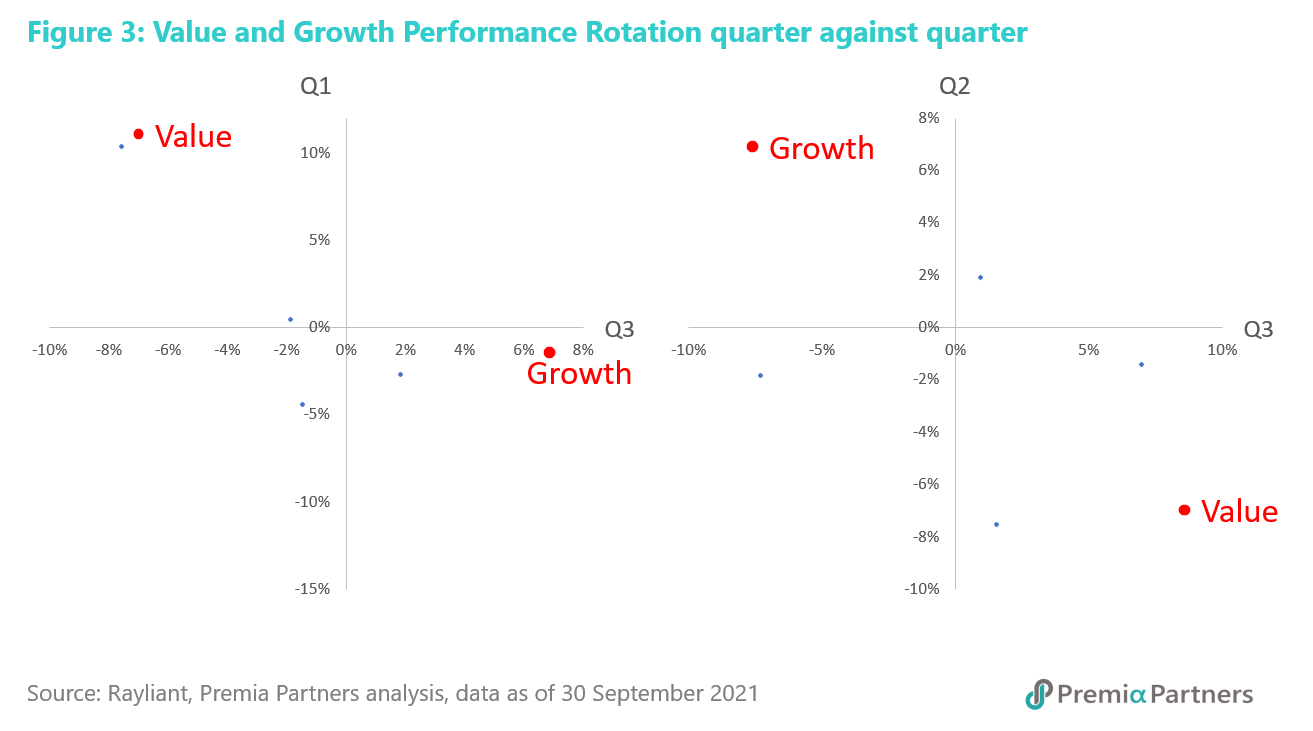 Q1 – Value benefited from continued strong economic recovery
High Value sectors like Energy, Materials and Industrials that are procyclical had benefited from expedited economic cycle transitioning from recovery into overheated expansion, mainly due to substantial USD liquidity and higher commodity price.
Commodity price surged due to mismatch between demand and supply side pandemic situation, western economies imposed stronger demand with better vaccination situation while developing countries struggled to meet the demand in production and export due to pandemic situation worsening.
Growth stocks were a victim impacted by the dramatic US yield pickup which also sent negative sentiment on Chinese growth names causing valuation correction.
Q2 – Rotation from Value to Growth on focusing policy support sectors with High Growth
Q2 showed a clear style rotation from previous. Health Care, Semi/IT and New Energy, those exhibiting clear growth style outperformed value stocks. Growth stocks had undergone valuation correction in Q1 as aforementioned and moved to a relative low level in Q2 to be attractive for investors. And also the sectors received much focus on growth certainty, policy support and also global supply and demand upward shift.
The dilemma between of economic slowdown risk and inflation expectation has seen monetary policy stable, moderately adequate liquid also provided upside for growth stock. The style rotational movement has been consistent with Mutual fund's Q2 holding disclosure. On the other side, valuation for Value sectors, like Materials had bottomed to be ready for a recovery (Figure 4).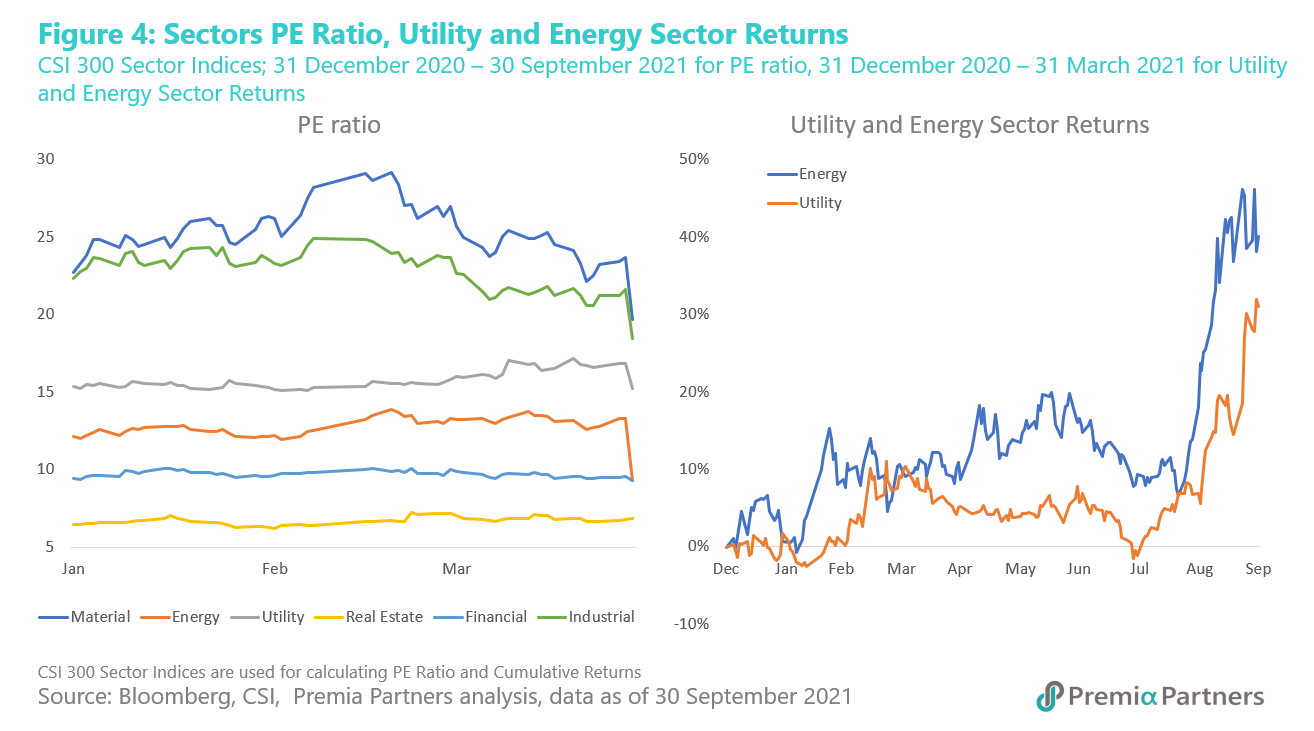 Q3 – Event Driven rotation back to Value
Stepping into Q3 saw the reverse of Q2 in terms of Value/Growth performance with even more distinct behaviour. The two factors diverged in a similarly significant scale where Value outperformed by 9% and Growth underperformed by -8%.
It was much of an event driven quarter since end of Q2 where we have seen regulatory crackdown on offshore listed internet and education sector names like Tencent, Alibaba and the after school tutoring ADRs. We have also experienced market shocks in reaction to scheduled power suspension as fire drills for 2030 carbon reduction and 2060 carbon neutral targets set by the local authorities. Throughout the period, onshore A-shares markets have been much more resilient in comparison, especially for onshore listed companies that are in policy tailwind sectors which businesses align with the strategic goals under China's 14th Five Year Plans. On the other hand, we have seen rotation back to ostensibly value sectors like Energy and Utilities as well in China during Q3 (Figure 4) on the back of supply backshift causing electricity power suspension and coal price soaring. While China is facing very different consumer inflation environment from the US as proxied by its CPI at 1% range, similar to the US PPI stayed elevated in China due to surged in commodity prices and freight costs. With economic growth expected to continue the lukewarm trajectory, investors have also taken a pause from chasing growth sectors like Consumer Discretionary, Consumer Staple and Health Care, until there is more visibility to corporate earnings and recovery data, though the correction has been much milder compared to their offshore listed counterparts facing headwinds from both US and Chinese regulators.
Strengthened Negative correlation between Growth and Value
With such rotational movement between Value and Growth each quarter we examined the correlation change between these two factors. We observed dramatic divergence in movements since pandemic. The correlation dropped from -0.5 in January 2020 to -0.8 in May 2020 and have been since stable.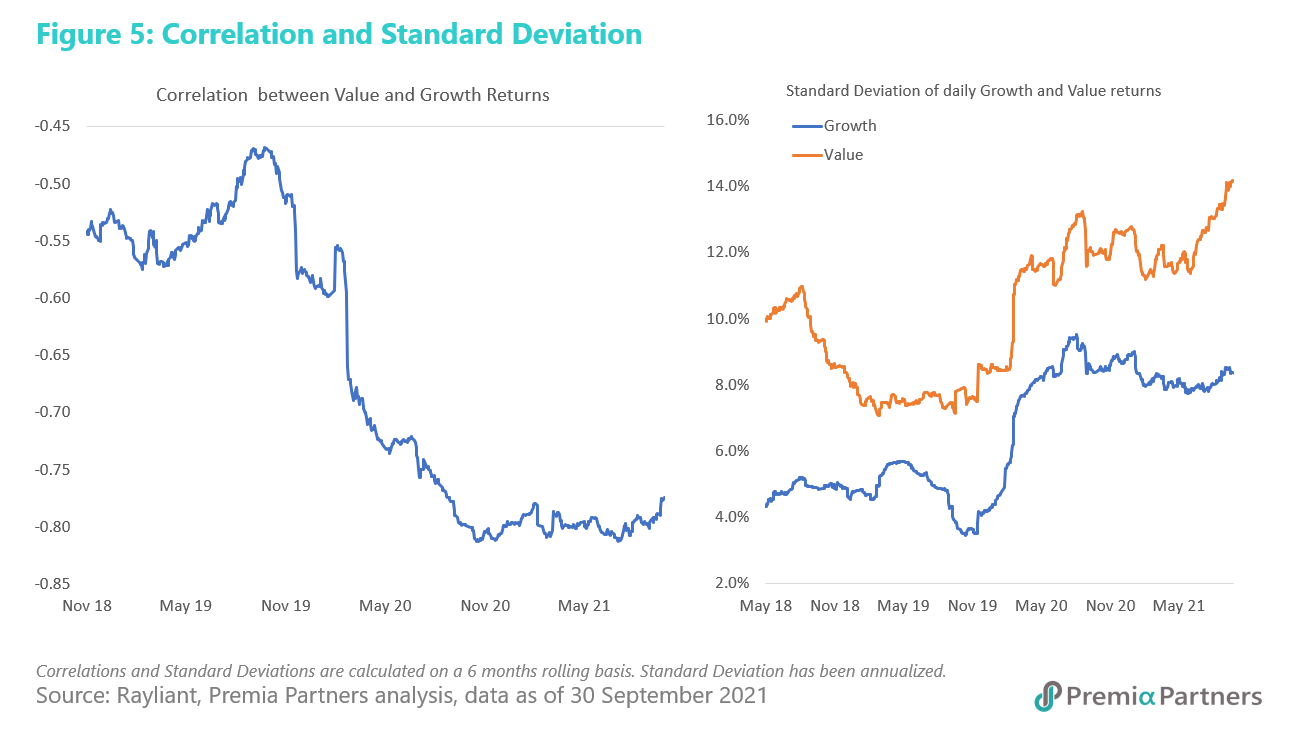 With such increased volatility (Figure 5) and distinguished factor returns between Value against Growth, it has demonstrated a better chance to capture the premium. Figure 6 plots the distribution of daily returns for Value and Growth factor. One will notice that 2020 and 2021 demonstrated much wider range of factor returns, in another word, more frequencies of observing bigger returns. Hence there is more opportunity to capture those larger scale returns.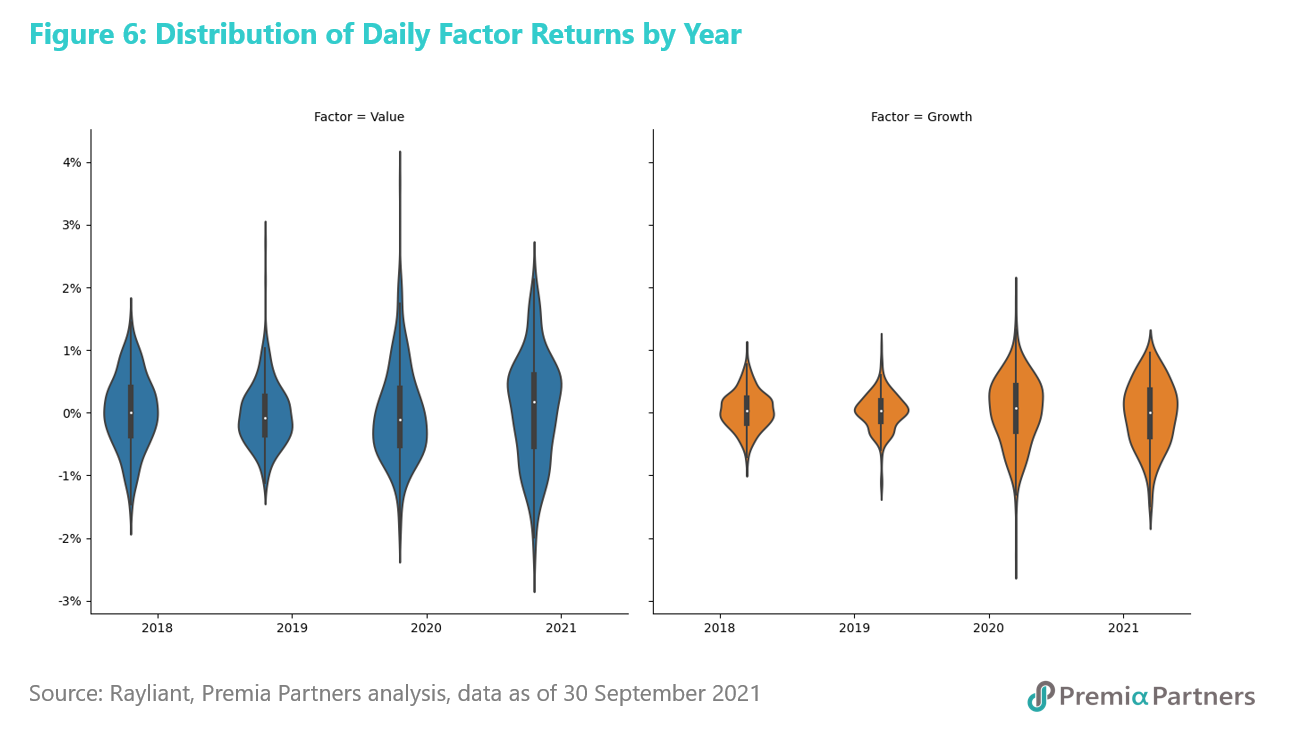 Our China New Economy ETF strategy (3173 HK) and China Bedrock ETF strategy (2803 HK) is well positioned to capture these premiums due to the Growth and Value tilt respectively.
Premia multi-factor China A shares ETFs
Interestingly, notwithstanding the succession of Value/Growth factor rotation in the previous months, both our China New Economy ETF strategy (3173 HK), and our China Bedrock ETF strategy (2803 HK) outperformed mainstream broad-based FTSE A50, CSI 300 and MSCI China by a wide margin year to date as of September 30th, 2021.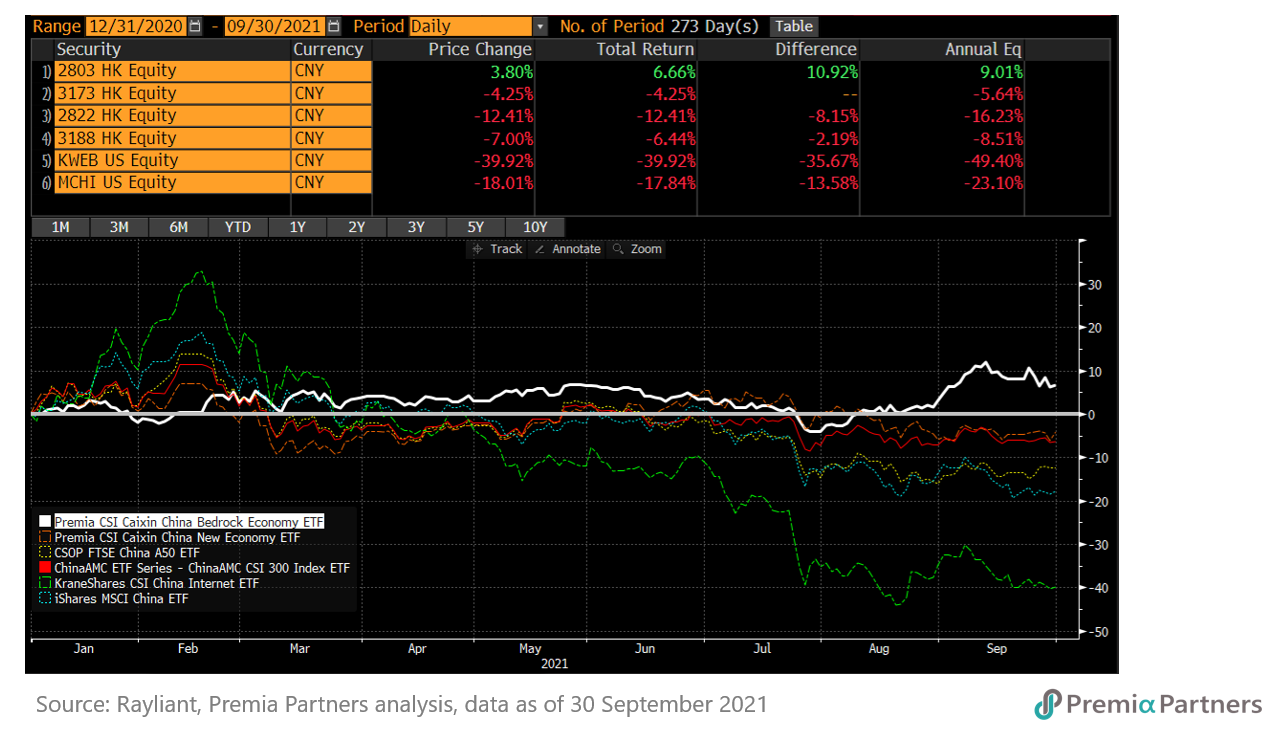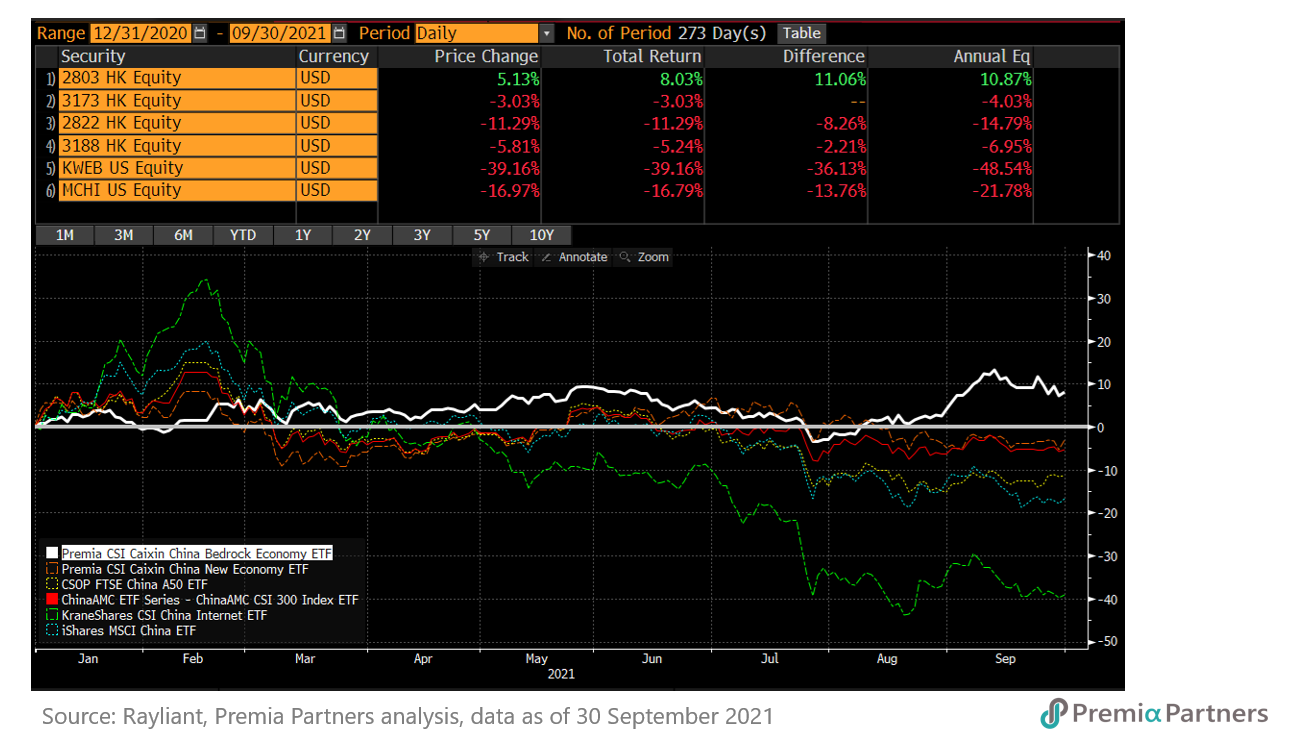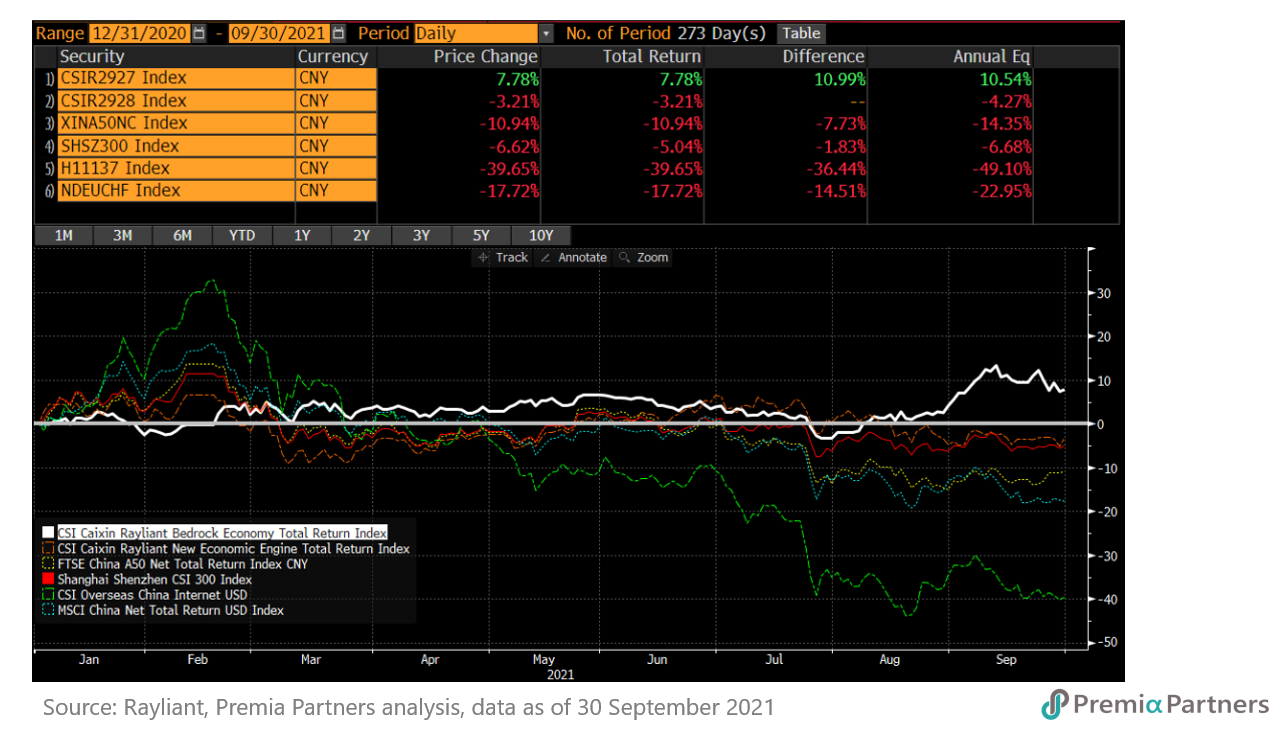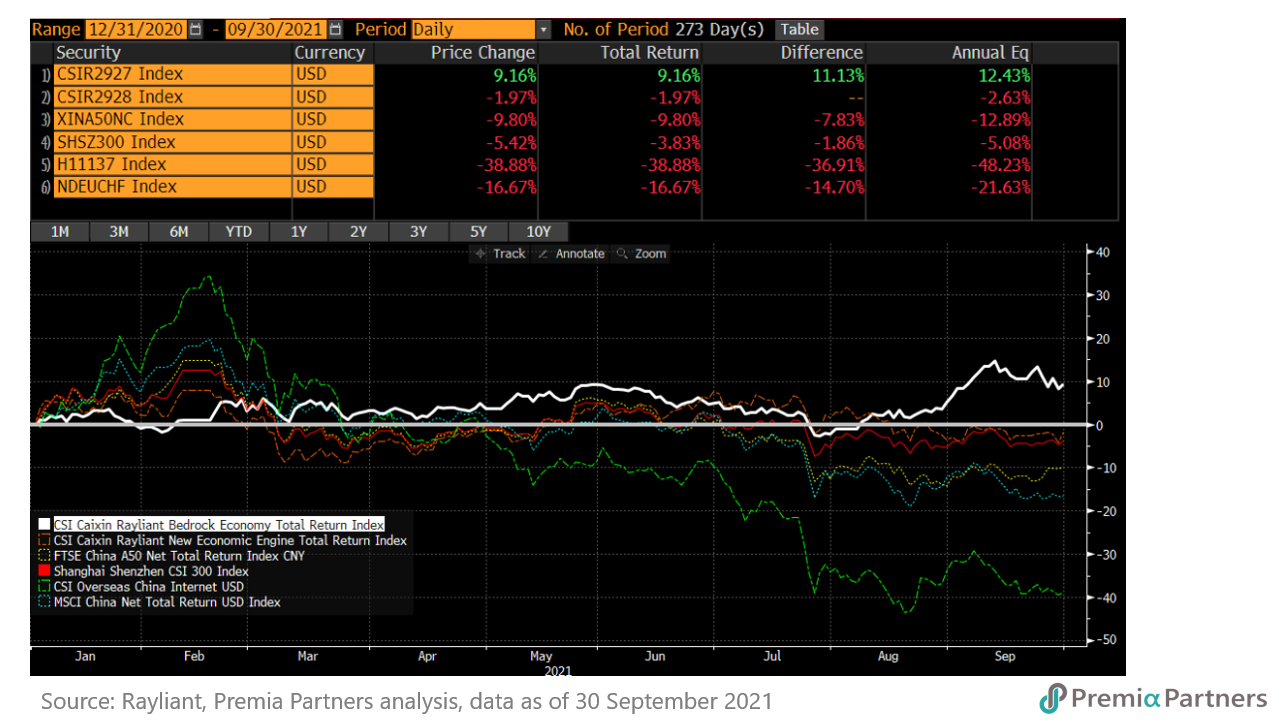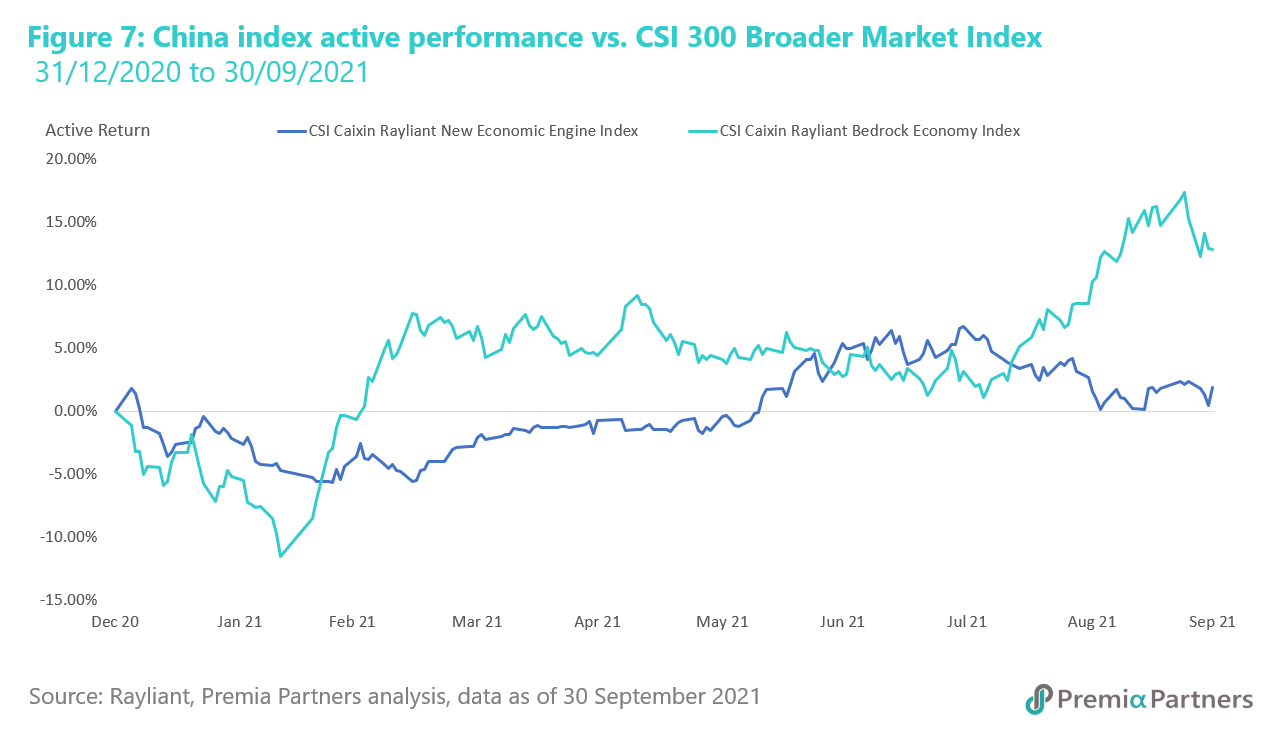 We utilize Bloomberg's off-the-shelf cross sectional risk model and factor-based attribution system to perform more granular factor attribution. Please also note that the factors provided by Bloomberg's risk model are slightly different from what we have been referring to in prior sections of this review, which are also the ones we use for our ETF indices construction. For more details, please refer to our China Bedrock ETF strategy (2803 HK) and China New Economy ETF strategy (3173 HK).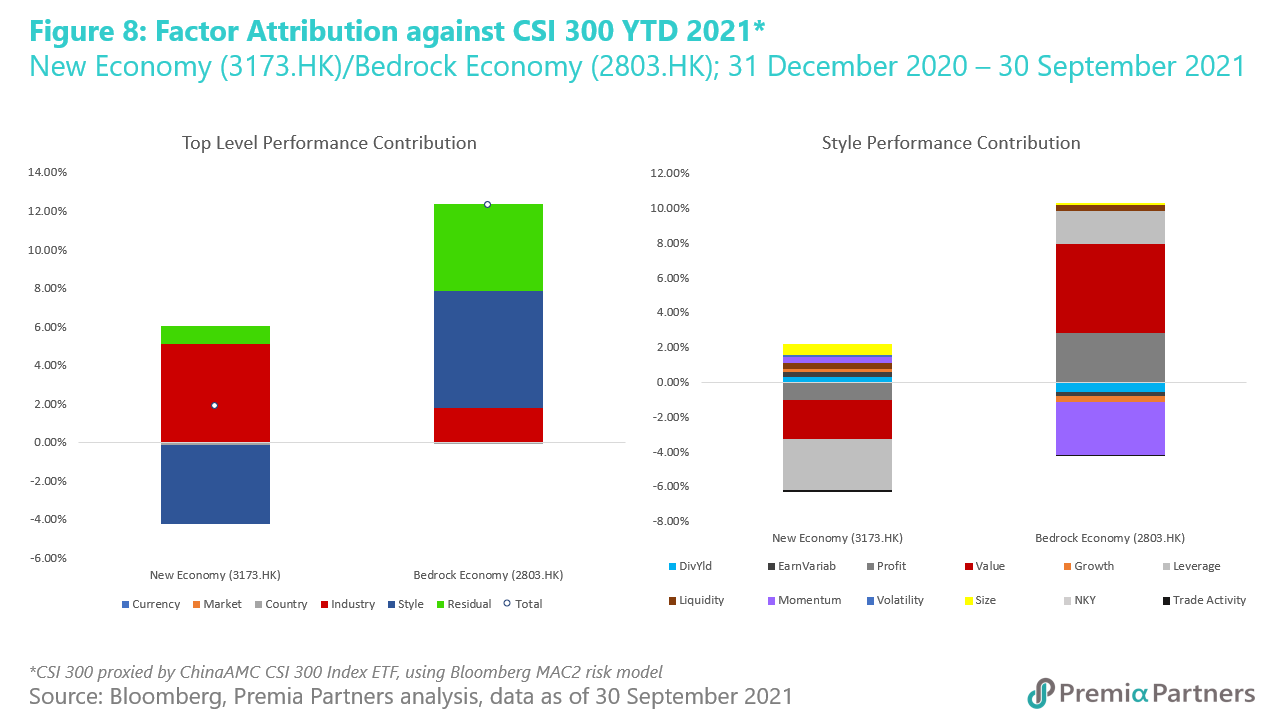 Year to date by 30th September 2021, the New Economy ETF outperformed the broader CSI 300 Index by 1.9%, of which 5.1% came from having industry tilt investing only in New Economy defined sectors, making up for the drag by factor tilts of ~-4% from the overall performance.
The right chart in Figure 8 shows the Style breakdown in Bloomberg defined factors. We saw the main Style underperformance came from underweight in Value and Leverage against CSI 300 index. The underweight in Value and Leverage was consistent with the observation in underweight in sector such as Financials and overweighted sectors like Health Care and Information Technology when compared to the CSI 300 Index. The YTD outperformance in Leverage factor in Bloomberg's risk model was consistent with our Quality's underperformance where highly leveraged stocks are in general characterised as low Quality.
The Bedrock Economy ETF on the other hand, benefited significantly from overweighting Value, Leverage and Profit factors, and as a result contributed almost 6% in active performance to CSI 300 index. These factors have been mainly benefited from sectors in Energy and Utility due to the restriction in coal production and hence electricity supply that had boosted coal and electricity prices. The underweight exposure in Momentum partially offset the gains from aforesaid factors. Note, +4.5% of the outperformance was from Residual (Figure 8 left chart) which explained as stock selection.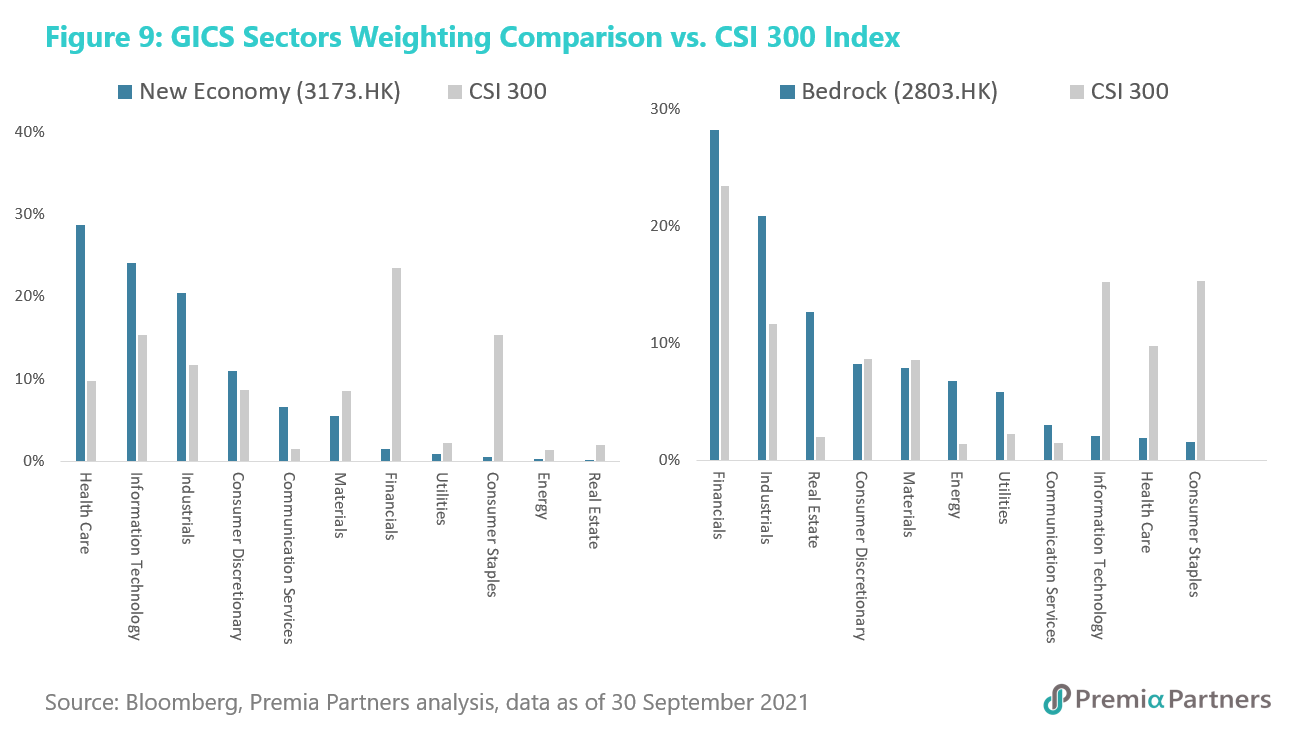 Looking ahead, with economic growth possibly remains lacklustre through the end of the year, investors might continue to have less tolerance for expensive bets and stay demanding on valuation and quality, which supports our China Bedrock ETF strategy (2803 HK) with its value and quality factor tilts especially.
On the other hand, as the fear premium related to the abrupt roll out of regulatory crackdown in recent months start to dissipate, and investors start to gain more understanding and visibility to policy stance around strategic goals and the common prosperity theme, Growth factor will come back in the play especially for new economy leaders in tailwind sectors that have reset to attractive valuation in the past few weeks.
With COP26 and the reiterated commitment for carbon neutrality by 2060, it is expected that increasingly active and passive funds alike would shift their China exposure from traditional internet tech giants to long term bets in better alignment with China's national strategic goals and policy trends. Our China New Economy ETF strategy (3173 HK), which has in many instances pioneered coverage in many related growth and green sector leaders as well as differentiated coverage for healthcare/ biotech, industrial automation and other hard core tech industries that align with policy support under the 14th FYP (Figure 10), will be very well positioned to capture the rebound and migration to the new normal for China investing.